Review: Samsung Series 5 Ultra Touch Ultrabook
Core i3 cache relief
---
Cache advance
Alongside the video options on the left, there's a lone USB 3.0 port and minijack mic/headphone combo socket which could come in handy when using the 1.3Mp webcam, assuming it's not smeared with fingermarks – the screen grubbiness looks quite alarming when the Ultra Touch is turned off, but thankfully it's not too noticeable in use. The palm rests don't suffer too much either, which plagued the Series 7 charcoal models. Over on the right edge are two USB 2.0 ports and a multi-card slot. Samsung's own Settings app provides USB charging in sleep options and a bunch of other handy shortcuts for performance configurations.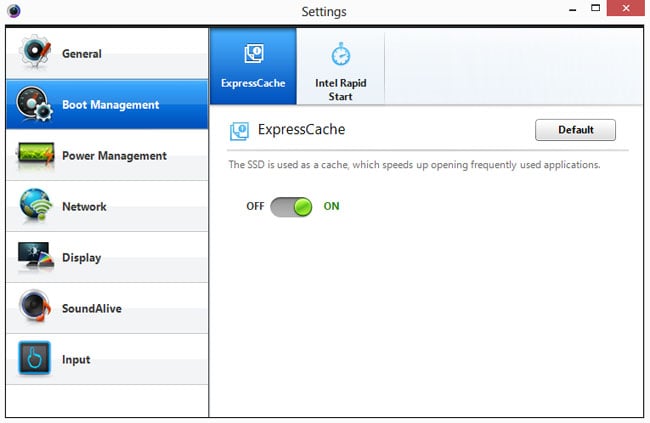 ExpressCache settings: turn it off if you belong to the Slow Boot Movement
Out of curiosity, I disabled the ExpressCache from here to see how well this Core i3 system performs without it. Needless to say, it's distinctly slower, taking 30 seconds to boot to login. The PCMark 7 score had notched up 3211 when configured for performance only and 3025 using Samsung's optimised settings, yet with the ExpressCache off, the score dives to 2258. So don't try this at home folks unless you want to slice a third off this Ultrabook's performance.
One thing you might like to try is installing Linux. I set up a pen drive instal of Ubuntu 13.0.4 and although the Windows 8 Advanced options in PC settings didn't engage the bootable pen drive as hoped, changing the device order in the BIOS did the trick. Once loaded, both the touchscreen and Wi-Fi worked on Linux and everything behaved as it should. It was also an opportunity to do some benchmarking using Ubuntu's Disk tools. Here the SanDisk SSDi cache drive averaged 340MB/s read speeds and 64MB/s writes. By comparison, the Seagate Momentus managed 78MB/s in the read tests it allowed.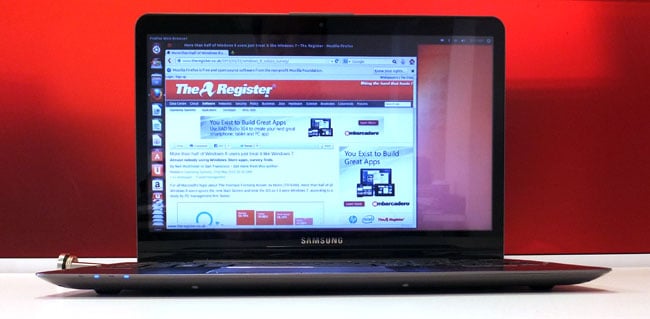 While still in need of refinement, the touchscreen does work when running Ubuntu Linux 13.0.4
In general use, the Samsung Series 5 Ultra Touch revealed a couple of bothersome flaws. The first one had me restarting the computer and double-checking my Wi-Fi setup because the laptop didn't want to join my wireless network. The problem here was I'd assumed there would be some kind of indicator for caps lock – a green light glowing somewhere to catch my eye – and as I didn't spot one I also assumed I was typing in the Wi-Fi password in lower case letters when in actual fact I was typing in ALL CAPS.
Unless you choose to view password letters, you won't be aware of the caps lock status. It's quite ridiculous that such a fundamental a status indicator should be omitted and I can see Samsung getting a lot of support calls over this, with bewildered users unable to login to their Wi-Fi or other accounts - lest we forget being locked out of bank accounts for entering passwords incorrectly several times.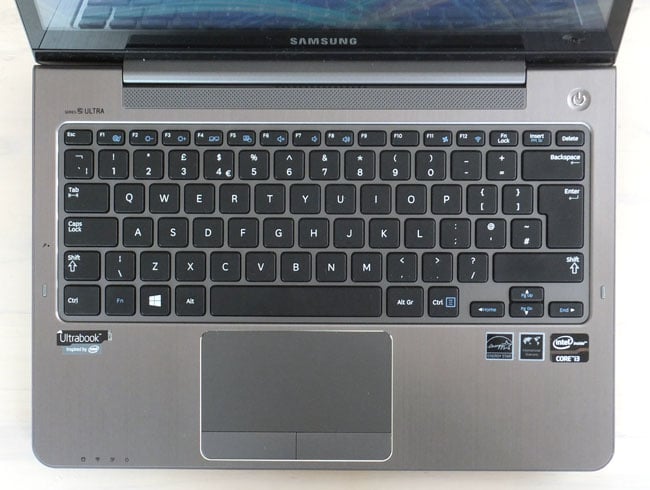 The keyboard has a nice feel to it but lacks backlighting and a caps lock indicator
My other grumble is not unique to Samsung, but the display doesn't tilt back far enough for my liking. This blights quite a few slimline Ultrabooks but if Lenovo's IdeaPad Yoga is anything to go by, this shouldn't really be a problem at all. The display itself delivers a fair amount of the Samsung dazzle you find on its non-touch laptops, although it does seem a little subdued – maybe that finger smudged glass has something to do with it.

The thin blue line: could this be the reason why Samsung is shy to hand out review laptops?
There was another problem, which might not bode well for the future, and that was the appearance of a thin blue horizontal line across a small portion of the screen. I noticed this when checking out the various trackpad options and it would only show when the mouse was hovering over a particular checkbox. Online, opinions vary as to the causes of this sort of behaviour, but I have yet to read anywhere that it's a good thing. Avante-garde multimedia artists may disagree though.