Review: Samsung Series 5 Ultra Touch Ultrabook
Core i3 cache relief
---
The write stuff
Surprisingly, the trackpad was a welcome sight. This spacious multitouch affair is not so off-centre as on some models, and the left and right buttons aren't seamlessly melded into the trackpad but are physical switches. In both cases this arrangement suits me better as, being a left-hander, I can often end up right-clicking by mistake when using all-in-one trackpads.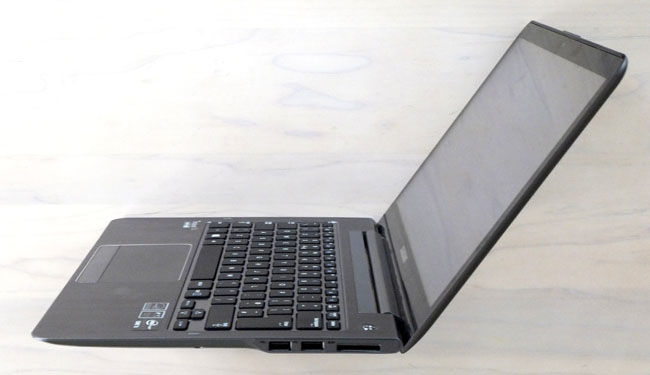 At full tilt: the display often waggles during touchscreen prodding
Samsung doesn't offer a stylus for this model's touchscreen which seems fair enough – you do have the keyboard after all and I've only ever found a digitiser to be useful when faced with a full HD touchscreen, such as the Sony Vaio Duo. It does work with soft-tip pens – I tried it with an STM Tracer Deluxe and a Wacom Bamboo Stylus – all well and good but why bother? Admittedly, there are limitations here: drawing isn't pressure sensitive and being a laptop, it's not easy to position. Still, the handwriting recognition on Windows 8 is among the best there is and scribbling notes into Word 2013 this way was surprisingly forgiving. That said, you'll probably want to hide Word's Ribbon as it can get a bit claustrophobic, however you write into it.
For traditionalists, the chiclet keyboard feels pretty good. It seems firm and well spaced with no odd key positions that can cause repeated mistyping problems. It's not backlit, though, and don't get me started on that key caps issue again. One thing I did notice are the noises: the keyboard has an acoustic thud to it, as if there's some cavity beneath it (even though it doesn't flex), and the trackpad buttons are so clicky I became quite self-conscious of using it in the office.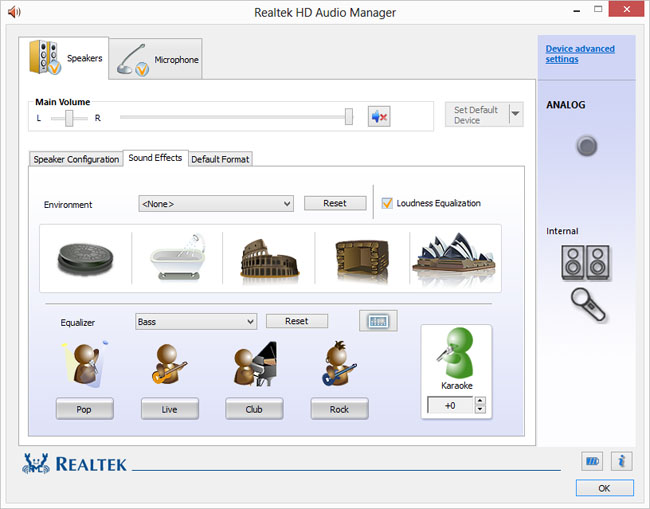 The Realtek audio settings are worth experimenting with, but stick to the basics for best results
Talking of noises, this Core i3 model doesn't have the advertised Dolby wizardry on-board to spice up the audio, but there is a Realtek (SoundAlive) alternative that's worth trying out. I found the default audio settings were certainly loud enough for movies, but a little harsh. Given that laptop audio is by tradition found wanting, I always test to see if any bass boosting proves effective. With some laptops, the speakers are so crappy it doesn't make any difference, but on the Ultra Touch, there was an obvious improvement. By simply selecting the bass preset, the output went from bearable to really quite listenable when used with the loudness equalizer. The latter delivers a massive shot in the arm to the volume without adding distortion. Nice job.
Another nice job is the battery life, which clocked up 3 hours, 36 minutes using the demanding FutureMark PowerMark benchmarking tool. As it's a Core i3 machine you should be able to get close to double that with everyday use. If you're a movie buff then that might be more of a challenge. Samsung bundles some rebadged Cyberlink apps for multimedia playback and management that are simple but effective.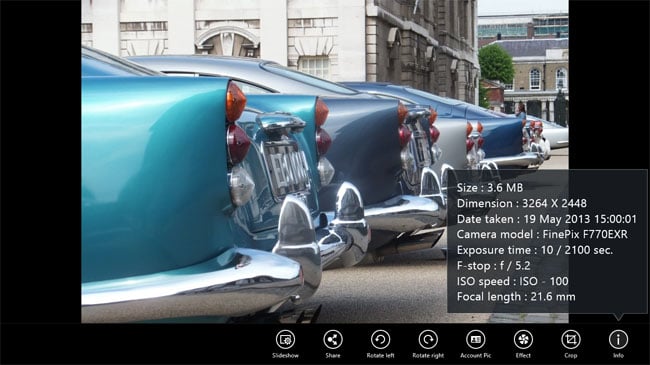 Cyberlink know-how is behind the S range of multimedia apps on-board
The Reg Verdict
Review model random screen lines notwithstanding, the Samsung Series 5 Ultra Touch does appear well put together but misses a trick here and there. Undoubtedly, the ExpressCache delivers a worthy performance boost to keep the Core i3 model out of doldrums. Yet working on a laptop without a backlit keyboard these days can be a challenge and having one with no caps lock light either is just bizarre.
Until Windows 8.1 appears, having a touchscreen is a huge advantage to straddle the new Windows 8 user interface dichotomy. For now, like all of its competitors, Samsung provides its own take on the missing Start menu, but it's not enough to make the non-touch Series 5 alternative viable. All Ultrabooks carry a price premium yet the current need to pay extra for a touchscreen has become the new Microsoft tax. ®

Review: Samsung Series 5 Ultra Touch Ultrabook
13.3in Ultrabook featuring an ExpressCache SSD and HDD combo with a 1.8GHz Intel Core i3-3217U. Well equipped with interfacing options including Gigabit Ethernet.