Windows 8.1 Start button SPOTTED in the wild
It's not the same Start button as Windows 7's, though
---
Leaked screenshots of a prerelease build of Microsoft's forthcoming Windows 8.1 update reveal that the rumors are true and the Start button really is coming back – though perhaps not in the way users of previous versions of Windows might like.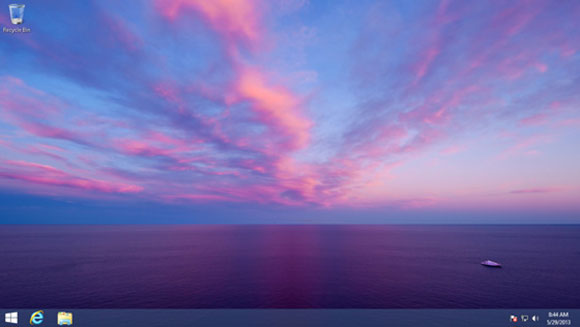 Thar she blows! That little icon on the lower left is Windows 8.1's new onscreen Start Button (Source: Paul Thurrott)
On Wednesday, Paul Thurrott's Supersite for Windows published a shot of a Windows 8.1 desktop with a new-look Start button planted on the left-hand corner of the taskbar, right where Windows 7 users expect to find it.
The button features the redesigned, monochrome Windows logo, rather than the now-old-school multicolored orb, and when you mouse over it, it reportedly changes color to let you know that it's good for something.
What it's good for, specifically, is launching the Windows 8 Start Screen. That's it. Don't expect a return of the old-style Start Menu, because that isn't part of the deal. The Start button just gets you a new way to get to the new launcher UI, in addition to the button on the Charms bar, the Windows key on your keyboard, and the dedicated Windows buttons found on many Win8 fondleslabs.
That might be a bit better than it sounds, however, owing to another change that's reportedly coming in Windows 8.1. According to Mary Jo Foley, in addition to the primary Start Screen with its Live Tiles, we'll also optionally be able to set the default Start Screen to the "All Apps" view.
What's more, the All Apps view will now be configurable so that users can group their icons by usage, which Foley says makes it the closest thing Windows 8 users will get to a Windows 7–style Start Menu, even if it is still a full-screen view.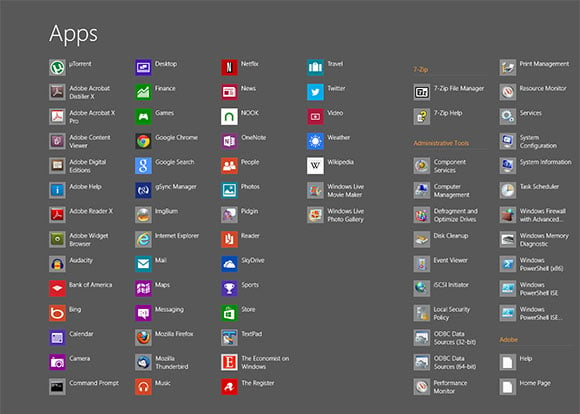 Defaulting to the "All Apps" view could make the Start Screen a bit more useful ... but not a lot
In addition to the desktop, the new Start button will reportedly also be usable from within Windows Store apps and from the Start Screen itself, but it won't appear in those contexts unless the user moves the mouse cursor to the lower left-hand corner of the screen, much like how hovering over the upper left-hand corner brings up the list of running apps.
The Start button will reportedly be enabled by default in Windows 8.1, but apparently that's only grudgingly so. Because Microsoft really, really, doesn't seem to like to admit to its mistakes, you'll also be able to get rid of it altogether, should you choose.
According to Thurrott, if you click on the onscreen Start button, it will stick to your taskbar. On the other hand, if you ignore it and use the hardware Windows keys instead, it will disappear, restoring Microsoft's pristine vision of the Windows 8 desktop. (If it does disappear on you, though, there will be a setting available to bring it back.)
In addition to the Start button, Thurrott was able to confirm a couple of other new features for Windows 8.1. Booting directly to the desktop will definitely be available, he said, though it will not be enabled by default.
Furthermore, Thurrott said, Windows 8.1 users will be able to apply the same wallpaper to their Start Screens as appears on their desktops, to make transitions between desktop and Modern modes less jarring.
Mind you, Windows 8.1 is still a long way from being released. Microsoft has said that it will debut an official preview version toward the end of June, probably to coincide with its Build developer conference in San Francisco, but it will be several months after that before the final version ships. Anything could change between now and then, so in the meantime let's just keep our fingers crossed and hope for the best. ®