This article is more than 1 year old
DIAL M for... mobile: New Wii app pipes mobe vid to big tellies
YouTube prog cuddles up to Netflix
The venerable Nintendo Wii got a new YouTube app yesterday, and one that appears to be using Netflix and Google's new DIscovery And Launch (DIAL) protocol for an integrated Android experience.
The Wii has had YouTube for a while, but a new update pushed out to UK users appears to make use of the DIAL standard to provide big-screen viewing of small-screen mobile app content.
The DIAL protocol was launched in January but this is the first time your correspondent has spotted it in the wild.
DIAL differs from other screen-throwing protocols in that it offloads the downloading from the mobile to the television or set-top box, in contrast to DLNA and Mirrorcast - which both rely on the mobile device decoding the received video and re-encoding it before streaming it out to the TV. Essentially the mobile asks the connected device to launch the content using its own application, rather than wirelessly streaming the actual content to the device.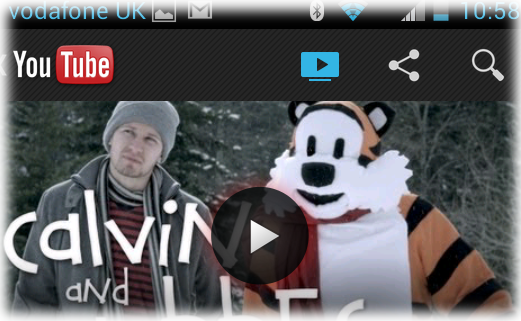 The new icon only appears when the Wii app is running
To take a concrete example - viewing the marvellous Gritty Reboots' "Calvin & Hobbes" tribute trailer in a phone's YouTube app consumes around 24MB of data. Sending that video to the TV over DLNA multiplies that by three, 24Mb for the YouTube app and 51MB for the DLNA app (Twonky) which downloads and retransmits the video.
But sending the video to the Wii using the new app results in only a few megabytes being sent to the phone, and results in a visually better video, as the Android YouTube client simply tells the Wii YouTube client which video to start playing.
This is what DIAL was designed to do, and while neither YouTube nor the DIAL organisation have returned our enquiries, the figures make it clear that redirection is occurring even if it's not yet perfect.
Using YouTube this way means you have to manually run the app on both the Wii and the phone, making the phone nothing more than a navigation device. The next stage is to have the Wii YouTube automatically triggered by the mobile equivalent, just as a DLNA TV automatically switches over when requested, but that requires DIAL to be baked into the OS, so won't be arriving on the Wii any time soon.
So right now the Wii app uses DIAL to provide better quality video in exchange for a more complicated setup process. That's not important when watching an astronaut playing with a yo-yo, or dancing cats, but for long-form content it's worthwhile. And, after all, Google is very keen to have users fill YouTube with long-form content. ®