CRUNCH: 'Drunk' chap cuffed in high-speed car nookie prang rumpus
Nude lady takes a toss, shoeless chap in cactus - cops
---
An Albuquerque man found himself on the wrong end of a cuffing on Monday after cops claimed he had been engaged in drunken rumpy-pumpy behind the wheel. Local police said he had jumped a red light, ploughed into another vehicle and then attempted to evade justice by hiding in a cactus bush.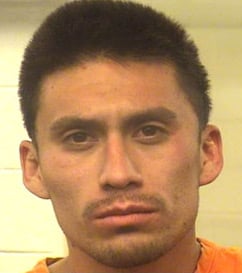 Prickly: Luis Briones
According to the police report, Luis Briones, 25, and his 21-year-old female companion were spotted "having sexual intercourse of some sort while driving", before the amorous coupling and their Ford Explorer came to an abrupt halt.
The woman was ejected naked from the car by the impact, said the report, but despite the fact she was "bleeding heavily from the facial and head area", Briones tried to make good his escape, cops claimed.
Police said that after a witness to the crash removed the Ford's keys, and as officers arrived at the scene, the perp legged it, "then jumped in a bush, landing and attempting to hide in a cactus".
Wearing just one shoe and "a pair of black shorts inside out", an extremely prickly Briones "continuously and adamantly refused to submit to a blood test", was "obscene and uncooperative" and "refused to keep his pants on", according to cops, who said they had found an almost-empty bottle of vodka in his car.
The other half of the beast with two backs and four wheels, meanwhile, was taken to hospital in a "stable" condition with face and head lacerations. The woman, who has not been named, is expected to recover and has not been charged.
Briones is now languishing in Bernalillo County jail, "where he is being held in lieu of $22,000 bond". ®