This article is more than 1 year old
'Extremely sophisticated' Apple settles watery iDevice lawsuit
'Approximately 153,105' iDevice owners to get payout – are you one of them?
Apple has reached a settlement with iPhone and iPod touch owners who claimed that Cupertino unfairly denied them warranty coverage when their iDevice's moisture sensor indicated water damage.
"Class Counsel and Plaintiffs ... are pleased to report that, after extensive discovery, negotiation, and mediation, they have negotiated a $53 million, non-reversionary cash settlement that, if approved, will provide an exemplary recovery for the Settlement Class Members," a 48-page Motion for Settlement filed earlier this Wednesday reports.
The settlement, if approved by the court, will bring to an end a case that was originally filed on April 15, 2010, and was reported to be nearing a settlement last month.
The case revolved around the plaintiff's claim that the Liquid Contact Indicators (LCIs) in Apple's iPhone and iPod touch improperly reported that those devices had been dunked in water – thus voiding their warranty's Liquid Damage Policy – when the LCIs could actually be triggered by mere humidity or such non-infringing sources such as sweaty palms.
Apple modified its Liquid Damage Policy for the iPhone on December 31, 2009 and the iPod touch on June 30, 2010, so only devices purchased before those dates are eligible for damages provided by the settlement.
If you own one of those devices and have been denied warranty coverage due to Apple's insistence that its LCI betrayed water damage, you'll receive a check from Apple. What's more, thanks to what the court document calls a "state-of-the-art, user-friendly" notification and distribution process, you don't need to do anything – if Apple has your address, which in most cases it does, it'll send you your settlement money without you having to file a claim.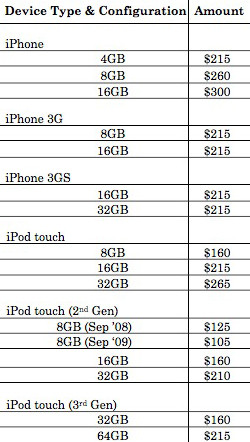 If you're in line to get a check,
here's how much you're going to get
And there will be a lot of those checks going out. According to this week's court filing, there are "approximately 153,105" devices involved in the settlement. Of those, Apple has either postal or email addresses of around 130,000 – if it doesn't have yours, a website will be set up for you to register for your settlement check.
To ensure that no one is left out of the money, Apple will also send emails to 4 million iPhone and iPod touch owners who brought their devices into an Apple store Genius Bar, just in case they were denied warranty coverage but didn't show up in Apple's records.
Apple will also pay all the costs associated with the tasks of informing and paying the members of the infringed-upon class, an amount that the settlement estimates to be "in excess of $1 million."
A perusal of the Motion for Settlement document reveals just how complex and convoluted such litigation can be. For example, the plaintiffs' attorneys requested and were provided by Apple with "approximately 256,000 pages" of documents. The plaintiffs' attorneys also subpoenaed 3M, Foxconn, AT&T, and others, and received an additional 77,000 pages – but only after protracted legal wrangling, with AT&T at first demanding $100,000 to cover the costs of producing the documents.
The document also details dozens of "lengthy meet-and-confer sessions" with Apple and third parties, depositions of "several high-ranking Apple employees and witnesses," and a whole lot more, including "six full-day, in-person mediation sessions," as well as dozens of telephone conferences with one or both of the court-appointed mediators.
All that back-and-forth, of course, required a significant amount of billable hours by the plaintiff's attorneys, who detailed their task of litigating against an "extremely sophisticated defendant" that defended itself with testimony and test results presented by its "renowned engineers."
As the court document relates, "virtually every aspect of this case was hotly contested from beginning to end." But those attorneys will no doubt be richly rewarded – their fees and costs will come out of the $53 million.
And the plaintiffs? They will receive "modest incentive awards" not to exceed $1,000. ®