This article is more than 1 year old
Kettle 'which looks like HITLER' brews up sturm in a teacup
US retailer overrun by Führer Wasserkocher blitzkrieg
US retailer JC Penney is doing a brisk trade in a designer kettle after someone noticed it bore a certain resemblance to Adolf Hitler.
Over the weekend, a snap of a billboard ad for the "Michael Graves Design Bells and Whistles Stainless Steel Tea Kettle" popped up on Reddit.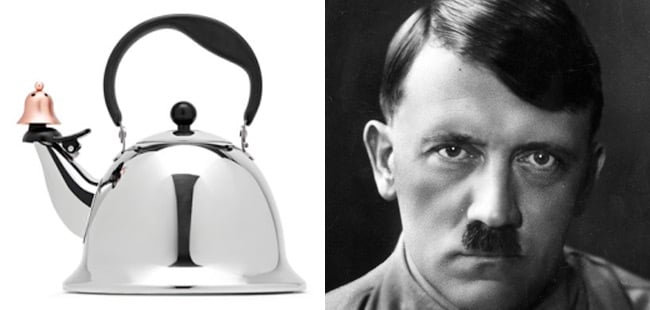 Spot the difference: One of these boils water, the other invades Poland
As word of the amazing Nazi pareidolia spread across cyberspace, the company's online tentacle was hit by a shopping blitzkrieg which quickly stripped the virtual shelves of the Führer Wasserkocher.
According to Time, JC Penney is a bit nonplussed by its smash hit in the white supremacist kitchen appliance market. The company tweeted: "If we had designed it to look like something, we would have gone with a snowman or something fun." ®