This article is more than 1 year old
EMC inks deal to take Brit F1 racer Lotus to the clouds
Storage bods get a crack at Grands Prix glory
EMC is providing skads of storage to Formula One wannabee winner Lotus for a chance at Grands Prix glory.
F1 regulations are going to change in 2014, mandating hybrid, turbo-charged V6 engines instead of the current normally aspirated V8s. So Lotus decided it need a wholesale storage refresh to help with the changeover.
The Lotus F1 team, headed up by racing superstar Kimi Räikkönen, will get:
a VCE Vblock System at Lotus's Enstone data centre for its Computer-Aided Design (CAD) and Microsoft Dynamics Enterprise Resource Planning (ERP) applications;
a second VNX-based Vblock at trackside for VDI and on-track apps;
Atmos object-based cloud storage to store, archive and access the Lotus F1 Team's unstructured content;
Data Domain deduplication storage systems for fast backup and recovery of the factory's information estate;
EMC's Cloud Tiering Appliance to tier Lotus's CAD files before they are moved to the cloud to reclaim primary storage space and reduce backup needs; and
Syncplicity enterprise file sync 'n' share solution and Documentum Information Rights Management to track and protect documents, messages and attachments.
It's a four-year deal and EMC gets access to the GENII Business Exchange platform, described as "Lotus F1 Team's elite group of IT and Technical Partners", plus a range of global hospitality and incentive packages. So EMC partners and customers worldwide; expect F1 event invitations to drop into your laps if you are so favoured.
The Lotus team is owned by Genii Capital, a private equity outfit.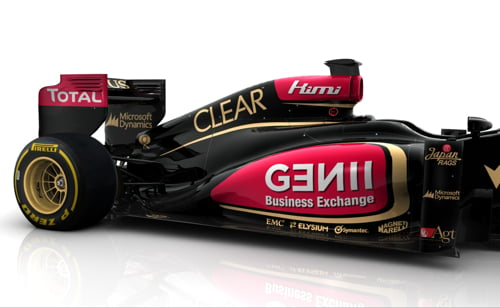 Yes, we'd love to see the front wheels too, but this is a truly oddly cropped illustration of what the Lotus will look like in 2014. Note the EMC logo on the side. Click on the image to see a larger version.
EMC will also be given the opportunity to place its logo on some of the most valuable moving billboards in the world, Lotus F1 racing cars, from 2014. Much, we are sure, to its combined joy and chagrin it shares a spot at the bottom of the driver's part of the car, along with Symantec, which has been working with Lotus for many years.
Oh, and just for fun we thought we'd mention the Lotus F1 website also lists NetApp as a technical partner, saying: "Lotus F1 Team's data is stored on NetApp storage arrays, including back office, track and design data with the latest NetApp storage systems travelling the world with the race team."
The Telegraph reports that the Lotus F1 team made the biggest loss ever of any motorsport team in calendar 2012 - £56m - "due to reversing sponsorship revenues." Lead driver Kimi Raikkonen's contract expires at the end of 2013 and needs renewing. He drove Lotus to fourth position in the F1 rankings last year. That's going to be expensive.
Patrick Louis, the CEO of the Lotus F1 Team, said in a freeze-dried quote: "Today, Lotus F1 Team is a title contender and our target is very clear: to be World Champions in 2015. We need strong partners to reach that target, and EMC is one such partner. EMC provides us with the best hardware, software, security, reliability and availability. These will be key factors in us being successful in our venture to build a winning car and to becoming world champions."
Mercedes, Ferrari and Red Bull will have something to say about that, something like: "Munch our exhaust tubes, baby." ®