Living with a 41-megapixel 808 PureView: Symbian's heroic last stand
808 state: The Nokia smartphone that REFUSES TO DIE
---
Review Last year Nokia released to the world a mobile phone that is still unique. It's a smartphone with a 41-megapixel camera sensor, scooping up more detail than some professional DSLRs: it's the 808 PureView.
When I say "released", that's a little misleading. This showpiece won the Best New Phone gong at last year's Mobile World Congress, but it was hard to buy. Since the phone ran Symbian OS, it was considered toxic by carriers, and it was not distributed in the UK.
So for the past year the 808 has had a crepuscular presence. It's lived on, in a spooky afterlife: Nokia wanted you to know about it, and prominently placed the thing on the front page of its main website – but it did not want you to actually buy it. Nokia had already transferred some 3,000 Symbian engineers to Accenture, and last February cancelled all Symbian devices on its phone road map bar the 808.
Yet, something unexpected has happened. The 808 as been quietly receiving lots of loving care and attention. Regular updates and tweaks have continued from the Other Side, including a major overhaul of the OS late last year. Every update is expected to be the last. But still they keep coming, and if anything, the pace is accelerating.
Over the past few weeks I've attempted to live with an 808 PureView. And it's been an interesting and surprising experience. This is the first Symbian phone I've used regularly in four years and it isn't quite how I remembered Symbian.
There are some very sound reasons for giving you an extended look at the 808 today. The 808's camera remains utterly unique to a phone – a showpiece for a unique technology that is expected to arrive on Nokia's Lumia Windows-powered phones, perhaps later this year. And since our authoritative real-world 808 camera review last October, the user experience has changed substantially. In addition, falling prices mean you can pick one up for under £300. What does this get you? And what must you be aware of – what pitfalls lie in wait?
Because it's the user experience that's changed, rather than the camera, I'll focus on what's new and the state of the apps world; so think of this as complementary to last year's camera work-out. But I should stress, as if it isn't obvious, that the main reason for owning and using an 808 is because of the camera. There's no two ways about it: the 808 is a powerful camera wrapped around a phone.
So briefly, let's recap what this gets you.
The photographic hardware in a nutshell
The 808 uses a gigantic 41-megapixel sensor to deliver images with a maximum resolution of 38Mp (7152 x 5368 pixels). That's not the default mode; pictures can be snapped at 5Mp (which is what you see when you first open the Camera app), 3Mp, 8Mp or the full 38Mp. Clever software algorithms oversample the sensor data to refine the image into a lower resolution. The results are, in most situations, the best on any camera phone.
As an example of the detail available, from North London I was able to see the Kentish Flats Offshore Wind Farm, an array of wind turbines off the Kent coast, some 40 miles away. This picture was taken from a disused railway viaduct that's part of the Parkland Walk, at Muswell Hill, in PureView 38Mp mode.
In typical real world usage, the 808 defies many limitations of smartphone cameras. There's a great showcase of images at the 808 fan blog PureView Club. Here are a few of mine, far less impressive, but examples of challenging shots taken at 'ordinary' (eg, 5Mp or 8Mp) resolution.
The shot of the Hotel Porta Fira in Barcelona, outside the GSMA's Mobile World Congress, might be expected to show aggressive sharpening when you zoom in. It doesn't.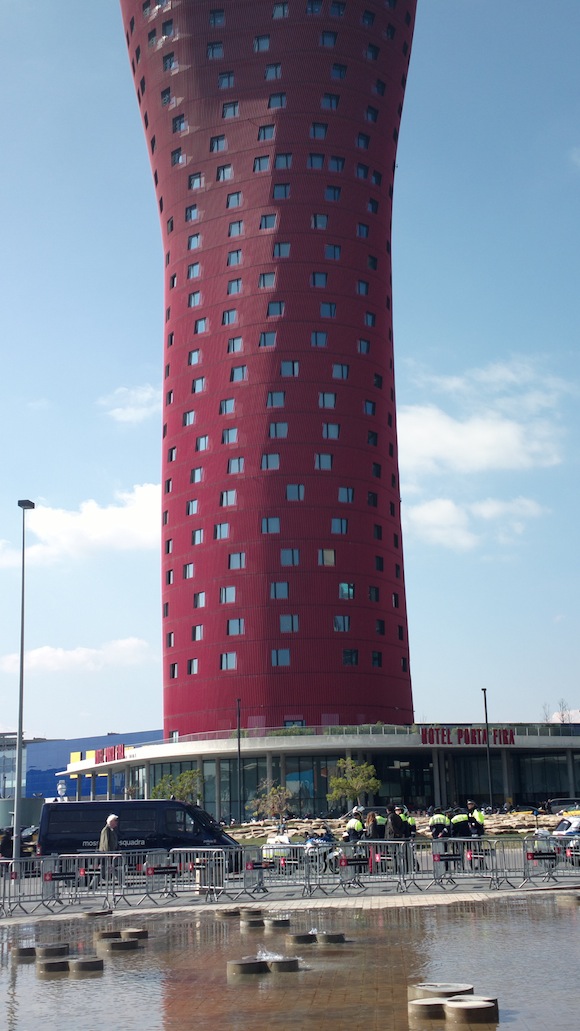 The Hotel Porta Fira in Barcelona (click to enlarge)
The photograph of the Starflyer, a 150m-high chair-flyer fairground ride, poses two challenges: it was taken into the Sun, with distant, fast-moving objects. You can expect glare to ruin such images, but not here, and the detail of the "flyers" is perfectly adequate. It's helped by the 808 camera's infinity focus. As with the hotel, it is a standard 5.3Mp point and snap image.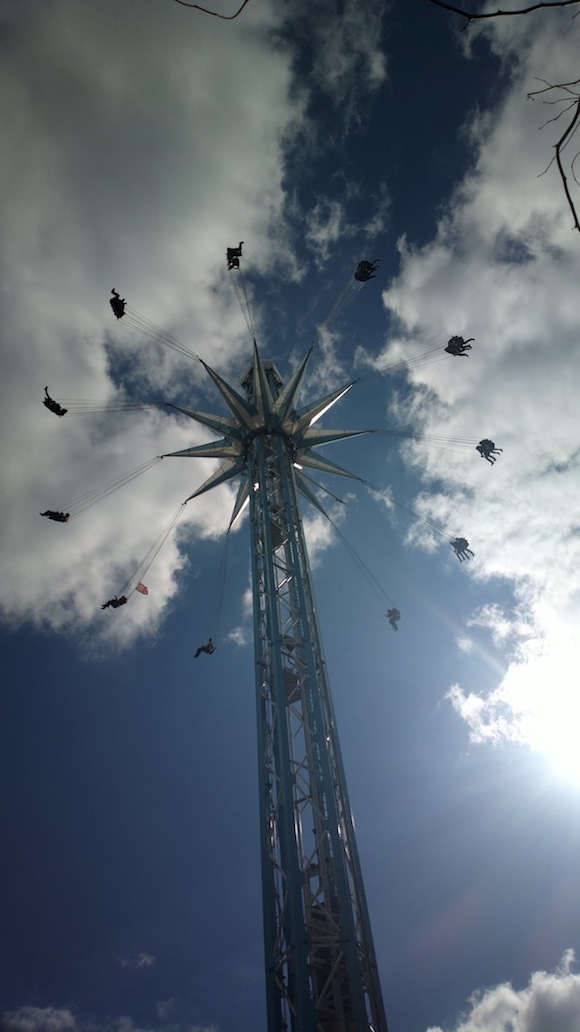 What's it like taking a photo into the Sun's glare?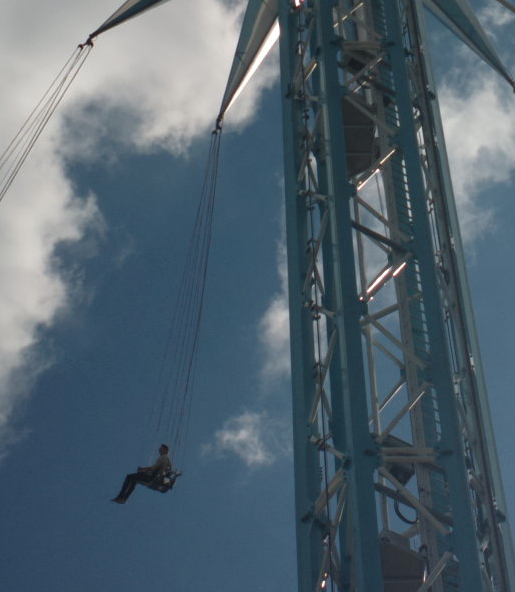 Picking out the detail on the image
The detail is also apparent in this indoor 38MP – not great light.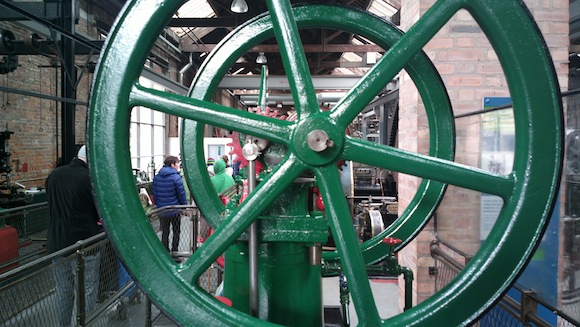 An indoor shot in not the best lighting conditions
Now here's that picture in detail.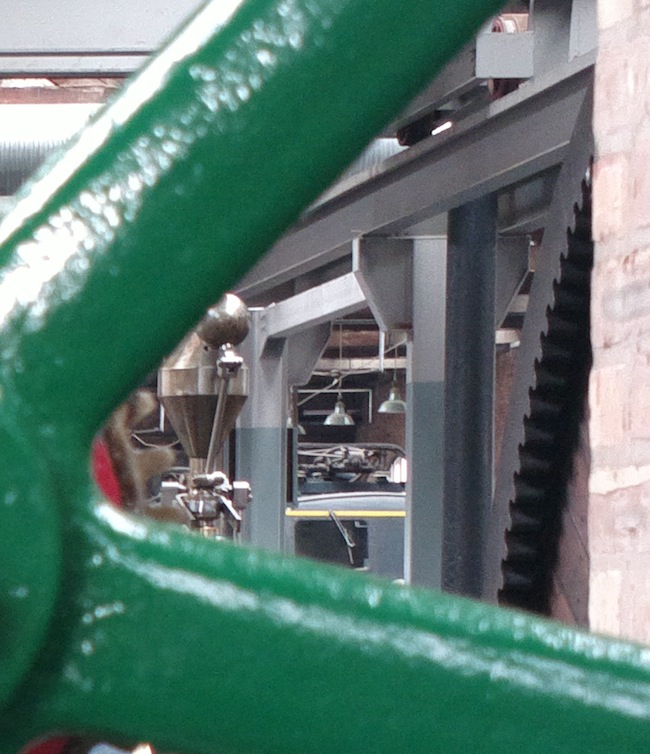 A simple crop of the green wheel shot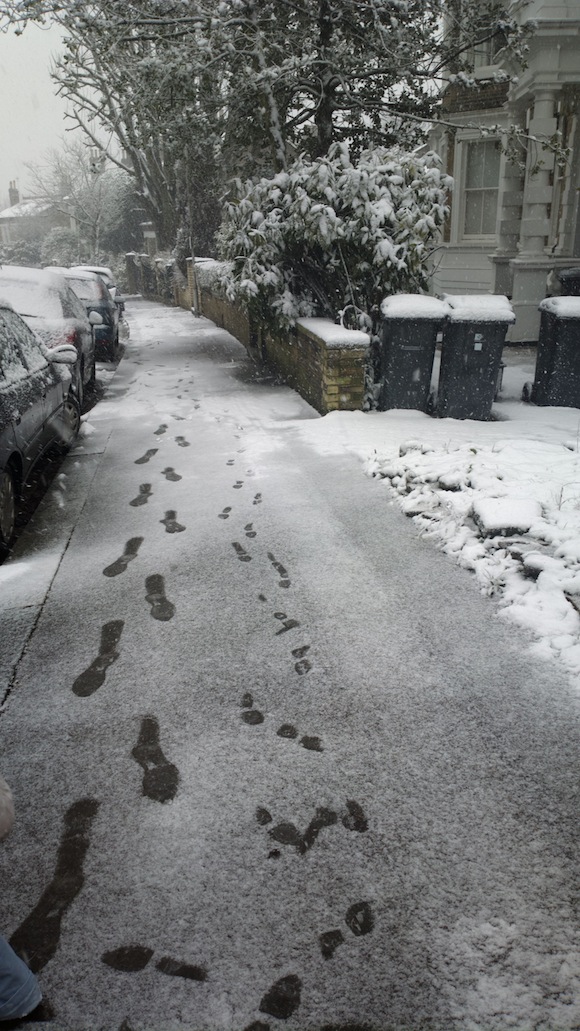 Let's zoom in on these snowy footprints... (Click to enlarge)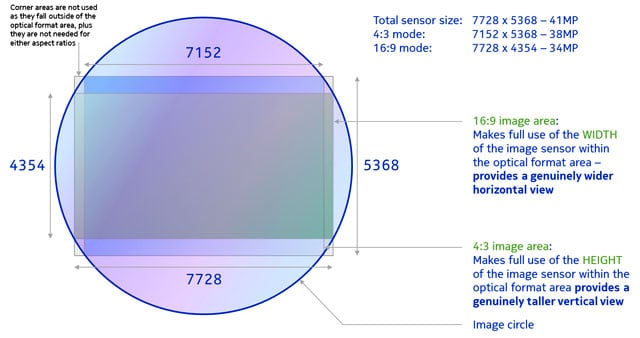 How the 808 does its stuff: an unfeasibly large sensor (click for slightly bigger)
I found the 808 was beaten only by Nokia's 920 at dusk or in low light. In such conditions, the 808 performs pretty well, as you can see.
The 808 shuns the usual single or dual LED flashlight, and instead uses a proper Xenon flash: this creates much brighter photos with more colour and detail and less noise. I'm less enamoured of Xenon flash than most camera-phone enthusiasts, but that's partly because I don't like the results of flash photography, full stop.
The 808's imaging tech serves you well in video, too, with excellent software-powered stabilisation of the footage as you move the handset while recording – but it cannot match the steadiness of the 920 and professional cams, which isolate the sensor module on gyroscopes.
The 808 also has the superb HAAC (High Amplitude Audio Capture), which Nokia developed with microphone manufacturers. This captures distortion-free audio at deafening volumes, up to 140dB (A white paper can be found here [PDF].) Naturally, it records in stereo.
The 808 handles zooming quite beautifully on still or moving images. You swipe up gently from the edge of the screen for a preview frame inside the viewfinder, and let go. If you're taking a video, the zoom in and out is quite smooth.
Steve Litchfield, the Herodotus of the Symbian world, has a great comparison of the 808 alongside the Samsung Galaxy S4, here. The competition is pretty fierce from Samsung, and I doubt S4 owners are going to complain much about their excellent camera. But Sammy's highly aggressive sharpening of photographs takes its toll on image detail.
With the 808, there are great results almost every time, partly thanks to the camera's controls. The 808 flicks instantly between three modes: automatically adjusted settings; settings for specific scenes, such as snowy, spotlit, nighttime, close-up and landscape shots; and "creative mode" that lets you take full 38Mp photos.
The 808 has spawned such an enthusiastic following on the web, and there are a number of specialist camera apps available for it. For example, this one provides a burst shot mode, a timer and other stuff, and here's a third-party HDR app. (Of course, you can argue that what the 808 is doing with every photo is HDR - distilling lots of pixels into a few good ones.)
And once you know what you're doing, you can take photos like this one – without carrying around a proper camera with you.
Similar topics
Narrower topics