This article is more than 1 year old
Pure says two of the four tiers of storage are set to disappear
'Moore's Law has turned disk into tape'
Pure Storage is brutally flogging its FlashArray technology, driving it faster and faster. The pace of development in flash arrays is picking up with EMC and NetApp get involved, and startups have to hustle and bustle to stay ahead.
Pure's perception of the enterprise data centre networked storage market is that we are moving from today's 4-tier storage environment, with flash, SAS disk, SATA disk and tape, to a 2-tier one.
It sees this as a 5-year transition to virtualised enterprise private clouds using flash for all primary data applications, with disk relegated to second tier back-office, backup and archiving use - and no tape. Crudely, in EMC terms, this would be bye-bye VMAX, VNX and Isilon and hello XtremIO and Data Domain.
Pure's CEO Scott Dietzen blogs:
"Moore's Law has turned disk into tape: To today's CPU, the fastest disk looks slower than tape did 15 years ago."
Gen 3 hardware
The third-generation hardware is centred on the FA-400 controllers and a new 12TB storage shelf. Existing FA-300 controller customers can upgrade to the FA-400.
The FA-300 controllers, introduced in March 2012, were Pure's second hardware generation. The gen 1 FA-100 and FA-200 hardware was an alpha and beta test product so we might say that Pure has had two shipping hardware generations. The big move here is a upgrade from the FA-300's Intel dual 6-core Westmere processors to newer dual 8-core Sandy Bridge engines that provide a more than 2X performance increase.
Controller RAM is boosted from 96GB to 256GB. The InfiniBand clustering link gets a speed boost; from 40Gbit/s to 56Gbit/s.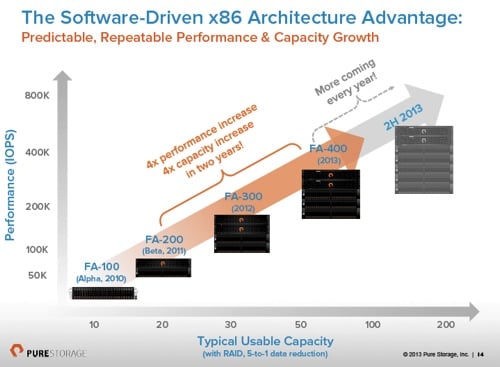 Pure hardware generations
Flash capacity has doubled as well, going from 5-50 usable TBS to 20-100 usable TBs. The FA-300 maxed out at 11TB raw flash capacity; the FA-400 goes up to 23TB and Pure is promising a further increase to 50TB by the end of 2013. the FA-400 expansion shelf holds 24 x 512GB MLC SSDs, 12TB raw capacity, so a change to 1.1 or 1.2TB SSDs would provide the capacity jump.
Pure doesn't say whether this is going to be achieved by a flash process geometry shrink, say from a 2X nm cell size (29-15nm) to a 2Y one (24-20nm) but that seems the likeliest route.
It says the FA-300 did 200,000 4K IOPS whereas the FA-400 does 400,000 8K IOPS. A graph we have seen shows the FA-400 doing 450,000 4K IOPS and the FA-300 doing 250,00 8K IOPS; that's the direct comparison. Pure says its customers use, on average, IOs 38K in size.
The previous-generation box's bandwidth was 1.5GB/sec while the newer box does 5GB/sec. So let's say the new box should support at least double the number of virtual desktop instances and probably be heading to triple the FA-300's number. Expect similar increases for other apps using the box.
We'e seeing Pure ride the Intel processor advancement curve here, without needing to re-write its operating SW-flash firmware code layers to adopt new generations of SSD technology as - it says - Violin Memory and other customised flash drive users will have to do.
Gen 3 software and support
The Purity Operating Environment v3.0 introduces faster snapshots and much better customer support, using the Nimble Storage model of proactive monitoring of its customers' arrays. What Nimble calls Infosight, Pure calls CloudAssist. Sensors in the FlashArray boxes send performance and status updates to a Pure Data Centre. There big data-style analytics are run on them and problems detected, diagnosed, dissected and fixes despatched to the customers without them - hopefully - ever having to call in and open a problem service ticket.
ZeroSnap Snapshots have accelerated virtual machine cloning and use less controller resource so more data is protected with less effort.
POE v3.0 also introduces non-disruptive capacity expansion, HW component replacement, controller upgrades and software updates. It's integrated with the OpenStack release, adds AIX support and ODX support for Windows Server 2912 plus VMware's VAAI xCopy and thin provisioning - and there's a vSphere plugin.
There's more but you get the picture: Pure is going full tilt towards an enterprise array feature set, hoping to out-innovate fellow flash array startups Nimbus, Skyera and Whiptail so it is seen as the startup alternative to EMC and NetApp, and a better featured, faster-performing and more cost-effective alternative at that.
Pure growth
Pure says it is growing strongly with the top five firms in 12 industry areas being its customers, ranging from global pharma and telco to social networks, hedge funds and software vendors. Server virtualisation, database and app acceleration, and VDI each account for a third of Pure deployments. However it doesn't want to give out the number of units sold, merely saying it's in the hundreds; nor the number of customers.
We might think the numbers aren't yet big enough and impressive enough to reveal. But Dietzen wants us to know:
"We are now the fastest growing storage company in history. Indeed, we are currently growing about twice as fast as NetApp or Data Domain did at a comparable stage (the two fastest growers prior to Pure)."
Whether Nimble Storage and Tegile would agree with this the El Reg storage desk wouldn't like to say - but we would suspect their growth rate is up in the stratosphere as well. ®