Film crew plans dig to find lost burial ground of Atari's E.T.
Deep in the desert, ancient cartridges await
---
Did Atari really bury millions of unsold videogame cartridges in the New Mexico desert in 1983? A documentary film crew aims to find out.
When the home videogames market went bust in 1982, the story goes, Atari was left saddled with millions of dollars in unsold Atari 2600 game consoles and cartridges.
Legend has it that foremost among the overstock was Atari's reviled adaptation of E.T. the Extra-Terrestrial, a game so notoriously awful that of the five million cartridges Atari manufactured, "nearly all of them" were returned unsold.
But E.T. wasn't alone. Distributors returned five million copies of Atari's ghastly, barely recognizable version of Pac-Man, too, and several other cartridges that underperformed Atari's sky-high expectations.
With its warehouses stuffed to bursting with products so unloved that retailers could barely give them away, Atari had no choice but to destroy the overstock – which in this case meant carting it to a city landfill in the desert community of Alamogordo, New Mexico, crushing it flat with steamrollers, and sealing it under a slab of poured concrete.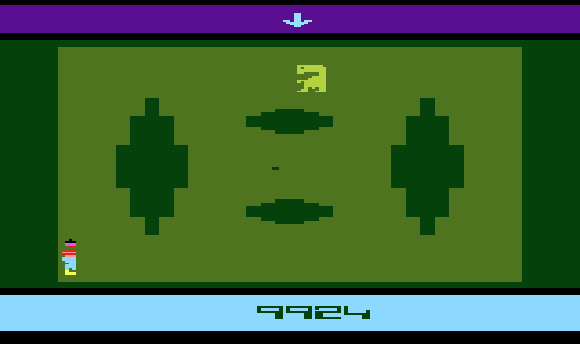 E.T. for the Atari 2600: Not up to Atari's usual standards (or Steven Spielberg's)
Or did it? While rumor-busting website Snopes.com officially lists the Atari burial story as "true", skeptics believe it bears many of the hallmarks of an urban legend, and that Atari couldn't have dumped its unsold product in the quantities described.
There's only one way to silence these modern-day revisionists. Over the next six months – a time period that will include the 30th anniversary of the alleged dump – a crew from Canada-based film production company Fuel Industries will scour the Alamogordo landfill in search of the truth, local TV station KRQE 13 reports.
Mind you, similar film projects have gone bust before. American readers may remember Geraldo Rivera's massively overhyped Mystery of Al Capone's Vaults from 1986, which devoted two hours to the decidedly unspectacular reveal of some dirt and a few old bottles.
But although no serious effort to uncover Atari's crushed cartridges has ever been made, Alamogordo resident Joe Lewandowski, who ran a waste-management company in the 1980s, claims to know just where within the 100-acre city landfill Atari's booty is buried. In true treasure-hunting form, he even claims to have seen it.
"It was the game systems, actually the game systems themselves it was actual cartridges and games, E.T. and so on," Lewandowski told KRQE.
Fuel Industries' planned excavation of the site Lewandowski has staked out has the full support of the Alamogordo City Commission, which officially green-lit the project on Tuesday and is looking forward to the media attention it will bring to the city.
"I hope more people find out about Alamogordo through this opportunity that we have to unearth the Atari games in the landfill," Alamogordo mayor Susie Galea said.
But your Reg hack can't help but be reminded of the haunting words of Indiana Jones's buddy Sallah from Raiders of the Lost Ark. To paraphrase: "E.T. If it is there, at Alamogordo, then it is something that man was not meant to disturb. Death has always surrounded it. It is not of this earth." You were warned! ®