Groundbreaking Camino browser digs grave, jumps in
Sprightly when Mac OS X was young. Now, not so much
---
The Camino browser, first conceived around the turn of the millennium as a free, open source project designed to be a true "Mac-like" browser for the then-nascent Mac OS X, has reached the end of the line.
"After a decade-long run, Camino is no longer being developed, and we encourage all users to upgrade to a more modern browser," Camino co–project leader Stuart Morgan wrote in a farewell blog post. "Camino is increasingly lagging behind the fast pace of changes on the web, and more importantly it is not receiving security updates, making it increasingly unsafe to use."
Today, if you fire up your copy of Camino 2.1.2 – the most recent version, and now the last – you'll be greeted with the following: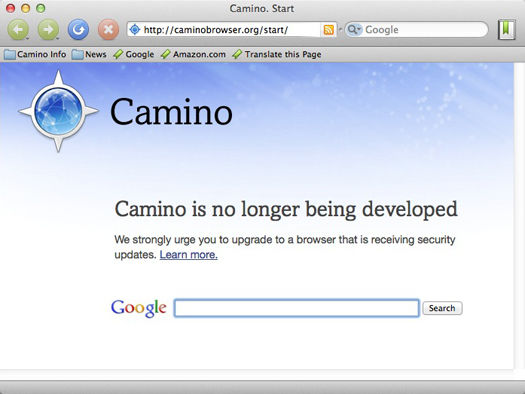 So long, Camino – and thanks for being there when we needed you
For those of us who remember the early days of OS X – then called Mac OS X – even in beta form Camino was a blessing. Sluggish Microsoft Internet Explorer 5 was then the dominant Mac browser (although many of us fanbois were devoted to The Omni Group's OmniWeb, an early migrant from the NextStep/OpenStep platform), but to call IE 5 "Mac-like" would be akin to calling a Yugo or Trabant "Ferarri-like".
Camino was based on the Mozilla Gecko engine and built using the Mac OS X Cocoa APIs, thus presenting Mac fans with a then-oh-so-sleek Aqua user interface and incorporating such Mac features as the password-managing Keychain.
After a long beta period that began in early 2002 (when Camino was still known as Chimera), version 1.0 was launched on February 14, 2006 as "a heavily updated version of the only native Mac OS X browser using Mozilla.org's Gecko HTML rendering engine (version 1.8), the same rendering engine used by the popular Firefox 1.5 web browser."
When releasing "the culmination of four years of work by dedicated volunteers," the Camino team referred to the browser's "signature features" as being "elegant tabbed browsing, an enhanced bookmarks manager, and built-in ad-blocking."
During those four years, however, Apple had developed its own browser, Safari, which was based on Cupertino's own version of the KHTML rendering engine, which they dubbed WebKit. Safari was launched in beta in January of 2003, version 1.0 was available for download in June of that same year, and was included with Mac OS X 10.3 (Panther) when it was released that October.
Since then, Google's Chrome was released based on WebKit, which it has since streamlined into a fork it calls Blink, and Safari has moved through several iterations and is now available as version 6.0.4.
Mozilla's Firefox evolved along with Gecko – but Camino, unable to take advantage of the most-recent recent Gecko improvements, remains remained stuck in the past – version 1.9.2, to be precise, which was introduced in 2010. We assume that the age of that rendering engine is one reason why Morgan suggests that Camino users upgrade to a modern, more secure browser.
"Fortunately," Morgan writes, "Mac users have many more browsers to choose from than they did when Camino started ten years ago. Former Camino developers have helped build the three most popular – Chrome, Firefox, and Safari – so while this is the end of Camino itself, the community that helped build it is still making the web better for Mac users."
So long, Camino. You were there when we needed you, and we thank you for having the grace to step off the stage now that your act is over. ®