New EXPLICIT pics support notion of moist, welcoming past for Mars
Curiosity's pebbly beach snaps reveal the wetness
---
The Martian nuclear truck Curiosity has found further evidence that water once flowed freely on the Red Planet's surface.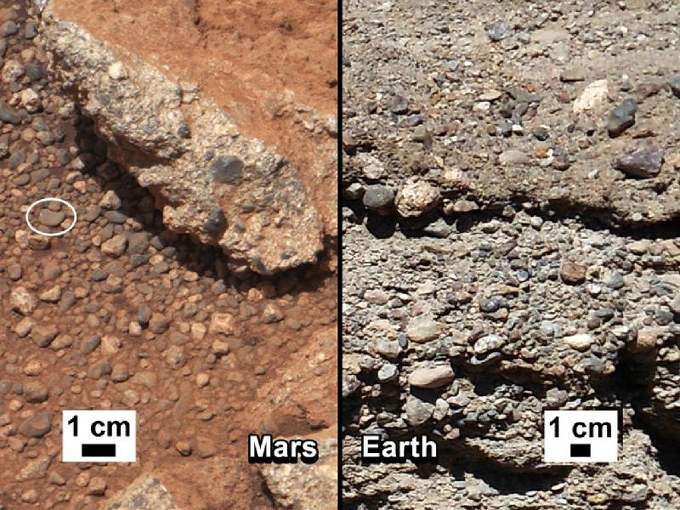 Boffins' initial theory that pebbly beaches on Mars indicate ancient streambeds has been borne out by detailed analysis of the pebble-containing slabs spotted by Curiosity last year. Their rounded edges are typical of wee stones that have been carried over long distances by water and smoothed off along the journey.
"We completed more rigorous quantification of the outcrops to characterise the size distribution and roundness of the pebbles and sand that make up these conglomerates," said Rebecca Williams of the Planetary Science Institute, lead author of a new report.
"We ended up with a calculation in the same range as our initial estimate last fall. At a minimum, the stream was flowing at a speed equivalent to a walking pace - a metre, or three feet, per second - and it was ankle-deep to hip-deep."
Three different slabs snapped by Curiosity's Mastcam in the rover's first 40 days on the Red Planet show the ancient pebbles: Goulburn, which was right next to the Bradbury Landing site, and Link and Hottah, around 50m and 100m to the southeast respectively.
"These conglomerates look amazingly like streambed deposits on Earth," Williams said. "Most people are familiar with rounded river pebbles. Maybe you've picked up a smoothed, round rock to skip across the water. Seeing something so familiar on another world is exciting and also gratifying."
In the Hottah rock, boffins have identified layers of pebbles alternating with sand layers, a common sight in streambed deposits on Earth, and the pebbles are often right next to each other, a sign that they rolled along the bottom together.
The stream is likely to have carried the gravel along for at least a few kilometres, the researchers reckon.
"The rounding indicates sustained flow. It occurs as pebbles hit each other multiple times. This wasn't a one-off flow. It was sustained, certainly more than weeks or months, though we can't say exactly how long," said co-author Sanjeev Gupta of Imperial College. ®