This article is more than 1 year old
Review: Pure Jongo S3 multiroom speakers
Furniture music
I'll admit, I didn't think I was going to have much to say about Pure's Jongo S3 speakers, the latest addition to its growing wireless audio gear range.
It connects to mobile devices, but what else is new? Well, there are a few nice touches to this boombox, the most significant being its integration with the online streaming service, Pure Connect. This is a bit of an iTunes wannabe that can be accessed from your browser or from Pure's Wi-Fi radios. Lest we forget the apps for iOS and Android that play nice with Pure wireless gear, but more on this later.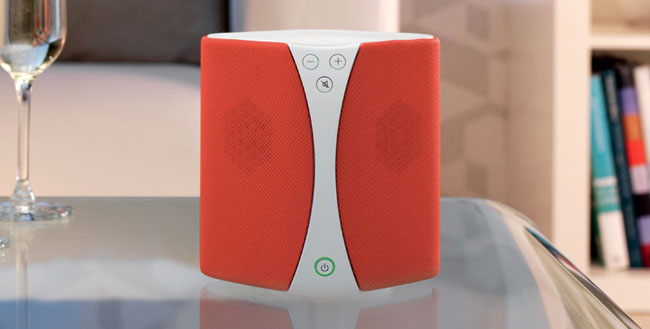 Look no wires: Syncs for multiroom use and has battery power too
What we get with the Jongo range is Pure's venture into multiroom speaker systems - the ability to stream music over 802.11b/g Wi-Fi from one room to a speaker in another. But if you want to listen to stuff in multiple rooms, and you don't have multimillions, you can easily move a solitary S3 around as it has a rechargeable battery in the base that's claimed to last for 10 hours. Pure's forthcoming Jongo T6 is a bigger beast pumping out 2 x 50W but is mains only, whereas the A2 is simply a hi-fi adapter for wireless gear.
In recent years, it seems that world + dog has been producing wireless speaker kit, with mainstream offerings typically relying on Bluetooth, Apple's AirPlay or both to transfer music over the airwaves from device to speaker. Pure went along with AirPlay last year with its Contour Air 200i but there's been nothing from the company for this protocol since.
In a rebranding exercise, the Pure Lounge has become Pure Connect which highlights its intent to go it alone as a one-stop online music source. The Pure Stream functions provide connectivity akin to AirPlay although sensibly, the company hasn't bet the farm on its own tech and includes hardware for hooking up your phone's music to Jongo gear over Bluetooth.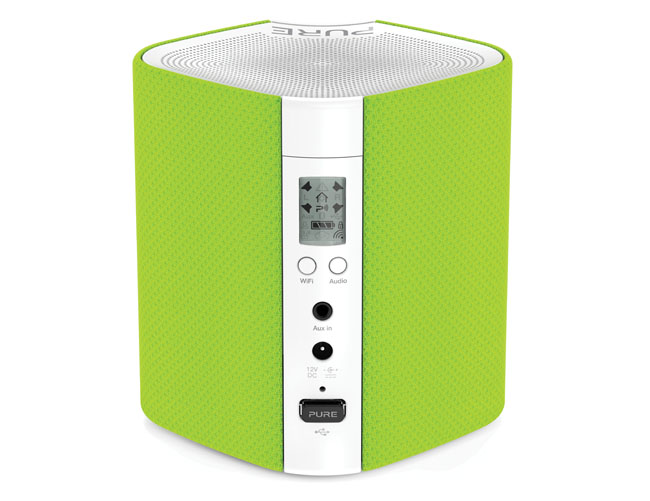 The Bluetooth USB dongle and the stereo aux input broaden the Jongo's connectivity capabilities
Evidently, Bluetooth appears to be getting a second wind given its improved reliability and simplified pairing, along with a rising tide of mobile devices that support it. Indeed, Pure's latest Wi-Fi radio announcement, the Pure Evoke F4 touts Bluetooth as the main selling point. Yet with both the Evoke F4 and the Jongo S3, the Bluetooth support is delivered using a tiny USB dongle. I'm told the Jongo S3 will have this functionality integrated into the device, but the review models provided relied on the dongle.
The Jongo S3 is just over an inch bigger than an 80-bag box of tea, but weighs significantly more at 1.25kg with the ChargePak F1 3.7V, 8800mAh battery fitted. On each of its four vertical sides is a 0.75in Mylar HF driver, with 3.5in upward firing mid-range/bass driver punching out of the top. The rated output is 4 x 2.5W plus 10W RMS, and at the back is an audio mode switch and an LCD showing various icons to indicate the chosen speaker array.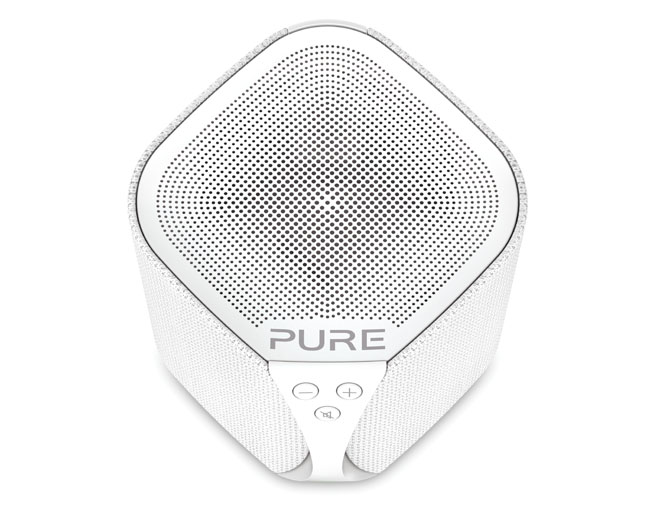 A 3.5in driver is all there is to deliver the bottom end on this speaker array
The four modes are: Mono 360˚, Outdoor boost, Stereo 360˚ and Stereo forward facing. While most modes are self explanatory, the latter kills off the rear speakers to make it more suitable for bookshelf use, whereas the Outdoor boost sounds like the high/mid range has been hiked, which gives the impression of increased loudness. You'll not notice too much difference between the 360˚ modes, but the Stereo forward facing does give slightly improved separation and a more focused soundfield.