This article is more than 1 year old
Review: Pure Jongo S3 multiroom speakers
Furniture music
Access all areas
Now, having four speakers that are less than an inch in diameter and only a 3.5in driver to pump things up doesn't immediately suggest you'll be in audiophile ecstasy. Yet somehow the arrangement works if you lower your expectations slightly. OK, so there's no trouser flapping bass and the sound could be a tad warmer, but the carry-around convenience and satisfactory sonic sufficiency combine to make sense of the Jongo S3.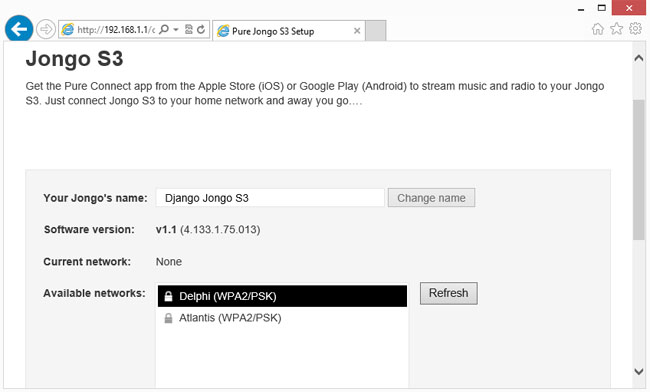 The Setup Manager detects access points within range
Before I get on to the wireless wranglings, it's good to see that there's a 3.5mm auxiliary input for when all else fails. However, I did think this was bit on the quiet side, even with line level gear. The USB port appears reserved for Bluetooth, the optional Ethernet adapter and firmware updates. No doubt there's scope for a media player to be integrated in a future model to play files from a flash drive, but that's not playing the Pure Connect game, so don't hold your breath for that to show up.
The Wi-Fi button enables pairing with WPS routers or a manual setup from a browser. I switched to manual, which turns the Jongo into a base station. You simply connect to it from your mobile device or computer, and from a browser, surf to its IP address and login to configure it using the Jongo Setup Manager. From here you can add your own preferred access point from the list of gear it has detected (or enter in the SSID if it's hidden), then put in your password and you're away. You can rename the Jongo too and there are advanced options for proxy settings and the like.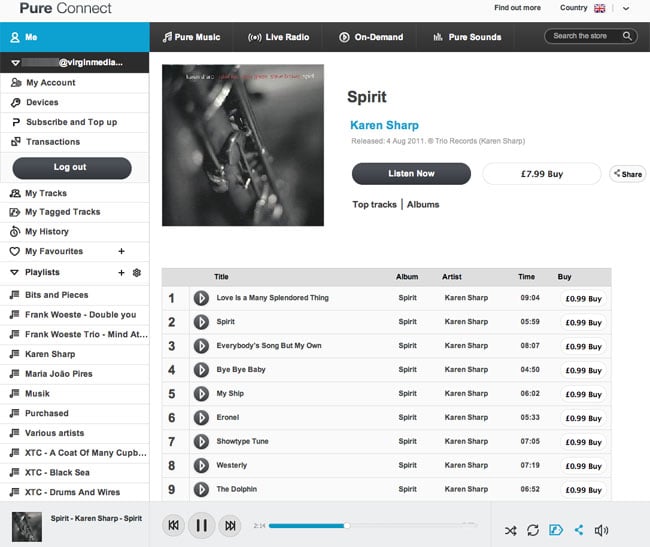 Accessing your Pure Connect account from a computer can play all your music but can't stream over a network to the Jongo
If you've got an iOS or Android device then you'll need the free Pure Connect app to play via your network to the Jongo. You don't need a paid-up Pure account – that's just for the iTunes-meets-Spotify-style music service – the app can find music you already have on your device for playback.
Select a track or a radio station to play and you'll see a P icon on the right. Tap on that and the devices that can be streamed appear. Simply activate the ones you want to hear the track played to – being a multiroom system you're not limited to just one Jongo. In fact, you're not limited to just the Jongo either. The Pure Sensia 200D and the Pure One Flow Wi-Fi radios can be streamed to from the app Pure Connect app as well.

Playback to the Jongo from a Pure One Flow radio
Indeed, I was surprised that my Pure One Flow chirped into life when I tapped on its name by mistake, as it was turned off. It seems it maintains a presence on the network when plugged into the mains. However, when running on battery only, it doesn't wake up this way. As the One Flow has just a mono speaker, also being able to stream to the Jongo from it was a definite plus, although there were lengthy drop outs at times despite an excellent signal. This didn't happen too often though and usually when connections had only recently been established, so maybe it's a buffering issue of sorts.
I was able to test two Jongos and the sync was spot on, only with both playing a few feet apart did I hear some drift from some very subtle phasing. The connection from my iPhone also proved surprisingly robust with Jongo playback continuing in the house as I wandered down the garden with the iOS device. The Pure Connect app has been revamped for Android very recently and running it from an HP Slate 7 was trouble free.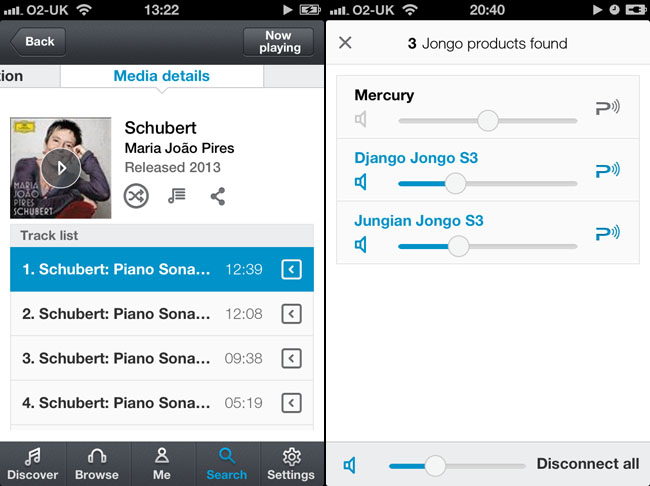 Recent releases available for streaming and iPhone playback to Jongo devices
While the app is steadily improving it does have has a few unfriendly issues: the volume control isn't readily accessible (you can't use the usual phone controls) and selecting tracks while playing an album would often skip to the one before or after your choice. The track titles are truncated too on small screens and there's no scrolling or obvious way to see the whole name, even during playback.