This article is more than 1 year old
Review: Pure Jongo S3 multiroom speakers
Furniture music
Delayed gratification
Other apps issues are that intros would occasionally lose the first second or so. Seamless album tracks would play back with gaps and album art tended not to show for individual track selections, but if you checked back to the album itself, then the artwork would show up. Also, searching for bands didn't always return the most obvious result first. A search for Focus brought up Sub Focus first and when Focus was chosen and the band overview shown, a track from a very different band with the same moniker occupied the listen slot.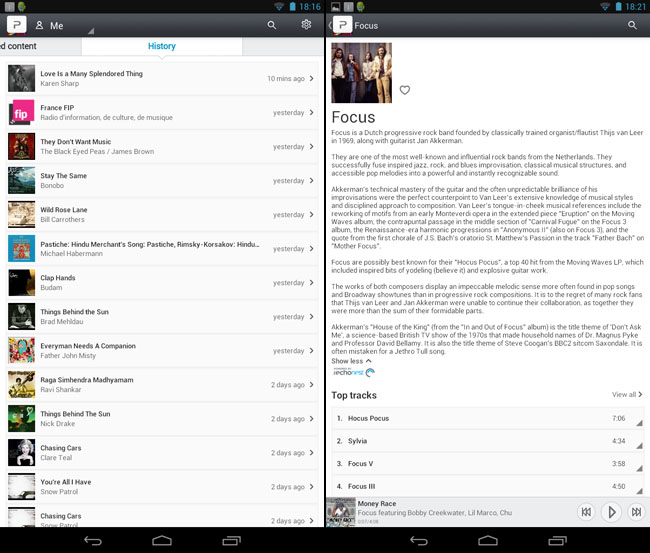 Android app on a 7in tablet showing playback history which includes inyernet radio stations and band information
Sadly, there's no app for Mac or PC. Surely, as Pure expands its portfolio to dumb wireless audio gear, there must some iTunes equivalent in the works, as the proprietary networking can't be accessed from the desktop. The way forward here is to use Bluetooth, which is fine for audio only, although you'll have to bear in mind that there are two gain (volume) stages here: one from the computer and the other on the Jongo itself.
Using Bluetooth is far from ideal for video. I tried it out on the Samsung Series 5 Ultra Touch and the audio latency for video turned out to be exactly one second. I used VLC Player's Synchronisation features to compensate and it worked out well with a consistent sync for the duration of the film. Yes, it is a bit of a faff, so you might be better off with the aux input.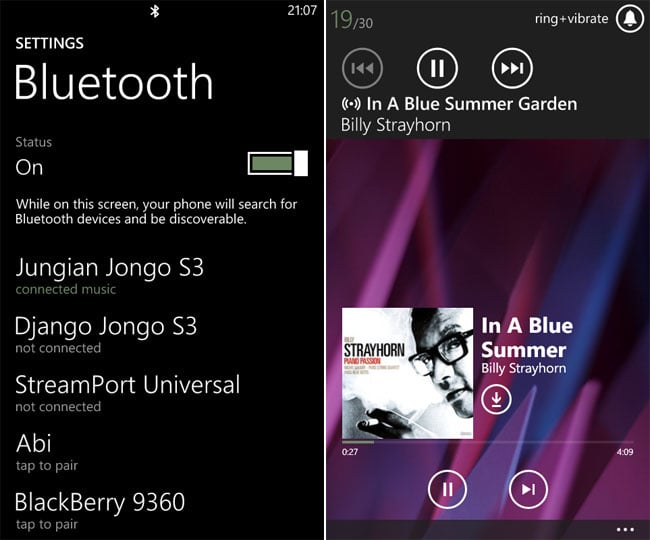 Nokia Lumia 820 Windows Phone 8 Bluetooth playback of its own streaming service
There's no Pure Connect app for BlackBerry or Windows Phone 8 but you can use Bluetooth easily enough on these phones. Nokia Music is a streaming service that's unique to its Lumia phones and playing these tracks over Bluetooth to the Jongo worked out very nicely. The only weirdness here was that the Nokia Lumia 820's keyboard clicks also played out to the Jongo.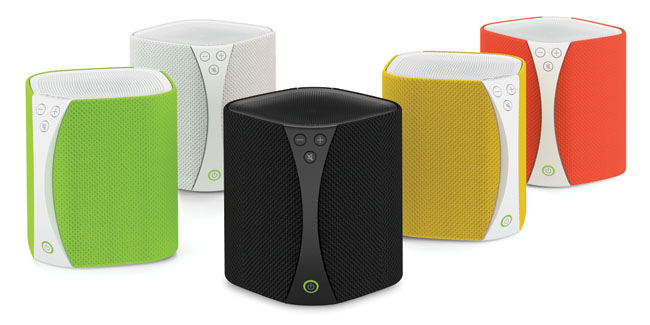 Alternative coloured grilles are available to suit your decor
The Reg Verdict
While not exactly the most gutsy portable speaker setup on the market, the Pure Jongo S3 has a well-contained sound with minimal distortion at high levels, all in a delightfully small footprint. It's certainly easy to get used to having a couple of them around, but the biggest downside is the £170 price tag; about a fifth of that is the battery pack cost. Yet multiroom systems are notoriously expensive, so the Jongo looks quite reasonable if you're not too fussy with fidelity. Even so, it really could benefit from a dedicated Wi-Fi player for computers, even if it does impinge on Pure's other little earner, selling Wi-Fi radios. ®

Review: Pure Jongo S3 multiroom speakers
Wi-Fi and Bluetooth portable speaker with multiroom capabilities and comprehensive iOS and Android app control.