Sacred islet Rockall repels Brit adventurer's first assault
Attempt to land life podule for lengthy stay thwarted
---
Heavy seas have thwarted Brit adventurer Nick Hancock's first attempt to land on the sacred islet of Rockall, and he's beaten a retreat to St Kilda ahead of a second pop tomorrow.
If he can get atop the remote granite outcrop - which lies 480km off the west coast of Scotland - Hancock plans to spend 60 days there in support of Help for Heroes. In the process, he'll break the previous Rockall residence record of 42 days, set back in 1997 by three plucky Greenpeace protestors.
According to the Guardian, Hancock had been expecting inclement weather when he departed the Isle of Harris on Thursday morning, "with swells as high as 8m forecast for Rockall over Thursday night and Friday morning".
Nick recently told El Reg he was expecting the landing to be the most difficult part of the operation. He said: "This is when there's the highest risk of injury and when the weather and swell will be crucial."
Indeed, on this hack's first trip* to Rockall back in 2003, shipmates Jamie Cambridge and Al Baker (a veteran of the Greenpeace occupation) were driven back by unfriendly seas.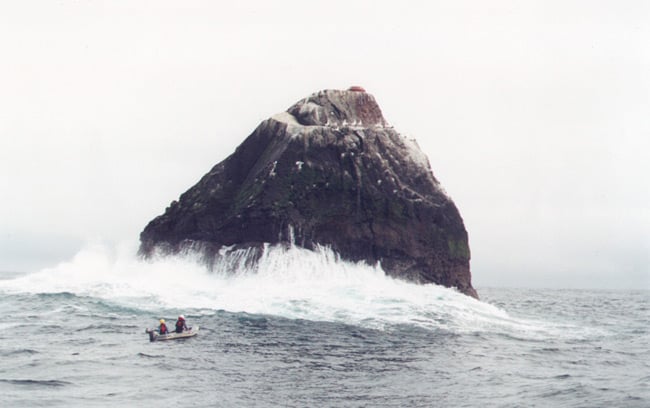 A touch of swell thwarts our 2003 assault on the sacred islet. Pic: Mark Alden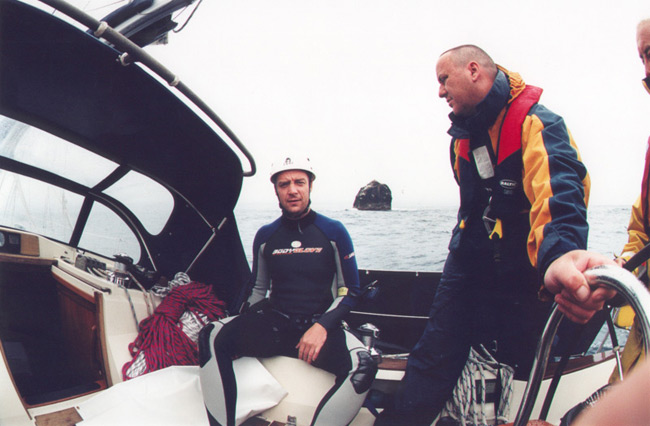 Jamie Cambridge and me after the 2003 attempt. Pic: Mark Alden
We went back for a second go in 2005, and were rewarded by a mirror-like Atlantic - you can read about it here. Hancock now has to hope Neptune will similarly smile on his endeavour.
You can keep up with his progress at Twitter (@RockallNick), and on his blog (http://rockallsolo.blogspot.com). ®