Sacred islet Rockall defeats Brit adventurer
Back to Scotland for Nick Hancock and his survival podule
---
Brit adventurer Nick Hancock is returning to western Scotland after inclement weather thwarted his attempt to land on the sacred islet of Rockall.
Hancock had intended to spend 60 days in a survival podule atop the Atlantic granite outcrop – some 480km off the west coast of Scotland – in aid of Help for Heroes. Speaking recently to El Reg, he admitted he faced an uphill task in setting foot on the remote granite outcrop, explaining: "This is when there's the highest risk of injury and when the weather and swell will be crucial."
According to the Guardian, Neptune has completely scuppered Hancock's attempt, following a first assault on the rock on Friday which was defeated by a reported 8m swell.
Nick has our sympathies. In 2003, this hacks's dream of ascending the world's remotest outcrop were sunk by lively seas, as shipmates Jamie Cambridge and Al Baker were driven back from the rock by the swell.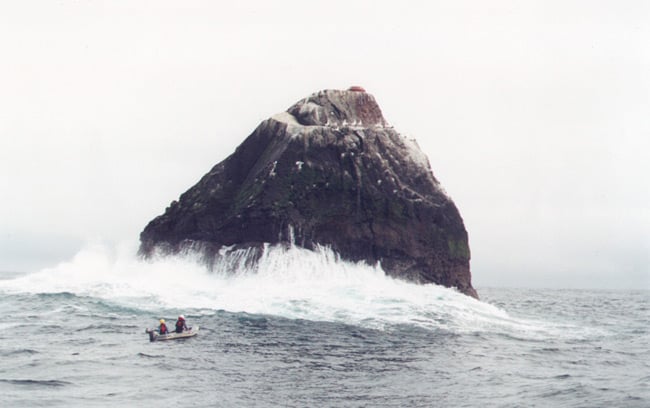 A touch of swell thwarts our 2003 assault on the sacred islet. Pic: Mark Alden
Al Baker was a veteran of the 42-day Greenpeace occupation of Rockall in 1997. In 2005, he was again on hand when we conquered the sacred islet, albeit for just a couple of hours.
Nick Hancock will no doubt reveal all on Twitter (@RockallNick), and on his blog (http://rockallsolo.blogspot.com). ®