Microsoft offers free keyboard covers for Surface RT
Is that desperation we smell?
---
Updated The TV ads for Microsoft's Surface tablets look like music videos, with happy Surface users snapping and unsnapping their fondleslabs from their keyboard-covers. There's just one problem: Surface doesn't come with a cover – until now, that is.
Previously, the Surface Touch Cover was available in five colors as a $120 add-on. The Type Cover, which includes a more laptop-like mechanical keyboard, would set you back $130. But beginning on May 31, you can get either cover for free when you buy a Surface RT.
"Touch and Type Cover do much more than just protect and personalize your Surface RT. They let you get real work done," Microsoft's Surface team said in a blog post announcing the offer.
The North American Surface Cover giveaway, which Redmond is offering to customers in the US and Canada, is said to be a limited-time promotion, although no end date has been specified. Meanwhile, a related offer for customers in Western Europe will last through June 30.
The European offer is available to customers in Austria, Belgium, Denmark, Finland, France, Germany, Ireland, Italy, Luxembourg, Netherlands, Norway, Portugal, Russia, Spain, Sweden, Switzerland, and the UK.
European customers are limited to either the black Type Cover or the Touch Cover in black, cyan, or white. North American customers, on the other hand, can also get the Touch Cover in red or magenta, and they can even choose one of two limited-edition versions.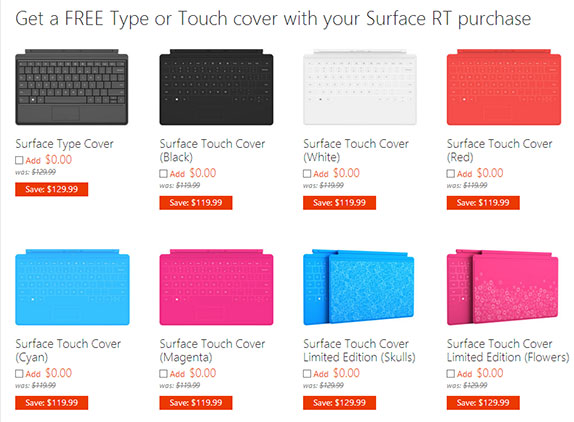 Get 'em while they last – which, based on past performance, could be a long time
Note, however, that these offers apply only to customers who buy the ARM-based Surface RT running Windows RT, Windows 8's cut-down cousin that can only run apps from the Windows Store. Surface Pro customers still have to buy their own covers.
So far, Surface RT hasn't exactly been selling like hotcakes. Analyst firm Canalys estimates that Microsoft shipped around 722,000 Surface RT slabs during the fourth quarter of 2012, which included the holiday shopping season. By comparison, Apple shipped more than 22 million iPads during the same period.
The introduction of the Surface Pro in February didn't help matters much. Given the choice between the Surface Pro and RT models, many customers seem to prefer the Pro, which runs full Windows 8 Pro.
Even Microsoft's OEM partners seem to be shying away from Windows RT. Just this week, HTC became the latest hardware maker to cancel a planned WinRT device, following in the footsteps of Samsung and Toshiba.
Surface RT's main advantage over Windows 8 tablets is that it comes bundled with a copy of Microsoft Office, a point that Redmond has touted in its recent marketing campaigns. By including a free keyboard cover with every tablet, Microsoft looks to be trying to sweeten the deal even more.
The free-cover offer will be available for a limited time via Microsoft's online store and participating retailers. ®
Update
A later Microsoft blog post confirmed that, like the European offer, the North American free cover offer runs through June 30.