Cisco is reportedly close to pushing the start button on manufacturing for a router to surpass its current CRS-3 core router.
According to Light Reading, which says it's seen a Cisco document outlining the as-yet-unannounced "CTR" router, the new iron will support 1 Tbps per 10x100 Gbps ports slot. That would put the per-slot capacity of the router slightly ahead of the Alcatel-Lucent 7950's 800 Gbps per slot.
The CTR would also reach down to Layer 2 with MPLS label switching, Light Reading says. Its ASICs will have 336 packet processing cores on-chip to handle Ethernet and Optical Transport Network (OTN) framing.
If it arrives later this year, the new iron would be pretty much on schedule, since the CRS-3 was first announced a little over three years ago.
Cisco is already tilling the field, with the latest data from its Visual Networking Index predicting that global Internet traffic will triple by 2017. Traffic will pass 1.4 zettabytes annually, which Cisco calculates as being more than all the traffic the Internet has carried from 1984 to 2012.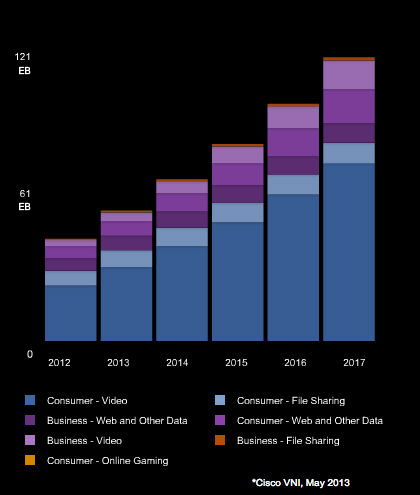 If Cisco's prediction is correct, bandwidth-strangled carriers will need faster iron from somewhere. ®
Similar topics