Acer kicks off Computex with tabs and phabs
New portable options could appeal to corporate users
Computex 2013 Acer got Computex 2013 off to a less-than-spectacular start this morning with the launch of the world's first "one-handed" Windows 8 tablet, a 5.7in phablet and a new version of its flagship ultrabook.
In a relatively subdued press conference, Acer president Jim Wong unveiled the company's latest attempt to get back into the personal computing caper now that tablets and smartphone hybrids have seen punters ignore upgrades to Acer's PC line.
First up was the 8.1in Iconia W3, a Windows 8 tablet running Microsoft Office Home & Student 2013 and touted for offering a "desktop in one hand".
At 540 grams and just 11.35mm thick, it's going to appeal to mobile workers for whom portability is key, although an optional full-sized keyboard will make it a little less portable.
The Intel Atom Z2760-powered device features front-and-rear-facing 2MP cameras, a 1280x800 resolution screen, eight hours of battery life and will come with 32 or 64GB internal storage, starting at around €329.
The suspicion and borderline hostility shown by the firm to partner Microsoft over the past year, after the launch of Redmond's Surface laptop, was not in evidence at this morning's event and it was all smiles as a Microsoft representative took the stage to big up the Windows 8-related productivity benefits of the W3.
The device will be available in Q2, Acer said.
Acer also unveiled its first "phablet", the 5.7in 1280x720 Liquid S1 smartphone.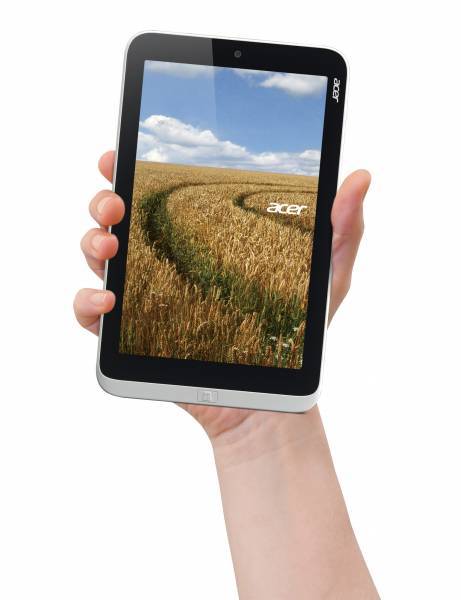 The Iconia W3 tablet
With single and dual SIM options, a quad-core 1.5 GHz Mediatek processor, and a day's worth of battery power, the handset could also appeal to business, even if it does run Android Jelly Bean.
A particularly nifty productivity-enhancing feature demoed on stage is the "float" UI, which allows the user to multi-task, switching between camera, phone, notes and other apps with ease thanks to a small floating shortcut icon.
Also touted is an 88° wide viewing angle for improved video conferencing, a voice activated phone unlocking function, and an Auto Profile feature which will automatically set the handset's profile depending on its location.
The 1GB device will be available in Q3, although pricing isn't yet available.
Not content with that little lot, Acer also unveiled a new version of its flagship 13.3in S7 ultrabook with an enhanced keyboard, improved battery life and quieter performance, as well as a "little brother", the S3 ultrabook.
"In the new PC world users are becoming smarter and demanding a significantly enhanced overall user experience," said Acer CEO JT Wang. "If you don't do that they don't buy." ®