Asus boasts of Haswell fondleslab threesome to get Acer hot under collar
It's an Atom Android tablet - wait, it's a Win8 i7 notebook
---
Computex 2013 Asus did its best to upstage local rival Acer on Monday, unveiling a 3-in-1 notebook-desktop-tablet Android-Windows 8 hybrid - plus a 6in "phablet", and the world's first Tegra 4-powered fondleslab.
Never one to hide his firm's light under a bushel, chairman Jonney Shih was in a typically gung-ho mood as he used a 45-minute pre-show press conference to unleash a series of hardware "firsts" on the attentive local crowd.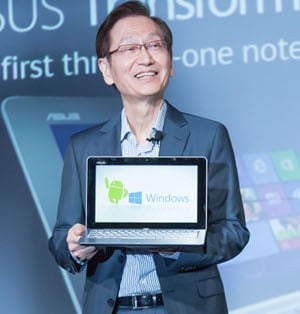 Jonney Shih with Asus Jelly Bean slablet Transformer Book Trio
Most notable was the Transformer Book Trio: an 11.6in Android Jelly Bean tablet with 64GB of flash storage and a 2Ghz Intel Atom processor. It can be docked with a "PC Station" keyboard that includes a 750GB hard disk and an Intel Core i7 Haswell processor, transforming the beast into a Windows 8 notebook.
The keyboard dock can be used with an external desktop display to complete the triumvirate of form factors, and it also works as a charger, giving the tablet up to 15 hours of battery life, Shih claimed.
Asus also pointed out that despite running two OSes, the device is able to transition easily between modes, syncing data and allowing seamless web surfing.
That was the only Haswell device on show, but Asus also had several new tablets to wow the crowd with.
"Three years ago on this stage I introduced the ePad Transformer – the first edition of our signature tablets – and today I'll share how and why we're transforming again," Shih said.
"We seek to find a perfect balance between engineering and humanity."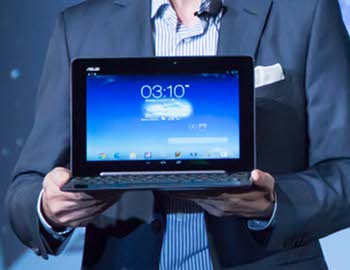 The Fondle games: The 10.1in Transformer Pad Infinity
Topping the tablet line-up was a new 10.1in Transformer Pad Infinity, a Tegra 4-powered device designed for work and play.
Its 2560x1600 WQXGA IPS display and 72 core GeForce GPU will appeal to gamers, but Shih was also keen to point out the inclusion of keyboard dock with touchpad, and USB 3.0 port, to keep mobile workers happy and productive.
Shih also unveiled his firm's attempt to rival the Galaxy Note II – the Fonepad Note FHD 6, a 6in "phablet".
This oversized smartphone or small tablet comes with 1.6Ghz Atom dual-core processor, 2GB RAM, a 1920x1080 Super IPS+ display and optional stylus for "intuitive and accurate input".
Again touting its ability to balance "play, work and social activities", Shih added that it also comes with on-board Asus apps for "note-taking, scribbling and editing".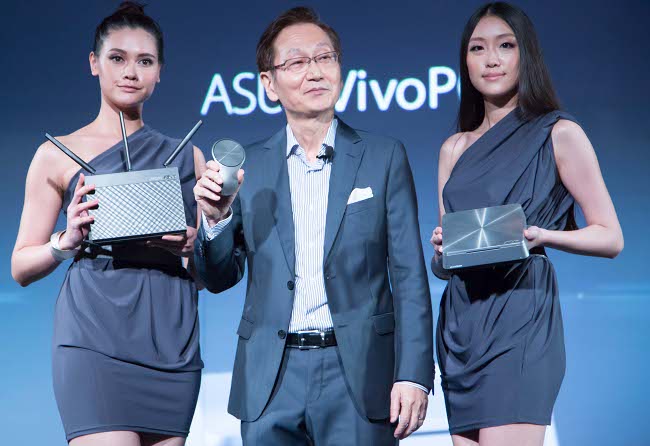 Other Asus gadgets on show included, from left: The Asus Home Computing Solution, the Vivo Mouse (held by Shih) and the Vivo PC.
It's clear Asus wants its tablets to be taken seriously by corporate users, although recent research from JD Power and Associates revealed that just 20 per cent of slab owners use them for "business activities", a worrying figure for the Taiwanese firm.
Rounding out the tablets was a Nexus 7-lookalike, the MeMo Pad HD7.
The biggest selling point for this seven-incher, which weighs in at a petite 302g and is 10.8mm thick, is the price, which Shih claimed will start at $129 for 8GB version and $149 for the 16GB model.
The MeMO Pad is slated for a July launch, the Trio should be available in Q3 and the Transformer Pad Infinity in around autumn, but pricing and/or availability for the other devices aren't immediately available. ®