PC sales may be tanking around the world, but that hasn't stopped Dell from refreshing its business-class desktop, all-in-one, and laptop lines.
"We have taken outstanding products and made them even better with improved performance, sleek design and state-of-the-art security and management capabilities," Dell's VP for PCs Kirk Schell said in a statement announcing new Latitude, OptiPlex, and XPS laptops and desktops.

From top: the new Dell OptiPlex 9020, Latitude
E6540, OptiPlex XE2, and the OptiPlex 3011
All-in-One announced on May 29


Schell and his Round Rock, Texas, compatriots must certainly be crossing their fingers for luck as they calculate how many of their company's new PCs they should build, seeing as how the analysts at IDC have predicted that shipments of desktop systems will fall by 7.8 per cent in 2013.
When Dell announced its most recent financial results last month, they revealed that their End User Computing unit's sales revenues had slipped by 9 per cent year-on-year. Still, that was better than HP's PC revenues, which dove by about 20 per cent during the same period.
Ah, those damn fondleslabs.
Still, businesses need their PCs, and Dell is betting that the release of Intel's new "Haswell" 4th Generation Core Processor line will entice enterprise, government, education, and SMB customers to commit to long-delayed upgrades. Each of the company's Tuesday announcements – the OptiPlex XE2, OptiPlex 9020, and Latitude E6540 lines – come with a choice of various 4th-Gen chips.
The recently announced OptiPlex 3011 All-in-One, by the way, isn't being offered with a Haswell processor; it's available with a "Ivy Bridge" 3rd Generation quad-core i5 or dual-core i3, or if you really feel like slumming it, a dual-core Pentium or Celeron.
Dell's executive director of product marketing, Brett McAnally, told The Reg that the new systems address the needs of the "thousands if not hundreds of thousands" of customers that Dell speaks with each year.
"Three things continue to pop to the top of that list," McAnally said, regardless of what country or company size the customer is from. "The first one, of course, is security," he said – not only data loss, but also loss of intellectual property should, for example, an engineer's laptop be stolen.
"Manageability is second," he said. "Hardware acquisition, obviously, is just a portion of their overall cost structure." Larger costs accrue over the system's life cycle – deployment, device management, support, upgrades, repair, and other services add up to a significant chunk of a business's operating expenses.
"The third one is what we commonly refer to as reliability," he said. "Specifically, tied to data loss, they have to keep the machines operating. And whether that's in a desktop or a notebook, IT managers are heavily concerned with ensuring that they're buying the most reliable systems that they can, and that those machines are committed to multiple years of operation."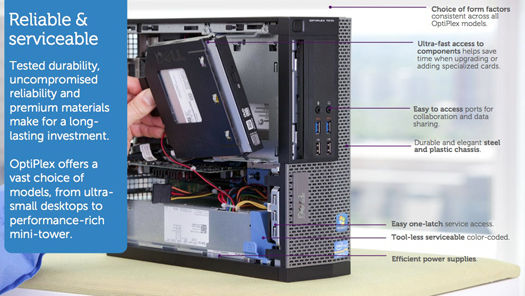 The shrinking PC market makes a desktop like the OptiPlex 9020 an endangered species (click to enlarge)
That third need might seem obvious, but it – along with security and manageability – is embodied in the products that Dell announced on Tuesday, McAnally claims. "The OptiPlex, which is our desktop brand, Latitude, which is our notebook brand specifically targeted for commercial products – both of those products have and continue to deliver on those three key pillars," he said.
The desktop OptiPlex 9020, for example, which comes in an "ultra small form factor", small form factor, minitower, and all-in-one models, supports Dell Data Protection software for authentication and encryption, Dell Protected Workspace software for protection against the latest malware, and Dell extensions for one-to-many remote BIOS management to aid in manageability, and has undergone what Dell describes as "intense Highly Accelerated Life testing" to ensure reliability.
The all-in-one version of the 9020 may appear to be a consumer-level device at first glance, but at heart it's a business machine with a 23-inch display – touchscreen optional – that tilts to about 30 degrees from horizontal. McAnally sees this system being used, for example, at hotel check-in desks where "the user behind the PC actually wants to make eye contact with the guest that's checking in." The 20-inch OptiPlex 3011 All-in-One doesn't tilt – it's strictly a space-saving desk resident.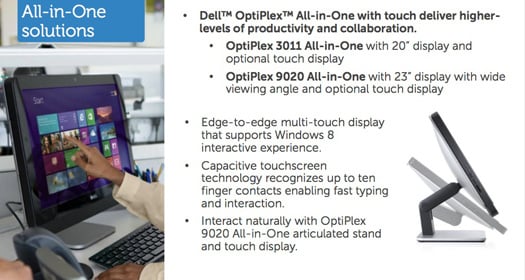 All-in-Ones have roles in other than desktop situations – hotels, for example
McAnally said that the OptiPlex XE2 is "purpose-built for embedded solutions," and offered the example of an XE2 sitting underneath a retail-store checkout counter. "What you'll find is that the requirements are slightly different than in a traditional desktop environment," McAnally said, citing such requirements as greatly increased life-cycles as well as BIOS and hardware stability.
McAnally characterized the Latitude E6540 as "the highest performing, most secure, most manageable notebook we have in our business." The E6540, Dell says in its marketing materials, includes Dell Data Protection | Encryption, a "comprehensive encryption solution suite [that] enables centralized, remote management of endpoint security," and its magnesium frame and sealed screen should help fulfill McAnally's promise of reliability.
When The Reg tried to draw McAnally out about the decline in global PC sales and IDC's predictions in particular, he answered like a true company man should. "We're still seeing strong demand globally," he said, "and obviously with this announcement, we're still committed to the PC business."
In response to our further queries, Dell's director of corporate affairs, David Frink, provided us with an emailed statement, saying in part, "In an overall down market, Dell was the only vendor among the top 5 to gain share both Y/Y (0.3 points) and sequentially (0.9 percent)."
While gaining market share in a shrinking market is a good thing, growing the overall market is, of course, more to be desired. Whether Dell's refreshed business line of OptiPlex and Latitude systems can help accomplish that feat, inducing IT managers make long-deferred purchasing decisions, remains to be seen. ®