The European educational network community is feeling pleased with itself, switching on a single 100 Gbps link across the Atlantic.
While submarine cables these days routinely have aggregate capacity in the Terabit range, this is the first time Europe's educational networks have had a single 100 Gbps link to play with. The test was launched as part of the TERENA Networking Conference in Maastricht, The Netherlands. Other points in the US in the demonstrations include StarLight in Chicago, the ESnet hub in Atlanta, and KENCI in Raleigh.
The Advanced North Atlantic 100G Pilot (ANA-100G) includes America's Internet2 effort, ESnet, NORDUnet, SURFnet, CANARIE, and GEANT. While many of the participants, including Internet2, had enabled 100 Gbps connections within their borders, the trans-Atlantic link had not caught up and was limping along at a mere 10 Gbps.
Kit was provided by Ciena (supplier of the submarine photonics, including a 100 Gbps version of its WaveLogic 3 transponder) and Juniper. Further testing over the next 12 months will be carried out between four exchange points including MAN LAN in New York City and NetherLight in Amsterdam.
At April's Internet2 meeting, the collaborators announced that a 100 Gbps link would be implemented.
At the time the decision was announced, ESnet highlighted US-EU collaboration as the reason for wanting the extra capacity. As director Greg Bell said, "we look forward to connecting to CERN, home of the Large Hadron Collider - as well as other European organizations - at 100 Gbps.
"Because ESnet operates an independent 100 Gbps testbed from coast to coast, we'll be able to use the new link to test very high-speed, high-latency paths and workflows, for instance between DOE's National Energy Research Scientific Computing Center (NERSC) in California and sites in Europe. I anticipate experiments with demonstrations with a number of other DOE national labs as well," he said.
Early on Monday June 3 (Europe time), Gerben van Malenstein as @vanmalenstein announced the live 100 Gbps connection with this message: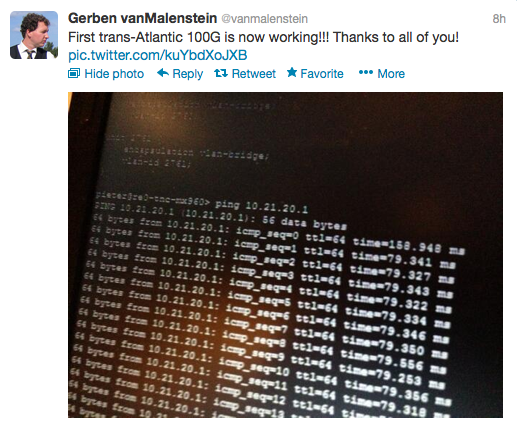 ®