This article is more than 1 year old
Intel's plan for Haswell, Silvermont, Bay Trail: WORLD DOMINATION
Smartphones, tablets, laptops, and ... uh ... everything? That's the goal
Intel says that its upcoming "Silvermont" Atom microarchitecture, coupled with Tuesday's announcement of low-power, dual-core "Haswell" 4th Generation Core processors, will not only vault it into smartphones and tablets – including detachable tablet-keyboard combos it calls "2-in-1s" – but will also invigorate its low-power efforts in laptops, Ultrabooks, and desktops.
"The myth that Intel will never be able to get power down low enough to get into phones is gone," Intel spokesman Bill Calder told The Reg. "That debate is over."
Not that Intel has accomplished all of its low-power goals. "You can argue with me about whether we have the full SoC integration, we don't have LTE yet – but we're getting close there," Calder said. "I'm fine with that conversation. But the myth of not being able to get into phones or to get power down low enough is done."
Intel's move into phones has begun – albeit in a limited way – with its Medfield chip. Calder, however, says that when the Merrifield system-on-chip, based on the Silvermont architecture and scheduled to ship to OEMs by the end of this year, Intel's move into smartphones will be real.
We told Calder that we had good historical reasons to doubt his "That debate is over" assertion, seeing as how we had gone through the unfulfilled promises of Menlow, Moorestown, and Medfield, only to have them arrive with performance-per-watt stats that were – hmm, how shall we put it? – suboptimal. "I know. I know. And I'm with you, too, because I went through that same thing from an internal perspective, and I was frustrated."
It's tough being an Intel spokeman. "I've had these conversations with a lot of people," Calder said, "where they go, 'Bill, you told me that two years ago'."
But Calder is unbowed. "I'll tell you that about Merrifield again, too," he said, "because I do drink the Kool-Aid around here – hell, I help mix it and stir it, too, right?"
Before Merrifield arrives, fondleslabs built using the Bay Trail tablet platform based on Silvermont – which Calder described as "not your mother's Atom" and "a whole new ball of wax" – will ship in time for this year's holiday season. "If you look at both Haswell and Bay Trail combined," he said, "I'm looking at this and thinking, 'We've got a really good one-two punch coming in the second half of this year'."
Quad-core Haswell parts are shipping to OEMs now – we dove deep into that architecture after it was detailed at the Intel Developer Forum last year, and provided even more details about it this Monday – and at Taiwan's Computex shindig on Tuesday, Intel announced that lower-power, dual-core Haswell chips are also on their way.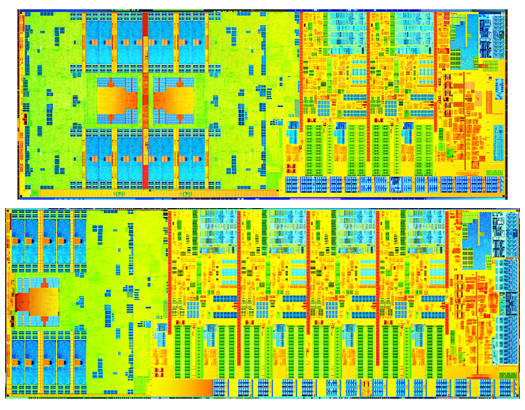 On Tuesday, Intel's dual-core Haswell chips (top) joined their quad-core siblings (click to enlarge)
So in what devices will Bay Trail and low-power Haswell chippery arrive? Calder had plenty of ideas. Take Bay Trail, for example. "In addition to Bay Trail powering tablets – both Android and Windows – we can do SKUs of Bay Trail, and will, for a new crop of affordable, small, thin-and-light laptops for the value segment, and also even value, affordable desktops and all-in-ones."
Intel, Calder says, will offer Bay Trail platforms that include such "PC-like" elements as SATA and PCI Express, but still have good battery life. And when he says "affordable," he's talking about $300 touch-enabled laptops.
As is to be expected, one target of Haswell chips will be Intel's Ultrabook effort. "As you know, three years ago when we set off on this path to Ultrabooks, we said it would be a phased thing," Calder told us in a comment that one might qualify as somewhat apologetic.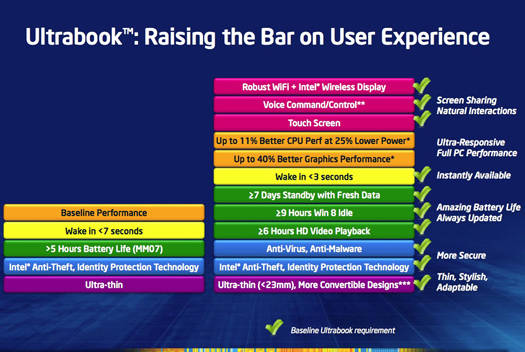 Intel claims Haswell chips (right) will offer Ultrabook improvements over today's models (click to enlarge)
The first Ultrabooks were based on Intel's 2nd Generation Core processors, aka "Sandy Bridge"; the next wave were powered by the 3rd Generation "Ivy Bridge" core processors. What's different about the upcoming Ultrabooks is that they'll be powered by 4th Generation Haswell chips designed "from the ground up for Ultrabooks," Calder said.
Clock-for-clock, Haswell chips should be about 15 per cent faster than Ivy Bridge chips. However, it's not just that relatively modest improvement that will make people flock to Ultrabooks, he said. "What I think may surprise people is that it's far more than just that performance gain. This is the largest single biggest jump in battery life, generation-to-generation, we've ever seen, way beyond even our own expectations: 50 per cent battery improvement over previous generations on active workloads."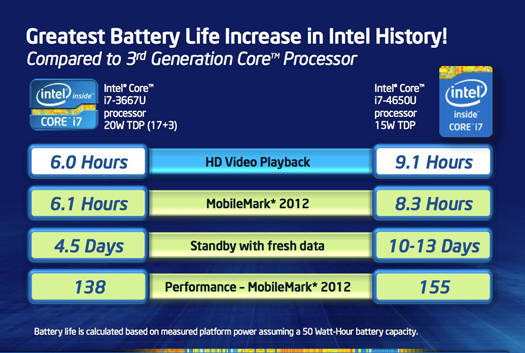 A Haswell Core i7 will provide increased battery life over its predecessor, Intel says (click to enlarge)
Calder did hedge his bets a bit, though. "Systems will vary," he said, "it depends on the OEM. Your mileage will always vary."
Fair enough. But he did note that in Ivy Bridge–based Ultrabooks, battery life was roughly five or six hours. Haswell-based Ultrabooks, on the other hand, will have nine hours or more of battery life on active workloads, and 10 to 13 days of standby. "Ten-plus, 13 days in your briefcase," he said, "closed, but being updated."
Ultrabooks will also benefit from Intel's upgraded "Iris Pro" graphics, which Calder says will double graphics performance and more than double 3D graphics over today's Intel HD graphics. Even at lower levels of graphics performance – only a select number of Haswell chips will benefit from Iris Pro – "For the vast majority of people this is going to be a significant improvement," he said.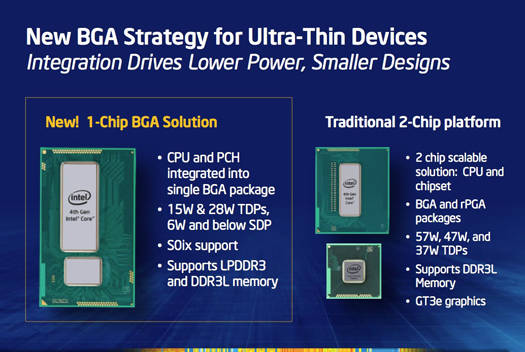 One Haswell iteration will combine CPU and platform controller hub on the same part (click to enlarge)
Below Ultrabooks and above tablets in the personal computing continuum, Intel envisions another product category that is just beginning to emerge, but that for which the company – well, Calder, at least – sees great potential: convertibles and 2-in-1s, the former being a laptop such as the Lenovo Yoga and Dell XPS 12 with a display that swivels into a tablet form factor, and the latter being a laptop whose keyboard snaps off entirely, turning its display into a tablet à la the Microsoft Surface.
When we pointed out to Calder that convertibles have been up until now a bit of "trick pony", he first agreed, then backed off a bit. "I don't know if I agree with 'trick pony', but it's been maybe a niche part of the market, becoming far more important over the next several months and several quarters. Watch that space."
To support his "watch that space" recommendation, he noted that in the Sandy Bridge generation, there were only five such systems, and that in Ivy Bridge that count rose to 15. "By the time we finish this year," he said, "there's going to be 50 of them on Haswell. Or in some of them will be Silvermont and Bay Trail, too."
The client-side Haswell line comes in an alphabet soup of product series (click to enlarge)
Haswell's low-power operation will also have an effect on desktop PCs and all-in-ones, he said, citing some of the latter that are now appearing with batteries and a detachable display so that they can be lifted off their stands, laid flat upon a table, and have their touch-screen display accessed from all four sides.
"The notion of having an 18- up to a fairly luggable 27-inch screen and moving it around the house seems a little awkward, but imagine for kids and families," he said. "Imagine being able to take that desktop and just lift it up off of its thing and come around and lay it on the kitchen table or on the living room table and play games – and it's happening."
Smartphones, tablets, convertibles, 2-in-1s, Ultrabooks, all-in-ones, desktops – Intel has great hopes for Silvermont, the Bay Trail platform, Haswell, and the upcoming Merrifield.
Chipzilla may now dominate the higher-end of that continuum, and not so much – not at all, to be frank – at the lower end. But with Monday's announcement of Samsung building a "Clover Trail+" Atom-based tablet, Intel is moving into the tablet market with a major vendor – a move, by the way, that caused ARM's stock price to slip by 7 per cent in Monday trading.
Smartphone? Not yet. But Calder is adament that it's just a matter of time. "We're not throwing in the towel," he said. "I think we're going to keep this design-win-by-design-win." ®