Promo Aston Martin, James Bond's favourite sports car maker, celebrates its centenary this year. The company recently shifted its disparate office IT onto Microsoft's cloud-based Office 365.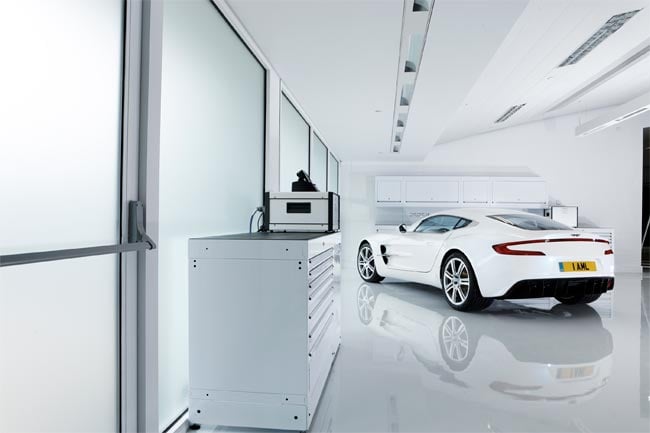 Designing, building and selling high-performance cars requires reliable systems that can deal with data-dense diagrams and images.
Aston Martin's ERP system, based on Microsoft's Dynamic AX, is used across the organisation for customer and supplier accounts. The company is moving to a standardised server setup and SharePoint 2013 to further simplify management.
The long-term aim is to focus on just three primary suppliers for its desktop services: Microsoft for software, HP for hardware and Verizon for comms kit and services.
Their own devices
Daniel Roach-Rooke, who has been with the firm for three years, is the IT infrastructure manager. He says he needed to give staff access to email and the rest of the desktop suite without creating an administrative nightmare for his small IT team.
Staff also needed to have secure, reliable access to systems on a variety of devices, not just laptops and PCs. Ninety-five per cent of Aston Martin's staff work most of the time at its headquarters at Gaydon, Warwickshire, but the rest are spread around the world, some of them never going into a company office.
Aston Martin depends on an IT operations team of 15 people to support 2,200 computers and other devices. Any new system needed to be really easy to manage without a team of people on full-time support duties, Roach-Rooke explains.
"Each member of the team is focused on one product but tends to have a fairly broad background," he says.
"With a small team it is hard to get best-of-breed everywhere. We needed to work with a big supplier because we'd never hosted our own Exchange systems. We had a hosted deal with a partner, which was unreliable."
Roach-Rooke did not want to lose a team member to the task of administering the new system, or worse still, do it himself.
From cloud to cloud
Aston Martin had no particular concerns about moving to the cloud: its previous use of Microsoft's Business Productivity Online Suite (BPOS) meant it had effectively already been cloud-enabled for three years.
"We went to BPOS in 2009 and migrated to Office 365 in April last year, with remote help from Microsoft's Premier Support services," says Roach-Rooke.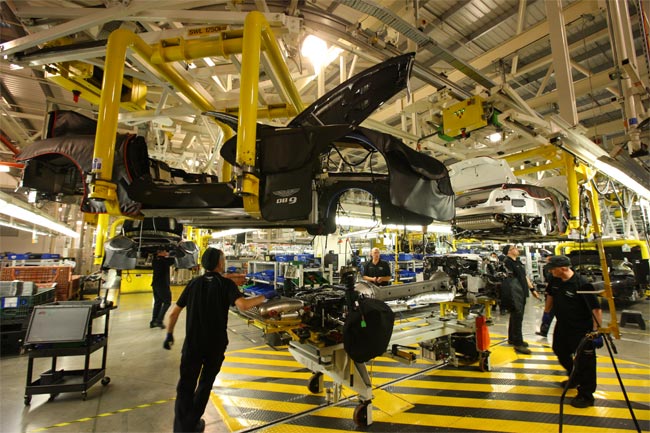 "It went in over a weekend and we used the opportunity to standardise on Office Professional 2010 at the same time. Most people have Office at home, which makes user training easier. They have half learned the features already."
And because Office 365 lets every user have the software on up to five different devices, users can download other copies onto their home machines. "Another benefit for them and for us," says Roach-Rooke.
One teething problem with the migration was that Active Directory didn't have the Exchange schema installed because it had never been used on-premise. The only other issue was that users needed help in configuring devices and changing passwords.
The system gave Outlook users a 25GB inbox, as well as easier access to email when out of the office – no more VPNs. Users get almost seamless access to all their familiar Office software from wherever they are.
The system also eliminated the headache of managing .PST files for syncing emails and made for much simpler administration.
One surprise has been the number of other devices, from iPhones to Samsung slates, that people wanted to use to access email.
Email is a crucial function for the company, both internally and for communicating with suppliers and customers. Easy scalability is also important, as Aston Martin is hiring.
Office 365 provides a simple way of adding or deleting users and setting security profiles for them and their devices through its admin console.
"We have had hundreds of requests to get email onto different devices. This would normally be a challenge, but the system uses role-based security which is really easy to administer," says Roach-Rooke.
Spam filters catch about 1.5 million messages a day ("a pretty good job," says Roach-Rooke) without taking up staff time or bandwidth.
Aston Martin has also introduced instant messaging, using Office's Lync."Several departments have really embraced it," says Roach-Rooke.
"The marketing department is using it for sharing PDFs and draft creative concepts."
The firm has many complex manufacturing supply-chain relationships and is federating its instant messaging with some suppliers.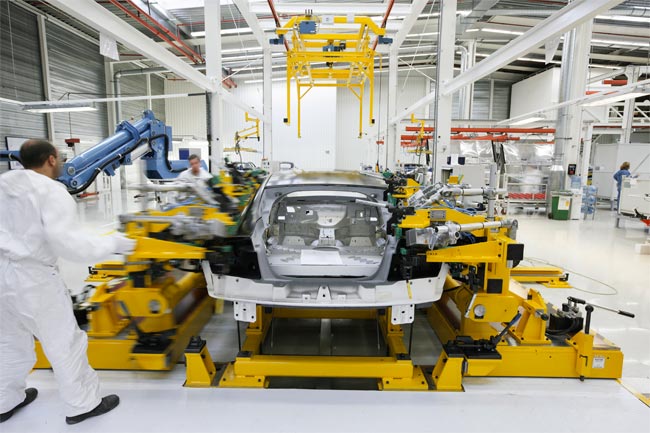 It is also using SharePoint Online to communicate and share documents with suppliers. The system is separate from its internal equivalent, minimising security headaches and any chance of accidentally exposing intellectual property.
Aston Martin is prepping a single sign-on system running on Active Directory in the cloud, which will put all user management in one place. It will also let the company set its own password controls and email identities.
"If one of our cars appears on Top Gear, page impressions go through the roof"
The firm already uses Windows Azure, Microsoft's cloud application platform, to run Astonmartin.com, which can deal with fluctuating demand.
"When we announce a new model, or if one of our cars appears on Top Gear, for instance, page impressions go through the roof. This system lets us pre-arrange extra capacity for events or react dynamically to unexpected instant messaging," says Roach-Rooke.
With this year's centenary, demand on the website is likely to be more varied than ever. The firm is also experimenting with mobile applications to communicate with customers and celebrate the anniversary.
"The decision on email was a no-brainer, given that we had never hosted our own Exchange servers – pretty unusual for a company of our size," says Roach-Rooke.
"The main argument was on-premise or off-premise. Once that was decided we looked at the alternatives. We were more concerned with functionality than price and Office 365 is both cost effective and robust. Microsoft has really pulled it together with this product.
Pipes of peace
"Of course there are the usual cloud restrictions: you need your pipes in order – bandwidth needs to be there 24/7. But after a year, we have had no noticeable outages."
The move to paying by subscription, rather than getting a lumpy upgrade invoice past the finance director, also suited Aston Martin.
Roach-Rooke adds that having considered various options, Aston Martin saw nothing missing in Microsoft's product. The company is looking forward to the next update, without seeking a solution to any specific problem.
He offers the following advice for companies contemplating a similar move: check your firewall; Outlook is hungry for ports so make sure you can have enough open, concurrent ports; and your bandwidth must be able to cope.
"This was a business-critical function for Aston Martin so we needed resilience. We have redundant internet connections should anything go wrong," he adds. ®
This article was produced in association with Microsoft.