This article is more than 1 year old
Review: HP Slate 7 Android tablet
With added Beats to drum up sales
The other day Vulture Central was visited by HP with a Google chap in tow. We were treated to a couple of HP products: the new Slate 7 Android tablet and the company's latest Chromebook, which we'd already seen as it happens.
The smart-looking seven-inch, dual-processor-core tablet appeared to have little to distinguish it from other Jellybean offerings. However, the HP folks were keen to point out the HP ePrint app that's bundled with it. Mmmh, this looks easy – hack takes picture, opens app and hey-printing-presto over the wireless network.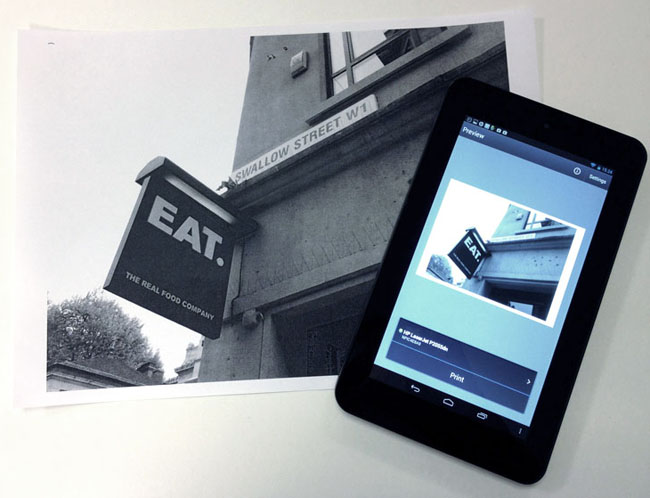 Photo taken with the HP Slate 7 camera and printed over a Wi-Fi network using the ePrint app
"So what's the Chromebook like for printing these days?" I asked, recalling my experiences of Cloud Print on a Samsung Chromebox a year earlier. This is where things took a dive. The setup on a Chromebook remains the same: in a word, frustrating. Cloud Print, which sends your documents to a printer via Google's central systems, is also the default printing method on Android tablets. No great surprise as the operating systems on both devices are in the hands of the same company: Google.
So how come a simple app from HP takes away the Cloud Print pain on a tablet and yet a Chromebook has to send your print task into cyberspace and back to do the same job? Alas, there's no ePrint silver bullet on HP's own Chromebook and what if you haven't got a Cloud-Print-ready printer? The Google guy sat there and said I could always hook up to another computer to print – er, what's wrong with this picture? Meanwhile, the HP folk were looking rather pleased with themselves as the Slate 7 pic print job rolled out from one of our network printers on the very first try.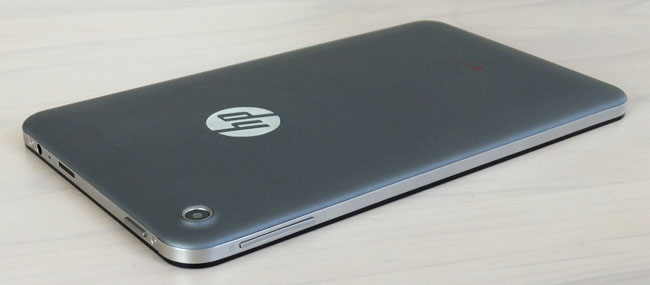 Dressed in Beats clothing: red or silver to suit your style
OK, so HP got lucky as we use some of its LaserJet printers. The big players in printing all have mobile apps these days, so most people can pull this trick on a tablet with the right app on board. HP is just making the most of its assets here and it does it again on the Slate 7 by including Beats Audio processing featured on its laptops that delivers a bass boost on playback. Yet for the Slate 7, the Beats beefing applies to headphones only. Still, the Android tablet market is so very crowded these days that any kind of differentiation is worth pushing to the front. And just to make the point, the Slate is available in red or silver, mimicking the Beats livery, and there are tablet-plus-headphone bundles on offer too.
Indeed, what we have here is a similar spec to a lot of seven-inch tablets. A 1.6GHz dual-core ARM Cortex-A9 processor, 1GB of DDR3 RAM and 8GB of storage. The latter can be increased using the micro SD card slot, another differentiator that really is worth having. Yet what HP giveth it also taketh away, sort of. The micro SD card is a plus point over the Google Nexus 7, but the advertising giant's tablet has a 1280 x 800 resolution, while the Slate 7 makes do with 1024 x 600 pixels on its touchscreen display.
And while we're comparing, the AnTuTu benchmark utility shows that the quad-core Nexus 7 turns out to be only marginally faster than the dual-core Slate 7 proved to be. All in all, you get a cheaper tablet with storage expansion but no HD screen.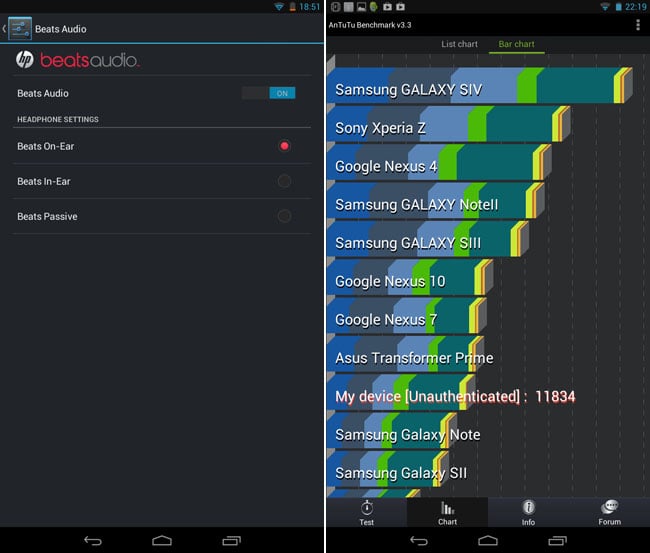 Beats sound output options and AnTuTu scores
In the hand, the HP Slate 7 feel robust, although at 197 x 116 x 10.7mm and 370g it's not the slimmest nor the lightest. The FFS+ display is sharp enough for this size, but doesn't fare too well in bright sunlight, but what tablet does? Even in a shady spot, it's the reflections from the bright surroundings showing on the screen that hamper viewing the most, as I discovered whilst eBook reading during a sunny spell here in Blighty.