This article is more than 1 year old
Facebook's Sean Parker fined $2.5m for tasteless eco-trashing wedding
Fantasy-themed gala threatened wildlife, old-growth forest
"Move fast and break things" is the unofficial motto of Facebook engineers, and for original Facebook president Sean Parker that philosophy apparently even applies to centuries-old redwood forests – at least where planning his wedding is concerned.
The California Coastal Commission has ordered Parker and property owners WTCC Ventana Investors to pay $2.5m in fines and restoration costs to undo the environmental damage caused by the Napster cofounder's June 1, 2013 nuptials.
A report released by the Commission on Monday reveals how Neraida LLC, a limited-liability corporation formed by Parker specifically to manage his $9m wedding to singer-songwriter Alexandra Lenas, conducted an extensive development project at a private site in the woods at Big Sur that caused soil erosion and endangered local wildlife, all without obtaining local, state, or federal government permits.
Seemingly not content with the natural wonders of the location, Parker reportedly had Neraida build numerous structures for the event, including:
... a gateway and arch, an artificial pond, a stone bridge, multiple event platforms with elevated floors, rock walls, artificially created ruins of cottages and castle walls, multiple locations with rock stairways, a dance floor, installation of numerous potted trees, potted plants and flowers, event tents, port-a-potties, generators, lighting, and wedding facilities
Some of these activities involved building stone staircases around old-growth redwood trees and planting non-native plants along the existing road beds and campsites to create a fantasy feel – Parker reportedly even hired Lord of the Rings costume designer Ngila Dickson to outfit his guests.
According to the Coastal Commission, all of this construction led to "continuing resource damage," including soil erosion into nearby Post Creek, a coastal stream that is a habitat and spawning ground for steelhead trout, a threatened species.
In addition, the construction for Parker's wedding caused the closure of public camping and parking facilities at Cadillac Flats for several months in violation of California's Coastal Act, which mandates that portions of the area be reserved for low-cost recreational use by the public.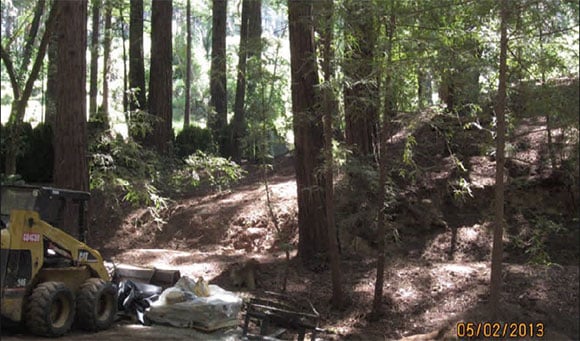 Never mind the ancient redwood trees, this looks like a lovely spot for some fake castle 'ruins'
The report explains how the Coastal Commission ordered Neraida to halt work on May 8, which it did ... for about a week. Construction then resumed, despite the Commission's warnings that the project risked violating the Coastal Act's permit requirements.
The Commission's June 3 judgment orders Neraida to cease and desist all construction activities on the site – a bit late, since the wedding took place two days earlier.
It also orders Parker, Neraida, and WTCC Ventana Investors to pay a penalty of $1m to the California Coastal Conservancy Fund, in addition to providing a minimum of $1.5m for one or more conservation or public access projects, subject to the approval of the executive director of the Coastal Commission.
"If the projects so approved to do not exhaust the $1,500,000 reserved and earmarked, additional projects shall be proposed, and the same process shall be followed, until all the funds are expended," the resolution states.
In a joint statement released on Monday, Coastal Commission executive director Charles Lester said Parker has been working with the Commission to resolve the matter.
"Mr. Parker has been extremely cooperative and actively involved in working with Coastal Commission staff to reach this resolution which both addresses our Coastal Act concerns and will result in greater coastal access and conservation in the Big Sur and Monterey Peninsula areas," Lester said.
The statement further added that Parker will either help produce a public education video with the Commission or create a mobile app designed to raise awareness of public natural recreation areas.
"We always dreamed of getting married in Big Sur, one of the most magical places on earth. In continuing my foundation's mission, we are excited to support these important conservation-related projects for and with the local community," Parker's statement said. ®