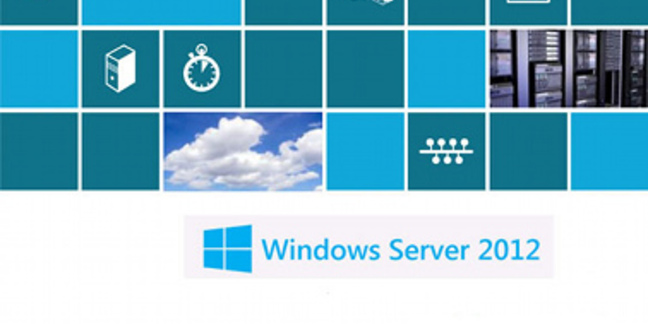 Flash! Bang! Wallop! sTec is going into the flash-chip filer appliance business with a Windows Storage Server 2012 box - pretty much a first for any mainstream solid-state-drive (SSD) vendor - with its s3000 product.
Typically, SSD vendors supply flash components to array manufacturers. This vertical upwards integration by sTec is unusual.
There's an industry-standard server in the enclosure, twinned with set of sTec s840 SSDs; these being recently certified for Windows Storage Server 2012 (WSS 2012). They have a dual-port 6Gbit/s SAS interface.
In more detail, there are two head units, each with two eight-core Xeon E5-2680 CPUs, 128GB of memory, dual-mirrored boot drives, four 1GigE ports and up to six 10GigE ports.
Protection is provided by the dual head units, full suite of redundant components and RAID.
The modular appliance's maximum capacity is 96TB; it can scale out to eight appliances for up to 768TB of storage. Each module is 2U in rackmount terms, so we have:
One head unit plus one drive shelf: 4U
One head unit plus two drive shelves: 6U
Two head units plus one drive shelf: 6U
Two head unit plus two drive shelves: 8U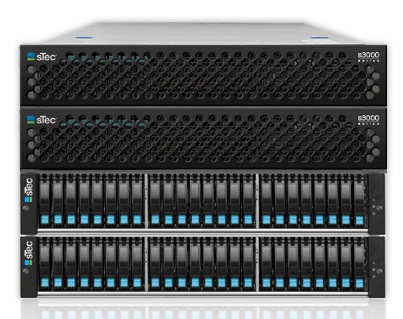 sTec s3000 storage appliance
Accessing servers see a standard WSS 2012 – Standard, not Workgroup - box with CIFS/SMB and NFS interfaces
The anticipated workloads are characterised as IO-intensive and HPC-like on the one hand, with VDI as an example app. On the other hand, applications such as Hyper-V, SQL Server and Internet Information Services (IIS) are mentioned. sTec has identified markets like oil and gas, entertainment and e-commerce as having potential applications for the s3000.
Compared to standard disk-based WSS 2012 filers, the s3000 will (we're told) respond much faster, improve application transaction performance, and use less electricity. sTec says it's "working directly with customers to develop ideal approaches for tailoring their data centres to optimally incorporate the s3000 and SSD solutions," and claims it has "a large in-house team of storage, application and data centre experts and a comprehensive channel program" to help ensure this happens.
By flash-enhancing WSS 2012, sTec will be able to ship much higher performing filers than any disk-based alternative and provide a ready upgrade path for existing WSS 2012 users facing application slow-down due to inadequate filer performance.
This could appeal to customers more than than alternative all-flash array products from companies such as Nimbus Data, Pure Storage, Violin Memory and Whiptail, none of which run WSS 2012. Similarly, it might even outsell hybrid flash/disk arrays from Nimble Storage, Tegile and Tintri. sTec has sidestepped the necessary array operating system software engineering efforts by using WSS 2012, so bringing its product to market faster.
The s3000 will be available from sTec's channel partners and cost from $70,000. ®
Sponsored: Webcast: Ransomware has gone nuclear