This article is more than 1 year old
El Reg gets its hands on Haswell fondle-gizmos at posh Tosh bash
Ooh, touch me there, squeal alluring young things one finds on one's lap
Pics Intel Haswell fever today had Toshiba showing off its full range of laptops, some of which featuring the new chips - plus some new tablets to boot.
The new Satellite laptops and Qosmio gaming models were out in the wild in a swish London hotel, nestling up against three new Excite 10in Android tablets – more on those fondleslabs later on The Register. Toshiba has also made touchscreen displays an option across its range of new portable PCs, apart from the Qosmio X70 gaming laptop.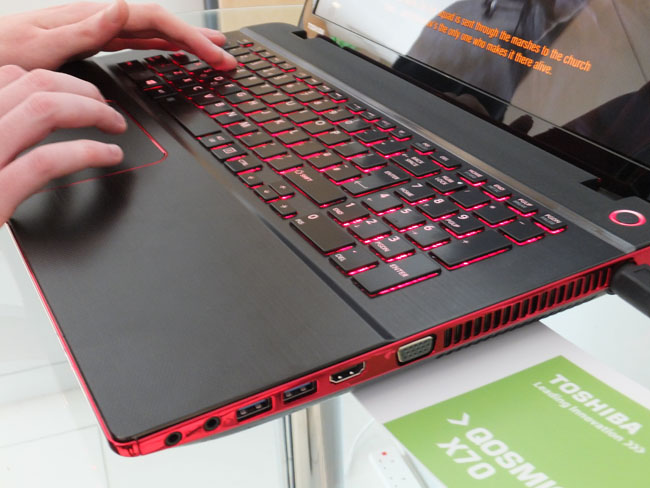 Hot keys: Toshiba's Qosmio X70 gaming laptop
That X70 beast features Haswell quad-core grunt, with four RAM slots holding up to 32GB RAM, and an Nvidia GTX770M GPU. Two drive slots house a 256GB mSATA flash drive and a 3TB hard disk to deliver the best of both storage worlds, and there are four USB 3.0 ports to hook up to more if needed.
Its non-touch 17.3in display is full HD and besides WiDi (Intel's wireless display) it is Miracast ready. Evidently, Toshiba has ditched its 3D foray on laptops for now. Harmon-Kardon does the audio honours on the X70 with Slipstream tech and DTS sound treatments on board. Needless to say this tech feast is no giveaway at £1,499.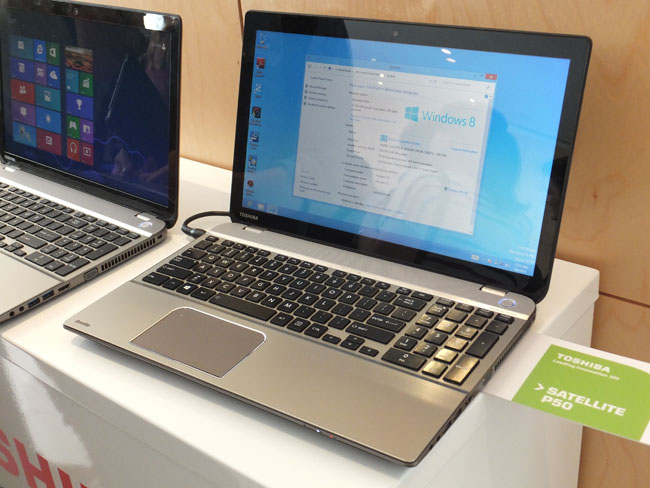 Pre-production 15in Satellite P50 alas, not sporting the latest Intel CPUs
The Satellite P series graces the top-end of this range, and has more soberly priced 15.6in (P50, P50t) and 17.3in (P70) models with the latest Intel CPUs available - although the quad-core offerings appear to be reserved for the P70.
Depending on the model, you get two or four RAM slots for up to 16GB or 32GB, respectively. Likewise there are two GPU options: Nvidia GT 740M (2GB VRAM) and GT 745M (4GB VRAM). Storage options include up to 3TB on disk, a hybrid flash-disk mix of 1TB or a pure 256GB flash drive. Toshiba is now making full HD screen available across the Satellite range; you pays yer money, etc. Audio options are Harmon-Kardon again. Some P series models still sport third-gen CPUs with prices start at £599.
Toshiba's unified "U-shape" design approach makes itself evident when playing spot the difference with its launch of three new Satellite ranges. The entry-level C-series has both 15.6in HD or 17.3in HD+ displays with a mixed bag of low-cost chippery that looks like stuff they found in a drawer – Celeron, Pentium, AMD E series and suchlike – with prices starting at £299.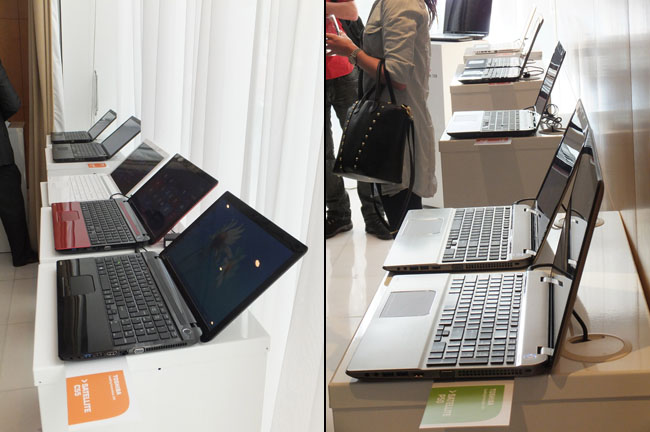 Satellite C series (left) and P series (right) with S and L models further back
The L-series features third or fourth-gen Intel CPUs or AMD A-series with some models packing in discrete GPUs. Interestingly, there's a 14.1in model available too which, along with the 15.3in version, can be configured to take a touchscreen. Described as "built for performance, designed to entertain" the L-series has DVD or Blu-ray options (or none at all) and features Onkyo speakers. These are also featured on the slimeline S-series models that measure up at just under an inch thick. With a similar spec to the L models, although lacking a 14in version, the S-series gets a bit smarter with its brushed metal casing. Starting prices for these two ranges are not available.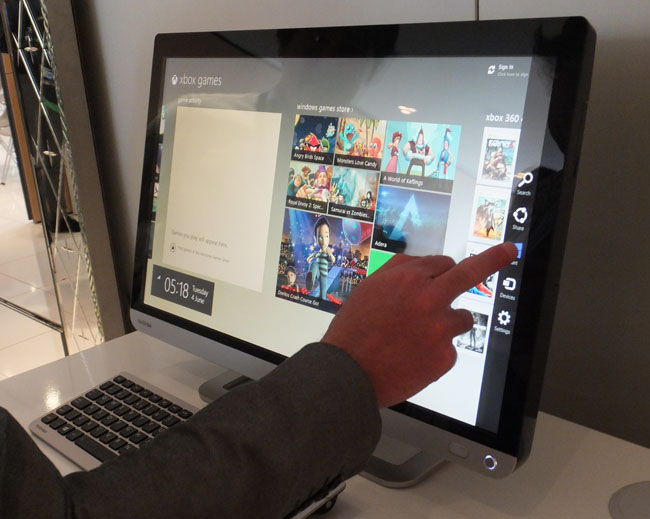 Qosmio PX30t all-in-one can output Ultra HD and can function as a monitor only
Incidentally, business bods also get a look in with Pro versions of the L and C series. No Haswell here but you do get Windows 7 Pro as an instal option. Sounds like a hit already. And for those still keen on desktop rather than laptop computing, Toshiba's Qosmio PX30t all-in-one comes with a 23in full HD touchscreen and UHD TV support from the HDMI output on the fourth-gen Core i7 models.
Toshiba has this feature on its Haswell P-series laptops too, which provides a 4k-resolution output to a suitable display. And whaddya know, Toshiba's Series 9 Ultra HD television is waiting in the wings for this very purpose. You can read more about this top tech telly here [PDF]. As far as displays go, the Qosmio PX30t also turns things on its head as it can function as a monitor without having its computer running; it just needs mains power. Prices start at £799.
For the most part, the laptops on show were preproduction models without the Haswell chippery, so it felt a bit like like turning up to a gig to find out the band is miming. You can discover out how they play for real when the range goes on sale in Q3. ®