Antique Code Show Tomohiro Nishikado already had a string of almost a dozen arcade games under his belt when he started on what was to become the best remembered - certainly the most played - game he was ever to create: Space Invaders, released in Japan 35 years ago this month.
Nishikado was an engineer who had joined vending machine company Taito in 1969, not long after graduating. Taito's managers put him to work on mechanical gaming machines, called Pachinko by the locals, but in 1972 he devised the company's first electronic offering, a take on Atari's popular Pong. Released in 1973, Nishikado's Elepong was a something of a hit, and he went on to create a number of other video games, including Speed Race, a top-down scrolling car racer released in 1974, and Interceptor, a cockpit-view aircraft combat game that came out the following year.
Then, in 1977, he began work on what would become Space Invaders, though he has said it was originally to be named Space Monster
"Early on in development, Space Invaders was designed as a game where you shoot people, airplanes and tanks," Nishikado told USA Today in 2008. "However, the characters' movements didn't really look or feel like tanks or airplanes. When Taito saw the prototype, they said, 'You can't shoot people! And you must not create the image of war.' So I changed the characters into monsters."
Having said that, Nishikado had created Western Gun for Taito two years previously. Western Gun, a two-player affair released in the US as Gun Fight, was the first video game that challenged the player to shoot representations of people. Taito didn't seem too bothered then - so why kick up a fuss in 1977? Western Gun is essentially Pong with bullets instead of balls, and cowboys instead of bats. Static cacti and moving stagecoaches can be seen as early takes on Invaders' protective blocks and moving UFOs.

Life aquatic: the Invaders were inspired by the creatures of the sea
If Taito didn't ban human combat, then it's more likely Nishikado simply got wind of the growing interest in space opera sci-fi and cut his new game's cloth accordingly. He told USA Today: "At the time, I was trying to decide what the focus would be, and had heard of a sci-fi movie being produced in America called Star Wars. I thought a space fad might be on the way and decided to focus on aliens. And that's how the monsters became the Invaders that are known today."
George Lucas' film wasn't Nishikado's only inspiration. Seeking out possible monsters, he hit upon the brain-and-tentacles Martians from HG Wells' War of the Worlds. This gave him the notion for an octopus-like creature and, in turn, got him thinking about other possible sea beasties.
"I came up with a squid and a crab. My favourite is the crab," he revealed back in the 1980s. Pencil sketches of the aliens were refined to yield each alien's basic design which was then simplified into pixellated equivalents, with a variation of each added to provide a sense of animation.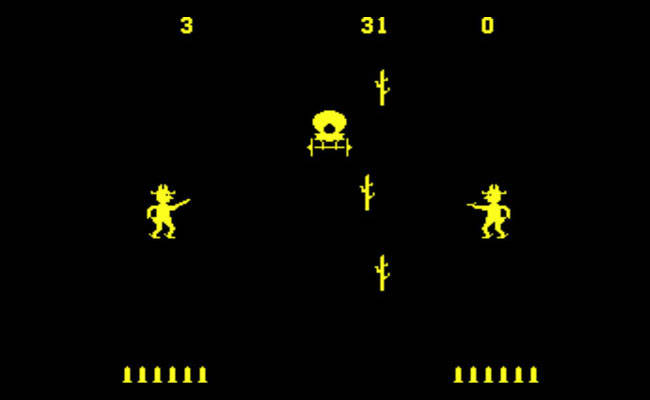 Pong with bullets: Nishikado's 1976 shooter, Western Gun