This article is more than 1 year old
Thirty-five years ago today: Space Invaders conquer the Earth
Bleep Bleep PEW Bleep Bleep PEW PEW BLEEP BLEEP
Loose change
Japan minted 588 billion ¥100 coins in 1982, according to numismatists' bible, the Krause Standard Catalog, up from 292 billion in 1978, though it had punched out 440 billion the year before so fewer were needed. But in 1983, only 50 billion of the coins were produced.
Should we be equally sceptical about the claim that Taito smartly rushed out a sit-down-to-play "cocktail table" version of the game to appease cafe owners, who were annoyed that visitors spent too much time playing the upright cabinet Space Invaders rather than eating and drinking?
"I anticipated [the game] would be a hit, but never thought it will be so huge," Nishikado told Edge. "I was delighted to see it became popular, but I did not get overwhelmed by it because I was already too busy working on the next project."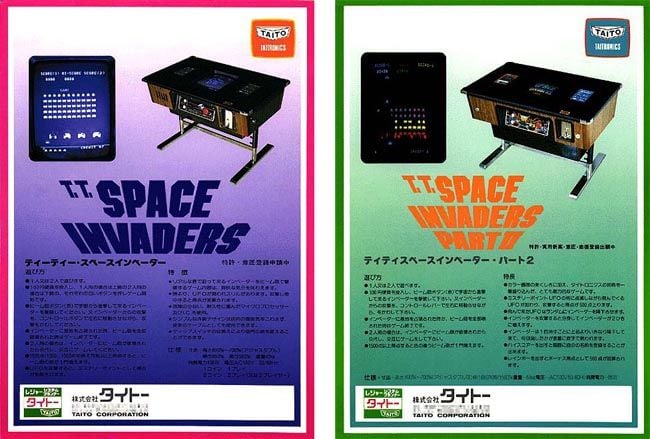 Cocktail cabinets: Taito's alternative Space Invaders unit
By the end of that year, Taito is said to have installed more than 100,000 cabinets and tables. Players' Invaders addiction pumped $600 million into the company's coffers. So eagerly were they playing Space Invaders, other games languished. Taito's larger rival, Howagiken, went bust.
Taito had a long relationship with North America's Midway, part of US slot machine maker Bally. Midway acquired the US rights to Space Invaders, and released its own cabinets in the States in 1979. Atari signed up too, and a year later it released the game on its VCS console. It was a canny move - rather a lot of folk bought a VCS simply to play Space Invaders.
Midway would soon decide not to renew its Space Invaders licence, preferring instead to offer instead a superior version written by Japan's Namco: that was 1979's Galaxian, an impressive upgrade with dive-bombing wings of full-colour aliens as well as screen-marchers. Out went the protective bases, in came space-based action - you controlled a ship rather than a mobile gun. And now there was background music. But it couldn't beat the original, which by then was available to play in more than 360,000 arcade cabinets worldwide, all putting billions of dollars into the pockets of the arcade owners who'd bought them from Taito and its overseas partners.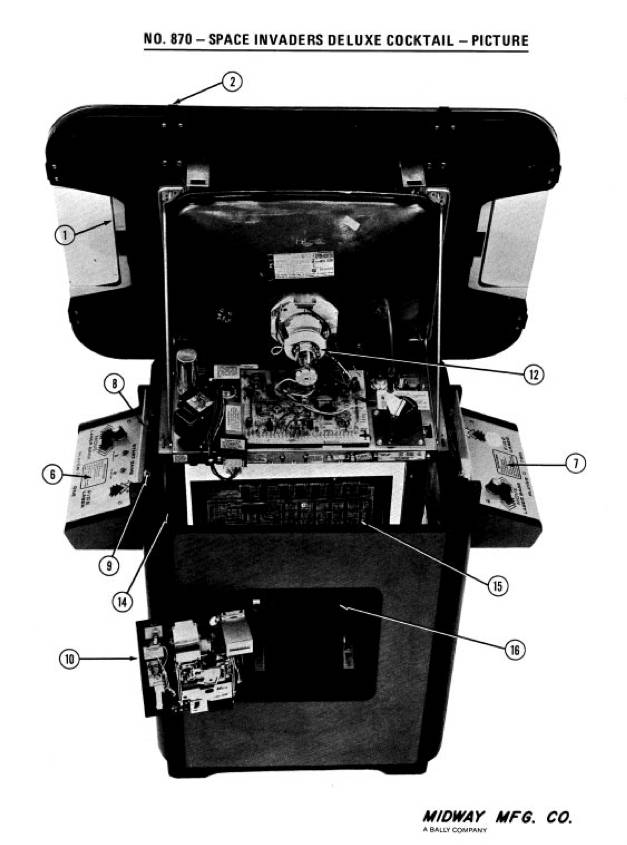 From the Midway manual: inside Space Invaders Deluxe
Galaxian was better than Taito's own follow-up, the 1979 coloured-in Space Invaders Part II - released by Midway as Space Invaders Deluxe - which allowed high-scoring players to record their initials. But Taito didn't limit itself to sequels. In 1980, it licensed Phoenix from Arizona-based Amstar Electronics, which was a full-colour Space Invaders-like game with an X-shaped craft, the more active aliens of Galaxian and, for the first time in a space shooter, boss levels.
Namco and Midway battled back in 1981 with Galaga, which introduced a more rapid rate of fire than Galaxian had provided, and gave the aliens the ability to capture the player's ship in a tractor beam. Challenge screens appear as occasional bonus rounds and reward the player with points for gunning down invaders performing complex aerobatics.
But the arcade gaming market was becoming more and more competitive: the simple yet hypnotic gameplay of Space Invaders was challenged by a host of other hugely popular alternatives to extraterrestrial slaughter: Pac-Man, Frogger and Donkey Kong in 1981, and The Ridge Racer in 1982. Even in the space-invasion genre, there were plenty of newcomers: side-scrollers such as Defender and Scramble in 1981, Sega's isometric alternative Zaxxon in 1982, and vertical scroller Xevious in 1983 - a game better remembered than the likes of Nihon Bussan's Mission-X and Zoar, which delivered the same experience a year earlier albeit in a World War II-style scenario.
Meanwhile, Tomohiro Nishikado continued developing new games for Taito through to the mid-1990s. He then left to form his own company, Dream, where he largely left game development to others.
Taito itself, fuelled by the video game boom, expanded with a North American subsidiary, but ran into tough times in the mid-1990s thanks, in part, to the rise of the personal computer as a games device. The US operation was closed, and Taito was acquired by printers and electronics giant Kyocera. In 2005, it was sold to Square Enix, itself the result of a merger between two Japanese companies that got into games in the early 1980s on the back of the market Taito had, in part, driven.
Midway, which achieved its first major success through its Space Invaders licence, continued in the gaming business under various owners until 2009 when it finally went bust after several loss-making years.
And Space Invaders itself? It has never gone away, and probably never will. Almost every new computing or gaming platform released since 1980 has had a version of the game, and countless amateur versions have been written and released over the years. And that's before you get onto the thinly or more careful disguised titles derived from it.
Tomohiro Nishikado's alien has become one of the defining icons not only of gaming, but of late 20th and early 21st Century technology culture. It appears on T-shirts today as much as it did in the heady days of 1978 and 1979. ®