Why SoftLayer can't lift IBM into the clouds
Big Blue has a Big Problem that SoftLayer won't solve
Comment There are only three major cloud companies, and try as it might, IBM isn't going to change that in the near-term with its acquisition of SoftLayer.
This is because the three major public clouds – Amazon Web Services, Windows Azure, and Google Compute Engine – are each supported by a consumer internet giant.
These internet titans have all built their own planet-spanning networks of data centers and edge locations to serve massive (and growing) consumer markets like gaming (Microsoft), advertising (Google), and retail (Amazon), along with a host of other secondary – but still significant – businesses and services.
Unlike SoftLayer, each of these clouds is supported by a vast amount of guaranteed internal IT utilization, along with a customer-first attitude which sees the providers consume their own infrastructure. Each of these cloud companies has a demonstrable internal desire to lower the cost of provisioning and deploying IT resources as much as possible.
Compare this with IBM: Big Blue comes from a world in which the goal is to build highly specialized IT gear for other businesses, then make a ton of money from servicing the gear, such as mainframes in the past, and systems like Jeapordy-beating Watson in the future.
At no point does it become sensible for IBM to indulge in businesses which involve minimizing the cost to the customer, maximizing volume, and giving the punter maximum flexibility for both increasing and decreasing spend.
The only thing IBM has done in this regard is the PureSystem – an integrated appliance-style system that lets the company slam together a bunch of commodity hardware, then put it in a profit-protecting bubble of software that it can then sell for a pretty price.
We'd go so far as to say IBM really dislikes low-end IT gear, given its sell-off of its main PC arm to Lenovo in 2004, along with the more recent rumors of plans for it to get out of the low-margin x86 server business.
Now consider SoftLayer. Though not in the same league as Amazon, Google, or Microsoft, the company has claimed to manage over 100,000 servers across 13 data centers worldwide. It uses low-cost, high-efficiency servers (SuperMicro) and has mulled transitioning to ultra-cheap Open Compute Project gear. It also has its own custom cloud-control system for management, automation, and other infrastructure tasks.
In other words – SoftLayer is a legit, midsize cloud company.
Though not public, it's fair to compare SoftLayer with Rackspace – both companies manage around 100,000 servers, both are running their clouds on more and more commodity hardware, and both have a spread of data centers across the world with a concentration in the US. Rackspace focused on OpenStack, SoftLayer on CloudStack – other than that, quite similar.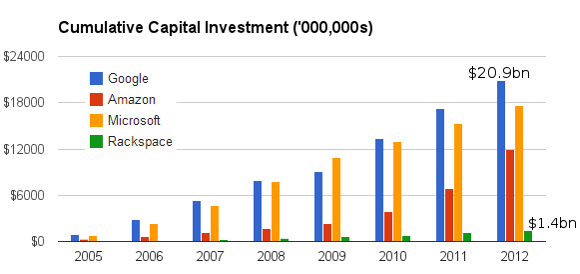 All the major clouds are backed by vast amounts of IT gear
The above graph shows the amount of money Rackspace has invested in its data-center gear and faciliies since 2005, compared with Google, Amazon, and Microsoft. Cumulatively, Rackspace has shoved $1.4bn into its facilitiies and IT gear, compared with $20bn from Google and almost $12bn from Amazon. Even if you halve the consumer giants' investment to take account of offices, fibre, fulfillment centers, and so on, they're still outspending Rackspace by a significant amount.
It's safe to assume that SoftLayer's investment would look similar, and even with a variance of 20 per cent, it can't come close to the spending of the cloud giants.
What SoftLayer lacked pre-IBM was a massive user of its own services to assure a demand base to use to lower equipment and facilities costs. Sure, it has 21,000 customers, but it doesn't have a vast internal operation to provide true stability.
Post-IBM, we're afraid that SoftLayer looks much the same. It will be a set of IT gear, now part of IBM, and slowly its software and hardware will likely be shifted over to IBM systems, as IBM has hinted in its official statement on the acquisition.
It may integrate with IBM's (relatively small, we understand) SmartCloud. We imagine SoftLayer services will be touted to government's by IBM's Global Foundation Services and Smart Cities divisions.
What we see no evidence for is a plan by IBM to standardize all of its systems around SoftLayer – or vice versa – and in the cloud, that's what matters. Unless you can use truly massive scale (glance at that chart again), we find it hard to believe you can truly deliver low-cost cloud computing infrastructure.
That's not to say that you can't make some decent cash by offering customers a reliable hosting solution with a bit of scalability, but could you become a home for Netflix as is Amazon? Not likely.
Though IBM is creating a "Cloud Services division", this biz group will sell businesses some compute and storage that will work very, very well with IBM software, but we doubt it will offer them minute-by-minute supercomputing, as Google does, or an ecosystem of cheap software services to use in lieu of trad IT providers, as Amazon does, or even support for a widely deployed piece of software, as Microsoft does with Azure and Windows Server.
The SoftLayer acquisition adds another asset to IBM's war chest, but unless it can turn this bunch of IT gear into a common resource through standardization, it's unlikely IBM can become a major force in the public cloud.
But then again, if you'd promised Wall Street $7bn in cloud revenues by 2015, and could buy a company with 21,000 paying "cloud" customers, what would you do? ®