Pen+tablet bandwagon finally rolling, Nvidia leaps aboard
The moving finger, having writ, has moved on?
Trying to differentiate its Tegra 4 system-on-a-chip Nvidia is desperately promoting pen computing as the future, in the hope that no-one will notice it's firmly rooted in the past.
Nvidia is calling its technology DirectStylus, and makes a big deal not only of the fact that the stylus can be made of any capacitive material - which is new - but also that it can vary line thickness and be turned around to work as an eraser, which is well over a decade old.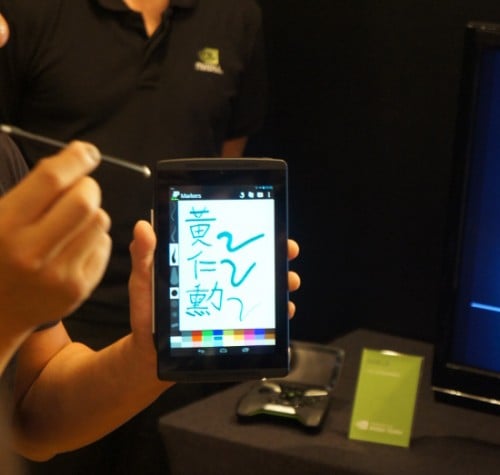 Nvidia CEO Jen-Hsun Huang shows off his handwriting
Wacom has been doing pressure sensitive styli for ages, and its technology was integrated into many of Microsoft's ill-fated Tablet PCs a decade ago. They sensed proximity, and pressure, and could even be turned round to rub things out with the right software.
More recently Samsung has been putting Wacom gear into its Galaxy Note range, adjusting line width by pressure and sensing proximity, though not yet using the back of the pen as a rubber.
Nvidia's breakthrough is to embed the tech into its SoC, and to let it use any conductive pen, which they claim will be cheaper than special Wacom hardware (currently retailing at £14 from Amazon).
Pens are a very natural way of interacting with computers, and the success of the Samsung Note range has demonstrated there's an appetite for pen computing amongst buyers which other manufacturers are scrambling to satisfy.
The market for ARM-based SoCs is very competitive, and Qualcomm dominates with its Snapdragon range, so any differentiation needs to be fully exploited. Integrating the touch detection makes the Tegra 4 different, and putting on a show with a pen highlights that difference to device manufacturers looking to shave off the cost of a touch-sensor - not to mention keeping Wacom on its toes. ®