Mere days after we got word that the Japanese versions of Microsoft's Surface Pro fondleslabs would come preloaded with Office, Redmond has announced that forthcoming small Windows 8 tablets will come bundled with the productivity suite, too, and in all markets.
Speaking at the Computex conference in Taipei on Wednesday, Windows CFO Tami Reller said that future 7-inch and 8-inch Intel-based tablets running Windows 8 will ship with Office Home and Student 2013 preinstalled at no additional charge.
That edition isn't as versatile as the Office Home and Business edition that comes on the Japanese Surface Pros – it can't be used in a business setting without a separate commercial use license – but it's the same set of applications that Microsoft has been shipping with the ARM-powered Surface RT.
That bundle includes Word, Excel, PowerPoint, and OneNote, but not Outlook. While Reller said that Outlook RT would be included with future Windows RT devices, no such offer is being made for small Windows 8 slabs.
The news follows on from rumors we first heard in March, that Microsoft was offering deep discounts on Windows 8 and Office to OEMs who were willing to build Windows tablets and touchscreen notebooks with smaller screen sizes.
According to some of those murmurs, makers of devices with screen diagonals of 10.8 inches or less were eligible to bundle Office with their kit for free – but that seems a bit exaggerated, given that the majority of Windows 8 fondleslabs so far have shipped with 10.1-inch screens.
More likely, the free Office deal applies only to devices with screens smaller than that – as Reller indicated in her keynote – but Microsoft is being coy about screen-size specifics so far.
So why no free Office for bigger tablets?
Microsoft's decision to bundle Office only for devices with smaller screens is a bit perplexing. While it went all-out to give Windows 8 a touch-centric makeover, the touch enhancements in Office 2013 are much more subtle. They really don't do much to make it easier to use the software on a touch device, and that will go double on devices with tiny screens.
There may be two important things to explain this strategy, however. One is the aforementioned licensing issue. To get commercial use rights for the bundled Office suites, you more or less have to purchase an additional license, either through volume licensing or Office 365 subscriptions.
"If your employer has licensed you with Office at work, it's likely you can use it for work at home," a Microsoft rep told El Reg. "Commercial use rights are included with Office 2013 Professional Plus, Office 2013 Standard, Office 365 ProPlus, Office 365 Small Business Premium, Office 365 Midsize Business, and Office 365 Enterprise E3/E4."
In other words, you'll probably already have a license for Office on your computer at work, in which case you should be able to use the bundled copy of Office on a Windows RT device or small Windows 8 tablet as a secondary machine. Customers who purchase tablets or notebooks with larger screens are more likely to use them as their primary devices; hence no free copy of Office.
Another possibility is that Microsoft may be planning to improve the touch capabilities of Office very soon. So far, only OneNote has been available in a Windows Store version with a UI that's more amenable to touch. But we've been hearing that Redmond plans to release Windows Store versions of the other apps for some time now.
Look very carefully at the screenshot below, which was released by Microsoft as part of its Windows 8.1 hype last week. Next to the large SkyDrive Live Tile, you'll see four smaller tiles, one for each of the core Office applications.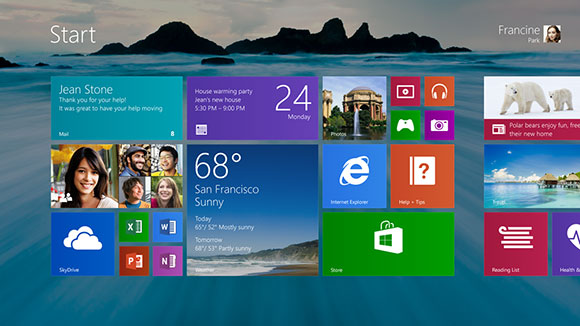 There, on the lower left – is Microsoft teasing its Windows Store version of the Office 2013 applications?
These tiles looks suspiciously like launchers for Windows Store apps. The current Office 2013 apps appear on the Start screen the way all desktop applications do, as icons floating on all-grey tiles. The tiles in the screenshot are color-coded to correspond to each application, which indicates they may be something new.
If these are indeed the long-promised Office Windows Store apps, it seems possible that Microsoft could be planning to release preview versions of them during its Build developer conference in June, around the same time as the Windows 8.1 Preview. But we'll have to wait and see.
As for when you'll be able to walk into a store and buy a small Windows 8 fondleslab preloaded with Office Home and Student 2013, however, we're still not sure, but the OEMs seem nearly ready to move.
Among the first such small-screen devices to appear will be the 8.1-inch Acer Iconia W3, priced at $380, which was spotted by snoops in April but was officially launched at Computex. ®