This article is more than 1 year old
New Tosh 'droid slabs include Newton-like scrawl-pad: We try it out
Sso howw's mmy writtingss? In ynor faace Stteeve Joibbs ha ha oopps
Pics Among Toshiba's Haswell-packed laptop frenzy in London yesterday were a few new ten-inch tablets: three Android and one Windows 8 slate for business.
The new Android 4.2 fondleslabs adopt the Excite brandname, as used in the US, and kick off with the Excite Pure, an Nvidia Tegra 3-powered tablet which has 1GB RAM, 16GB of on-board storage and a 1280 x 800-pixel screen. The Pure may seem a bit so-what, but it does come with a useful array of ports including USB 2.0, mini HDMI and a micro SD card slot. You also get a 3Mp rear camera, a 1.2Mp front-facing webcam and a 3.5mm mic-headphone combo socket.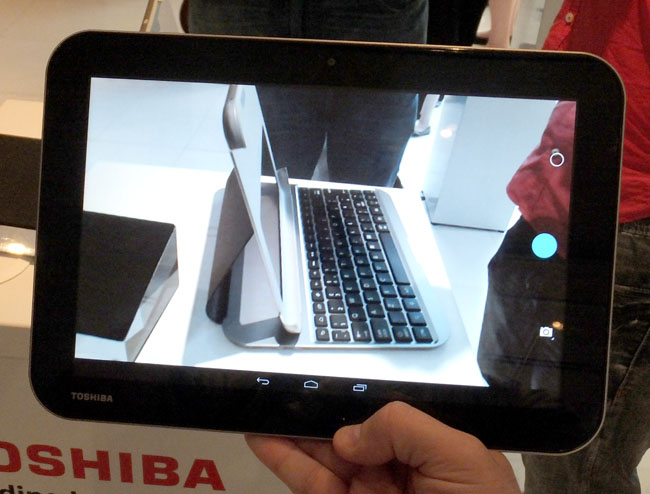 Meanwhile the other two new 'droid tabs - the Excite Pro and Excite Write - share the same interface specifications as the Pure, and they shift a gear with Tegra 4 processors, 2560 x 1600 resolution touchscreens, 2GB RAM and 16GB or 32GB storage options along with the Pure's interfacing concealed under a cover. They also benefit from an 8Mp rear camera with LED flash along with the same 1.2Mp webcam.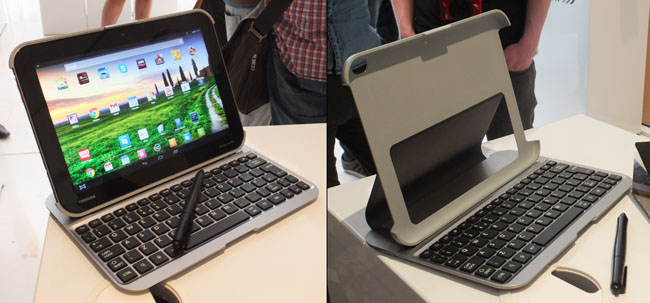 Case studies
Each model has stereo speakers but the Write and the Pro seek to entertain by featuring Harmon-Kardon drivers combined with DTS audio trickery. Tablet audio has always been pretty bad, but Toshiba claims it offers "cinema-like experience" - yet having a 1W output suggests Tosh could be referring to a cinema from the silent era. Still, Miracast support is promised and another distinguishing feature of the Write and Pro is their 802.11ac Wi-Fi support, yet all models can handle 2.4 and 5GHz channels.
So what's so special about the Write? You guessed it, it's a scribble pad thing with a digitizer pen and TruNote handwriting recognition software developed by Toshiba. TruNote can smooth out drawn objects, too, and if you're in a hurry, you can quickly jot down your missive and convert it later for email and suchlike.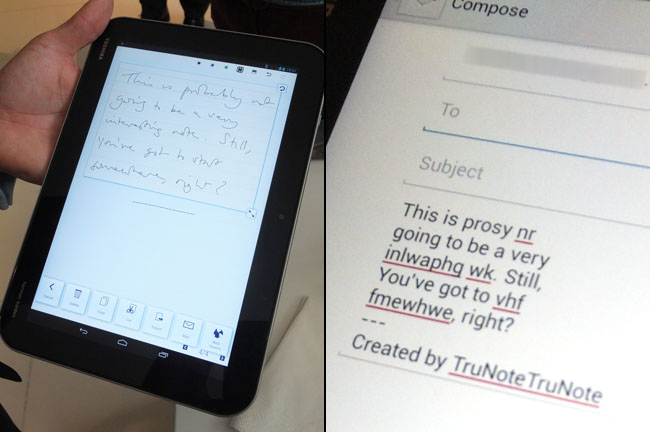 TruNote translates:"This is probably not going to be a very interesting note. Still, you've got to start somewhere, right?"
At yesterday's event Toshiba had its own Blue Peter moment ("here's one I prepared earlier") handwriting conversion example which fared quite well, albeit with some dodgy spacing. However, the results of the El Reg writing test was more reminiscent of Doonesbury's Apple Newton experience. Ah, plus ça change...
No doubt some scrawl training will help matters (does it train you, or do you train it?) but it's no match for the quite brilliant handwriting recognition on Windows 8 that, miraculously, makes sense of most hurriedly written notes.
The Excite Write display also gets the Gorrilla Glass 2 toughness treatment just in case you're a bit too heavy handed with your full stops. If this all gets too much for you, all the Excite tablets can take advantage of the keyboard cover to revert to finger typing. The cover adds another 500g to the 600g Pure and 632g Pro and Write.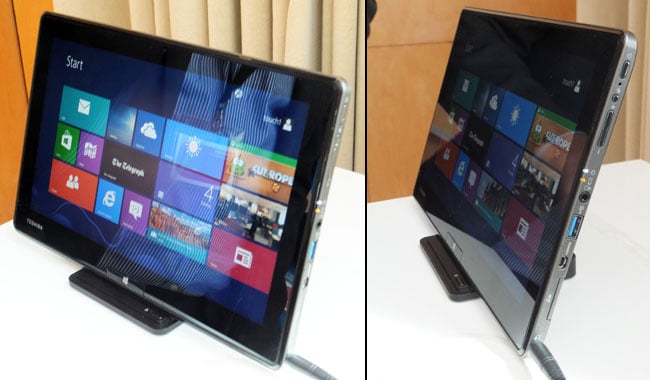 Toshiba's WT310 tablet does the business
Hiding in the corner at the event was the WT310. As it's not a convertible PC-slab thing, it turns out to be Toshiba's only Windows 8 tablet. The CPU spec is a bit vague but it is an Intel Core processor based on Ultrabook chippery. It features an 11.6in full HD touchscreen, a USB 3.0 port, HDMI and an SD card slot. The tablet also has a digitizer pen option. Designed for business, a range of security and remote management utilities are available. No pricing was available for this model, which is due out in the second quarter of 2013.
At launch the Excite tablets will be available exclusively from Currys and PC World with prices from £249 for the Pure, £349 for the Pro and £499 for the Write. ®