Curiosity prepares for year-long road trip to Mount Sharp
Some interesting stops planned along the way
---
Ever since landing on Mars, the Curiosity rover hasn't moved around that much – just 733 meters to date. But that's about to change as NASA prepares to send the rover on an eight-kilometer trek to the base of Mount Sharp.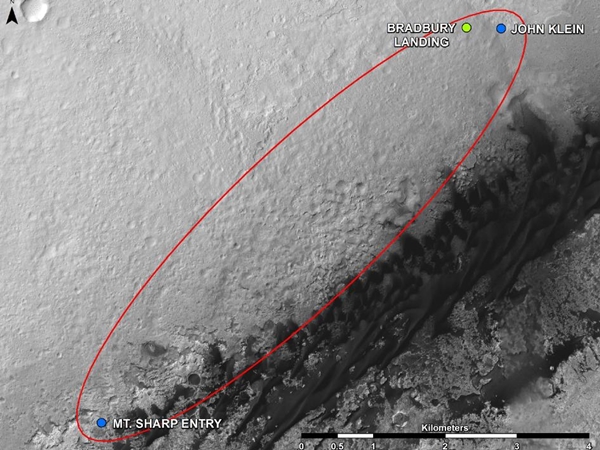 The long and winding road ahead
"We know we're going to start in a few weeks and it's difficult to say how long it's going to take," said Mars Science Laboratory Project Manager Jim Erickson of NASA's Jet Propulsion Laboratory.
"If you drove full tilt it would be shorter than if you stopped to deal with engineering and science requests. I would hazard a guess that ten months to a year would be a fast pace but if there are scientifically interesting things that we find then we'll stay until we're completed."
He said the whole route has been extensively mapped by the Mars Reconnaissance Orbiter and Odyssey satellites and that the team is looking at a variety of routes that should give Curiosity an interesting journey with lots to see. The team would also like to examine any close-by parts of the equipment it used to land the rover on the Martian surface.
The rover has been completing a second round of drilling and the JPL team said the results of that core sampling will be released once analysis is complete. A sped-up video of Curiosity drilling its cores has been released and NASA said that the team's practice and the softness of the rock meant samples took just six minutes to collect – although with harder rocks it could end up taking two hours.
On its way to Mount Sharp, the rover is also going to check out two rock formations it studied earlier to try and get a better idea of what formed them. First on the list is an area known as Point Lake, where the team has spotted something unusual.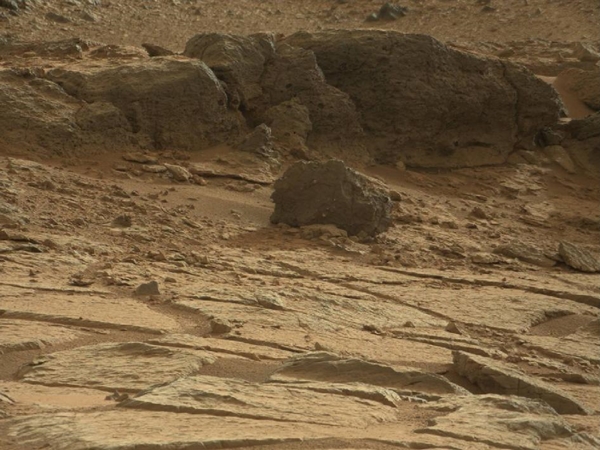 A river bank or chunk of lava?
Around the edge of the "lake," the rover has photographed a bank of rock with "holes like Swiss cheese," as well as a lump of what appears to be the same material that has broken off. The team speculated that it could be lava or some other igneous rock that has weathered, or it could be a new form of sedimentary material.
The second port of call is an outcrop called Shaler, which looks as though it is the remains of an ancient river bed. By studying the rocks and their material, the team hopes to work out the direction the water would have traveled and how fast it was moving when it laid down the deposits.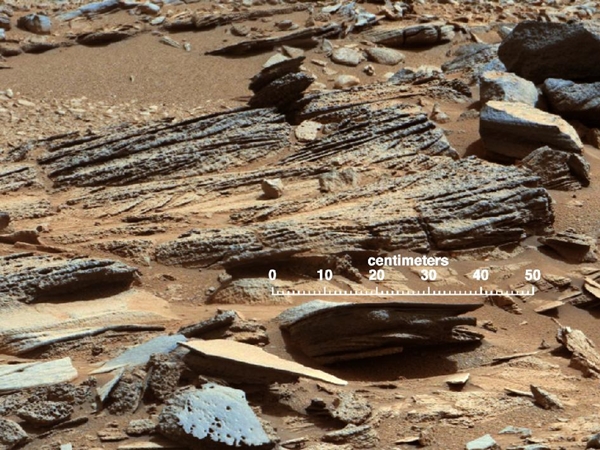 The secrets of the Shaler outcrop need another look
However, the team won't be spending precious science time investigating phenomenon like the so-called Mars rat or other images enthusiasts have spotted in the images uploaded from Curiosity so far.
"I think the scientists get so much more engrossed in the interesting textures and trying to figure out how the rocks formed that we're amused when people point out the shape happens to look like something else, but we don't spend a lot of time thinking about why that is," said Joy Crisp, deputy project scientist for Curiosity.
"But it clearly results from a lot of things like wind erosion, abrasion and chemical weathering of the rocks to form these shapes. It's fun in a way to because it will attract a lot of the public to look at the images and learn a little bit about Mars by pulling them in this way." ®