Fighting Fantastic
"I took a manuscript over to a trade show in California, and I was talking to one of our suppliers. He was saying, 'What's happening in England?' I said Ian [Livingstone] and I had just come up with a different type of role-playing game; this is one you play in a book. He said, 'I don't believe it', and went running to the back of the stand and came out with a manuscript which was pretty much the same thing."
In the UK and Europe, the race to release a role-playing adventure book was won by Steve and Ian's The Warlock of Firetop Mountain, published by Penguin's children's imprint Puffin in August 1982. It was a huge success. The Warlock sold out of its first print run of 20,000 copies in a matter of weeks, and subsequent impressions sold out even faster. The two writers followed it up with The Citadel of Chaos (written by Jackson) and Forest of Doom (written by Livingstone), in March 1983. The Fighting Fantasy series was born. Many more episodes were released over the following years, with new writers coming in to help maintain the release schedule.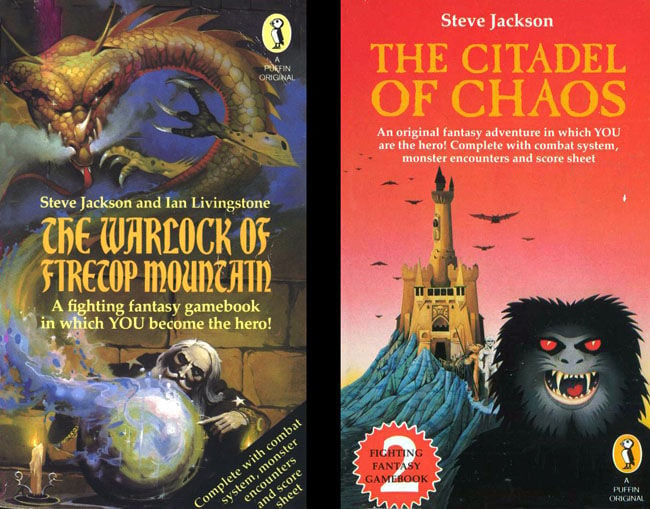 Steve Jackson's Fighting Fantasy firsts: Warlock of Firetop Mountain (written with Ian Livingstone) and Citadel of Chaos
"If I was writing a Fighting Fantasy book now there would be a great big poster up on the wall looking like a computer flowchart, with numbered arrows showing what's going to what. Here's the wishing well, this is the bit where there's a manbear there or something like that. You'd draw it out with a target of about 40 possible encounters with mini-adventures in-between.
"We always started off by writing the beginning, then the next bit was the end, and the middle would come after. It was complex, and testing was quite like developing a computer game too: if there were any bugs it would make the whole thing unplayable."
Sorcery! itself was an off-shoot of Fighting Fantasy's success, pitched as an adventure book aimed at an older age group. "Why should the kids have all the fun?" demanded the series' advertising. Beyond Penguin's desire to attract a new audience of book buyers, Sorcery! also sprang out of Jackson's need to keep coming up with fresh takes on the genre.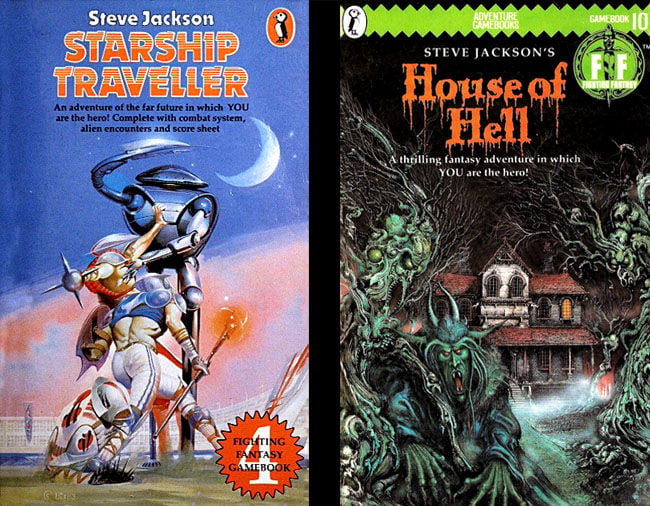 Variations on a theme: Steve Jackson's Starship Traveller and House of Hell
He was, he says, a "bit restless", with Fighting Fantasy. "I always wanted to see what I could do that was new. If I was writing a new book it had to be inspired by a neat little rule change. Trivial little things really, like you could be scared to death in The House of Hell."
With Sorcery! the innovation came, predictably enough, through the inclusion of a complex spell-casting system, a more extensive version of the magic system he'd created for Citadel of Chaos. Sorcery!'s own magic was sufficiently detailed to merit a separate spell book to be printed and bundled with the game book, though in later editions it was simply added as an appendix.
"I never knew how readers were going to take to [the magic system]. There were 48 spells in there and each had a three-letter code which in English gave you a hint [of what the spell did]: ZAP was a fire blast, and HOT a fireball.
"I had no idea whether people were going to be bothered with that, or if they'd just look at the best result, because people used to cheat, of course. We used to say that's why God gave us ten fingers, so we could stick them into the Fighting Fantasy book to remember all the places we'd been to!"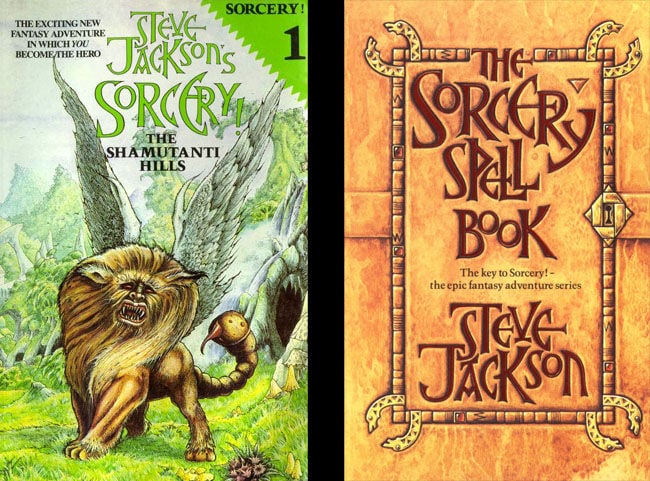 Sorcery! was originally aimed at adults, and the first edition of part one, The Shamutanti Hills, came with a separate spell book
Talk of Sorcery! brings us to Cambridge-based programming team Inkle's re-envisioning of the series for mobile devices. Its conversion of the first Sorcery! book, The Shamutanti Hills, allows you to rewind to any decision point you've covered – no more need for marking out previous decisions with fingers or folded page corners. The game also offers a revamped combat system that eschews virtual dice rolls in favour of a system that requires skill as well as a bit of luck.
"We had a long discussion about the new combat system," Jackson says. "We weren't sure if the readers wanted just an updated version of the original book, or if they would appreciate us dragging it into the digital domain and actually using the digital aspect."