From pages to pixels
Moving away from Fighting Fantasy's dice rolling was a tough call. There is, as all Fantasy players will know, a sense of control in rolling a pair of dice that's missing from a simulated on-screen dice roll.
"If you play with physical dice, you pick them up, you kiss them, you think you influence them. If you press a button, or shake your iPad, it's not quite the same thing. You never get more excitement in a game than when somebody needs a five or a six to win, the solution is in their hand, they've got the die. It's a psychological thing but it's something I don't think you can reproduce [on a digital device]," he says.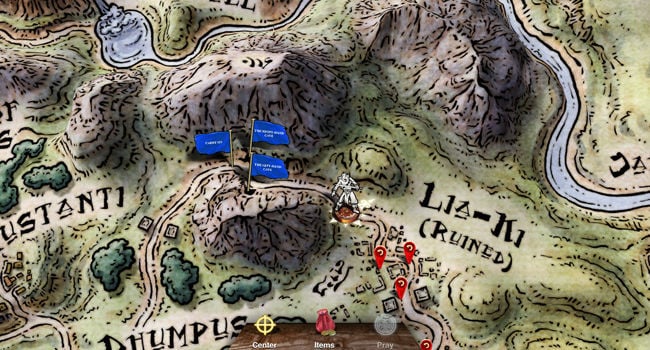 No more steenkin' graph paper: Inkle's take on Sorcery! brings the map to the fore
Even so, computer technology largely supplanted adventure books, and role-playing and table-top board games, in the 1990s. No surprise, then, that Jackson - and Ian Livingstone - moved in that direction themselves. Livingstone joined publisher Domark after he and Jackson sold Games Workshop, and went on to run Eidos after it acquired Domark in 1995. Eidos released a 3D game based on Livingstone's popular Fighting Fantasy book, Deathtrap Dungeon.
Jackson himself went on to co-found Lionhead with ex-Bullfrog co-founder Peter Molyneux. At Lionhead, Jackson worked on the development of Black & White and The Movies. He left in 2006 when Microsoft bought the company. These days he's Professor of Game Design at Brunel University, teaching new generations of would-be developers how to create compelling game experiences.
"I don't play video games as much as I used to but I'm much more excited by apps these days. I've been playing Diablo III recently, but today's [big budget] triple-A games are pretty much all the same, they just look better than they used to. You can't get excited about a new one that comes out. But you trawl through the App Store and you come across really great games. Like Spaceteam, it's just the most ludicrous game you've ever come across."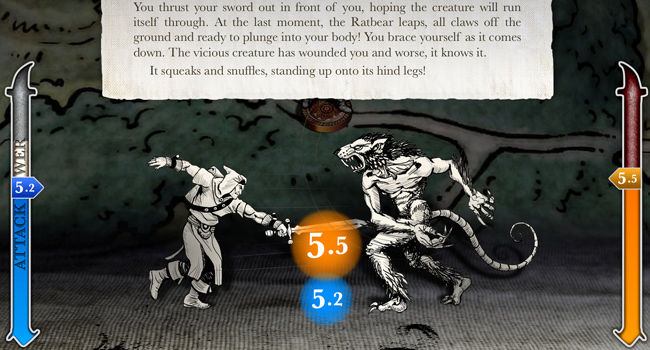 Sorcery!'s combat is interactive - but not quite as tension-building as rolling dice
Indeed, Henry Smith's multi-participant game gives each player a randomly designed spaceship control panel. Players bark technobabble commands at each other. If they fail to keep up their ship explodes and the game ends.
"You very rarely see a game come out that breaks new ground, and that's the disappointing side of things really," the professor adds.
For Jackson, then, it's all about novelty and the challenge of continuing to keep games fresh. He'll do another Fighting Fantasy game book, he says, "as long as it's something I haven't done before. If you look at the ones I did they were always different. I did a science fiction book [Starship Traveller], a horror one [House of Hell], superheroes [Appointment with FEAR], one where you're the monster [Creature of Havoc].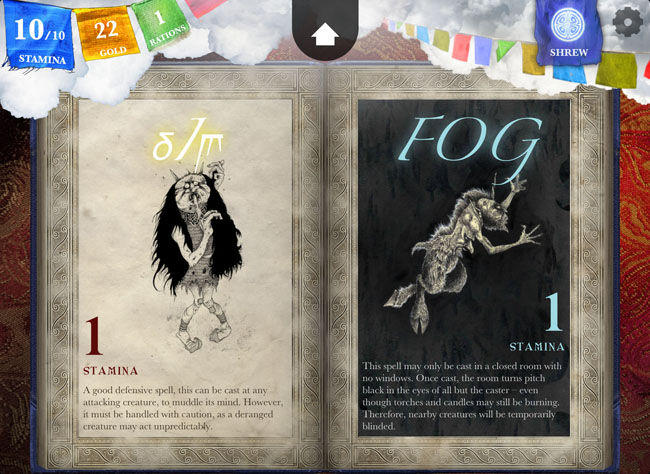 Spell checker
"But I'm more interested in the apps than the books, as there's more you can do with them. If apps publishers are looking for new ideas, new developments, that's when I'd get back into them." ®
Steve Jackson's Sorcery! is out now for iOS via the App Store.