What makes a successful movie? Is it a good plot? Strong characters? Popular leading actors? Impressive special effects? Not necessarily, says Google – and moreover, the online giant says it's figured out how to predict a film's box office performance with up to 94 per cent accuracy.
According to a Google whitepaper published on Thursday, figuring out which movies will bring in the big bucks is as easy as tallying up search queries.
"On average, moviegoers consult 13 sources before they make a decision about what movie to see," the paper claims. "This active research and engagement is reflected in search query volume as well."
Naturally, as with all search traffic, the bulk of those queries go to Google. According to the paper, which was written by Google media and entertainment analysts Reggie Panaligan and Andrea Chen, movie-related Google searches went up 56 per cent from 2011 to 2012.
On a week-by-week basis, the total volume of movie-related search queries correlates closely with total box office receipts, the report claims. During weeks when the volume of searches is high, so are the number of tickets sold, and vice versa.
Google analyzed the performance of 99 films released in 2012 and found that 70 per cent of the variation in box office performance could be explained by search query volume. If one film had 250,000 more search queries than a similar film, it could be expected to pull in up to $4.3m more box office during its opening weekend.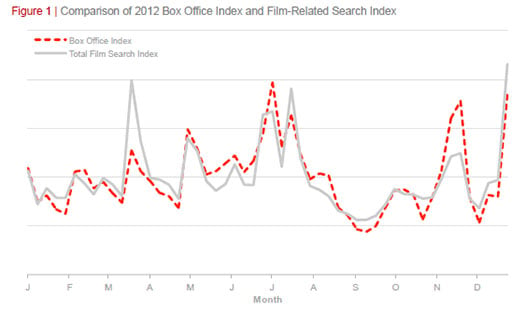 When people start searching for movies on Google, you can bet ticket sales that week will be healthy
Clicks on paid ads also factored into Google's model – not altogether surprisingly, since selling ads is what Googlers do for a living. According to the Chocolate Factory's stats, a film that garners 20,000 more paid clicks than a similar film can gain up to a $7.5m opening-weekend advantage.
Even beyond opening weekend, search queries and ad clicks can still be used to predict box-office performance. A so-called holdover film (one older than its opening weekend) that gets 10,000 more paid clicks than a similar film is likely to do between $1.9m and $3.5m more business the following weekend, Google's stat-counters found.
"Our hypothesis is that once a film has opened, search ad clicks are a strong sign of intent to purchase a ticket, whereas the intent associated with a search query is more varied (i.e. undecided moviegoers searching for reviews, moviegoers who have seen the film looking for additional content, etc.)," the paper states.
But while all these factors can be useful to predict which films will be successful in the week leading up to their release and beyond, Google says other models can be used to predict box office success as much as one month before a movie opens. Searches for movie trailers are the key metric here, Google's analysts claim.
"Trailer searches, whether on Google or YouTube, signify strong intent – searchers are actively seeking a sample of the film. Thus, it's no surprise that trailer-related search query volume holds strong predictive power," the paper says.
What's more, searches related to movie trailers peak at just about four weeks before a film's release, making that the ideal time to gauge how many tickets it's likely to sell. Trailer searches during this period can explain 94 per cent of the variation in opening-weekend box office, Google's studies found.
The main take-away for movie marketers appears to be that Hollywood needs to make search engines – or Google, at least – a much more central part of their marketing campaigns.
"By understanding these search patterns, movie marketers are in a better position to align and adjust their strategies to capture the interest of potential moviegoers," the report rather smugly concludes.
The take-away for film-goers, on the other hand, is that the ability of a film studio to game marketing figures is all too often the best predictor of a movie's financial success, rather than the film's quality. So if you've been wondering why major studio films seem so awful these days, here's one more reason. ®
Similar topics