Obama administration defends mass call-data slurping
It's either that or the terrorists win, apparently
A senior White House official has said that the US National Security Agency is perfectly correct to be downloading the mobile metadata every US caller, and politicians on both sides of the political divide have rallied to defend the practice.
The NSA's policy – revealed on Wednesday in a leaked court order that the anonymous (no, not that Anonymous) source declined to confirm was real – was described as "a critical tool in protecting the nation from terrorist threats to the United States."
"It allows counter-terrorism personnel to discover whether known or suspected terrorists have been in contact with other persons who may be engaged in terrorist activities," the source said, "particularly people located inside the United States."
Verizon's general counsel Randy Milch said his company "continually takes steps to safeguard customer privacy," but that it must comply with government regulations. In a blog post he pointed out that the leaked document shows the order forbids it to discuss the issue and safeguards the content of messages.
It's this or terror
In a bipartisan press conference held in Washington on Thursday, politicians were quick to reassure their constituents that this was all a lot of fuss over nothing – this had been going on for years and is all perfectly legal.
The actions of the NSA were "lawful," said Senator Dianne Feinstein (D-CA), chair of the Senate Select Committee on Intelligence, the Washington Post reports. She said the leaked court order appears to be "the exact three-month renewal" of a seven-year operation.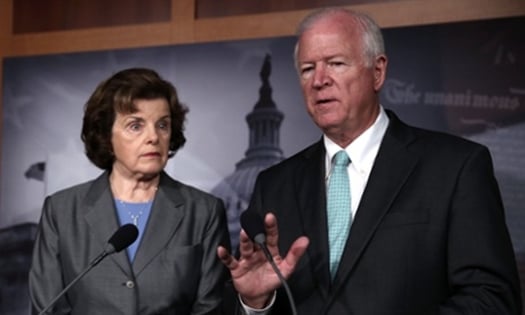 Senators Dianne Feinstein and Saxby Chambliss reassure voters that it's all legal and above board.
(credit: Alex Wong/Getty Images)
"There have been approximately 100 plots and also arrests made since 2009 by the FBI," Feinstein said. "I do not know to what extent metadata was used or if it was used, but I do know this: That terrorists will come after us if they can, and the only thing we have to deter this is good intelligence."
The House Intelligence Committee Chairman Mike Rogers (R-MI) said the data slurping was "valuable," and that the NSA had used the information "in the last few years" to foil a terrorist attack on US soil. He is "working on trying to get this declassified in a way that we can provide more information. We're not there yet."
Fellow Republican on the Intelligence Committee Saxby Chambliss (R-GA) said that the data collected has "proved meritorious, because we have gathered significant information on bad guys, but only on bad guys, over the years. This is nothing particularly new. ... Every member of the United States Senate has been advised of this."
However, all concerned at the press conference declined to confirm if this seemingly-popular program was extended to other mobile carriers and ISPs as well. Occam's Razor suggests it must be, otherwise they'd be proclaiming this as a one-off case.
House Speaker John Boehner (R-OH) said that he wasn't familiar with what his Senate colleagues were up to, and declined to criticize the NSA program directly, saying he was confident in the oversight provided by Congress, but called on Obama to explain the policy.
Patriot privileges
The legality of the NSA actions is provided by Section 215 of the Uniting and Strengthening America by Providing Appropriate Tools Required to Intercept and Obstruct Terrorism Act (USA PATRIOT Act). The 363-page document was introduced on October 21 2001 and enacted into law three days later.
This allows such monitoring while not allowing the content of communications to be monitored in the same way – that kind of spying currently needs a court order. But this hasn't impressed privacy advocates.
"If the government can get phone numbers of two parties, unique identifiers like IMSI and IMEI, trunk identifiers, and time and duration of call, all listed within the court order, then the Obama administration's justification of 'We don't access content' does not matter," said Mike Rispoli, spokesman for Privacy International.
"When analysed and processes, communications metadata allow for the creation of a profile of an individuals private life," Rispoli said. "This information is just as sensitive, if not more so, as the content of our communications."
A few fellow politicians agree with that viewpoint. Retired VP Al Gore took to Twitter to declare that such blanket surveillance was "obscenely outrageous," and Senator Mark Udall (D-CO), who has frequently warned about the overuse of Section 215, said the president must explain himself.
"I share your concerns and am strongly urging the White House to be transparent with the American people," Udall said. "We need to know more about how the president and his administration interpret their surveillance authorities."
And one of the original authors of the USA PATRIOT Act agrees. Congressman Jim Sensenbrenner (R-WI) issued a public statement saying that he had written to the Attorney General Eric Holder to protest in the strongest possible terms about the current use to which the legislation is being used.
"The Bureau's broad application for phone records was made under the so-called business records provision of the Act," Sensenbrenner said. "I do not believe the broadly drafted FISA order is consistent with the requirements of the Patriot Act. Seizing phone records of millions of innocent people is excessive and un-American." ®