This article is more than 1 year old
Forget phones, PRISM plan shows internet firms give NSA everything
Microsoft, Google, Apple and Yahoo! and others open their legs servers
It has been a rough 24 hours for the US National Security Agency. First a leaked court order (and the political reaction) showed that the agency routinely harvests US mobile-use data, and now a new document has been uncovered that claims to show the larger internet companies do the same thing.
A 41-page presentation, given in April this year and obtained by the Washington Post, details the PRISM project, a system described as being the largest single source of information for NSA analytic reports. PRISM apparently gives the NSA access to email, chat logs, any stored data, VoIP traffic, files transfers, social networking data, and the ominously named "Special Projects".
Nine companies are currently part of PRISM. Microsoft was the first firm to sign up on Sept 11, 2007, with Yahoo! coming in the following year, the presentation states. Google and Facebook joined in 2009, the following year YouTube got on board, followed by Skype (before Redmond took it over) and AOL in 2011.
Apple held out for five years, but signed up in October last year, and video chat room provider PalTalk is also on board, with DropBox billed as coming soon. Twitter is conspicuous in its absence from the presentation's list – which is reassuring – but given the other big names apparently playing ball, the social networking firm's stand makes little difference.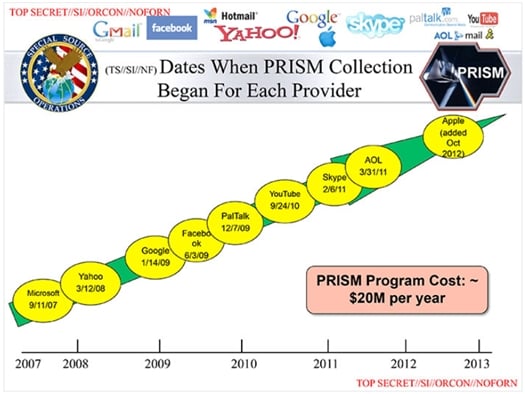 The claimed PRISM participants
According to the Post, the presentations states that data from PRISM made it into 1,477 presidential briefing articles last year and is used in one out of seven NSA intelligence reports. The NSA's searches are supposed to target non-US citizens, it appears, but an analyst was told "it's nothing to worry about" if US data was purloined.
El Reg has contacted companies named in the report and has receive few answers. Microsoft says a statement is being prepared and only Google was prepared to go on the record.
"Google cares deeply about the security of our users' data. We disclose user data to government in accordance with the law, and we review all such requests carefully. From time to time, people allege that we have created a government 'back door' into our systems, but Google does not have a 'back door' for the government to access private user data," it said in a statement.
Meanwhile, Apple told CNBC "We have never heard of PRISM. We do not provide any government agency with direct access to our servers," with Facebook also denying it allows "direct access" to its servers.
But you can do a lot of twisting with language – as Bill Clinton showed with his quibbling over the meaning of the word "is" during the Monica Lewinsky saga. Every government agent this hack has talked to says the US government never spies on its own people, but is it spying if this data collection is legal?
The Verizon scandal, and not the accusations of PRISM, makes a statement by the Director of National Intelligence James Clapper in congressional testimony somewhat suspect.
Clapper was asked by Senator Ron Wyden (D-OR) if the NSA collected information on millions or hundreds of millions of Americans. "Not wittingly," was Clapper's reply. "There are cases where they could inadvertently perhaps collect, but not wittingly." Those words now sound rather hollow. ®