This article is more than 1 year old
Review: Acer Aspire P3 Windows 8 slate
Ultrabook by name, tablet by nature
Acer's recent tablet bash in London not only showcased its latest A1 Iconia Android fondleslab but also on display was its forthcoming Aspire P3 Windows 8 slate.
This model exists in the convertible-cum-tablet twilight zone, as it comes with a keyboard cover as standard. Yet Acer really wants you to forget it's a tablet and think of it as an Ultrabook and goes so far as to call it one.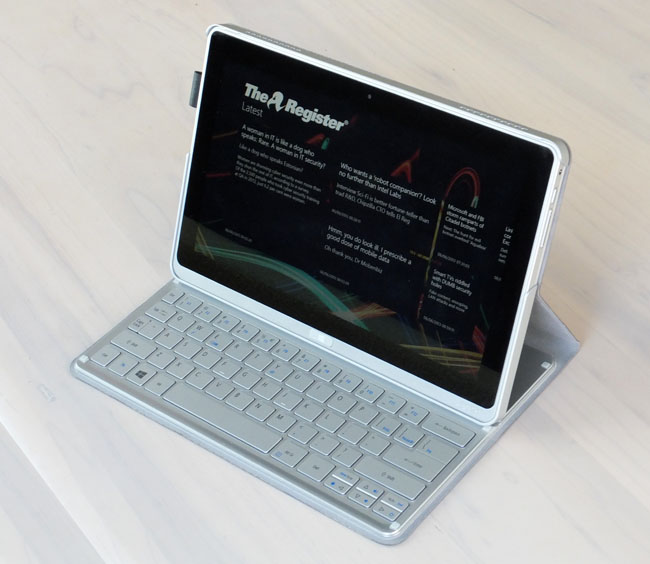 Acer's Aspire P3 touch the Ultrabook moniker, yet relies on a strap on keyboard
To some degree, Acer has a point. The Aspire P3 is just under 10mm thick and fairly light at 790g (without the 600g cover) and the pre-production sample I've been given features a 1.5GHz Intel Core i5-3339Y processor.
There's a 128GB Micron C400 flash drive on-board and although it should have 4GB RAM, this sample has only 2GB; not that you'd notice in everyday use. Indeed, the boot time to login is among the swiftest I've experienced, at about four seconds.
The 11.6in IPS touchscreen isn't full HD, at 1366 x 768, but even though it may not suit everyone, a lower resolution can be an advantage when it comes to tapping: small full HD screens can be imprecise, making small checkboxes almost impossible to prod.
This fondleslab's screen itself is sharp, bright and surprisingly unreflective. It cleans up quite easily too, which certainly isn't a given on all tablet touchscreens.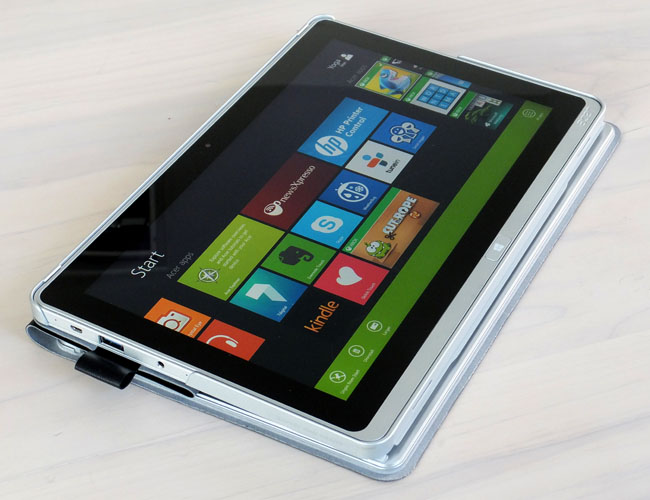 You can fold back the keyboard, but it's not the most elegant arrangement
Still, if you fancy viewing on a bigger display, there's micro HDMI connectivity next to the solitary full-size USB 3.0 port. Apart from the mains adapter, the only other interface is the mic-headphone combo jack. It's a shame there's no SD slot of any description as well though; even Atom tablets manage that one.
OK, the 128GB SSD is bigger than most Atom slates afford, but, aside from its superior performance over Atom chips, Acer is touting this for entertainment too; thus it's included Dolby Home Theatre v4 to spruce up the sound. Once you've installed the usual slew of Windows updates and loaded up a bunch of workaday apps, storage space can rapidly disappear, so having an SD slot to offload your music and movie fest is always going to be handy. There's always the USB stick option as a last resort, albeit a tad inelegant.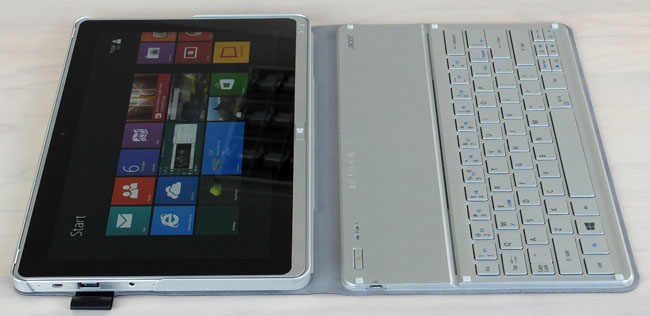 Open and shut case
Talking of USB sticks, I managed to get the Aspire P3 to acknowledge Ubuntu Linux on a pen-drive boot installation. When I say "acknowledge" it's because I couldn't get past the install options screen. The problem here was that I had no way of pressing an Enter key. At this low-level boot stage, neither the touchscreen nor the Bluetooth keyboard are functional.