Review: Acer Aspire P3 Windows 8 slate
Ultrabook by name, tablet by nature
Making connections
Moreover, using a USB hub never seems to work when accessing a boot drive as attempts to do this with a keyboard attached hit a dead end, despite the Linux OS being "seen" as a boot drive in this configuration. No doubt a script can be put together to get over this hurdle, but it just goes to show that one USB port isn't enough if you're inclined to experiment.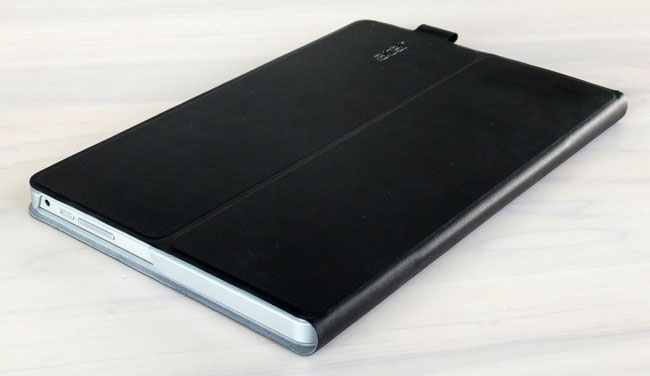 Warm leatherette
Indeed, this is why I mentioned earlier that Acer wants you to think of the Aspire P3 as an Ultrabook. Yes, it shares some qualities of this marque – fast booting, good battery life and a decent ULV processor – but it lacks some of the additional connectivity that you'd get from a notebook. Ethernet is one notable absence. OK so it's not on all notebooks either these days but with one USB port here, you end up having to choose between peripherals (a mouse comes in handy) or do some forward planning.
Personally, this does leave me in a bit of a quandary about Windows 8 tablets featuring Core i-series processors because, unless there's some clever docking port handy, the reduced connectivity feels like a missed opportunity. Or perhaps it's deliberate nobbling, but who does that benefit?
Acer's not alone with this type of configuration either, which seems like a worrying trend. Even Apple ended up putting two USB ports on the MacBook Air, having tried to get away with just one.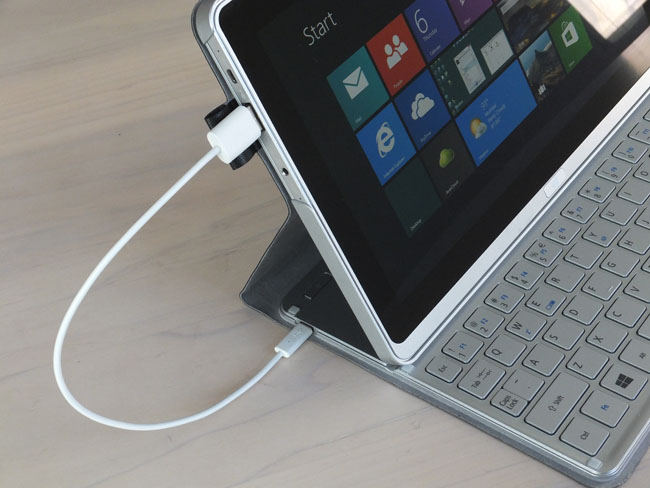 Cable ties: a charging lead is supplied to keep the Bluetooth keyboard going if the battery fades
And while we're on the subject of notebooks, what about that keyboard cover? It's a Bluetooth affair, naturally, and has nicely spaced keys with nothing out of the ordinary cropping up to cause mistyping. That said, this keyboard appears to be a US layout on a UK-localised OS, so a couple of keys don't match – although I'm told there will be a UK version. Even so, the caps lock key is the only really fiddly bit here, being so tiny, and has no status indicator; a must for passwords.
Oh, and when you get the Aspire P3 out of the box you may wonder what that short micro USB lead is for. It actually provides a neat way to charge the Bluetooth keyboard from the tablet. In the couple weeks of using the Aspire P3, I didn't ever need to charge the keyboard, not so unusual as these peripherals can easily keep going for a month or so.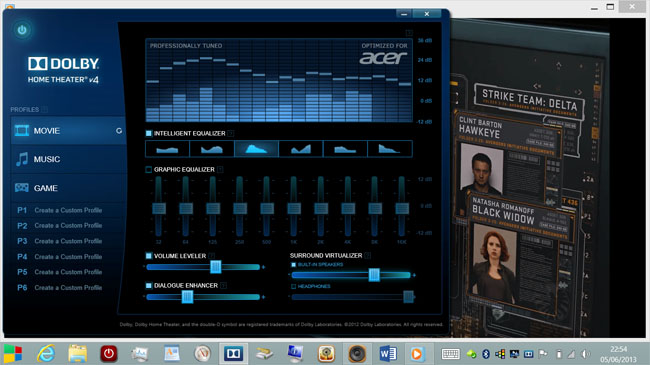 Dolby Home Theatre v4 does its best to beef up the audio output
It's a shame there are no Ethernet or micro HDMI adapters in the box too, but I did have these to hand and they both worked without a hitch; the latter enabling full HD playback on a 23in Philips monitor. As for movie playback on the Aspire P3 itself, the image looks fine but the Dolby Home Theatre v4 sound schmoozing doesn't do enough to turn tablet speakers into sonic sensation. It does make improvements – dialogue and levelling enhancements help – and you do notice movements in the stereo image, but I found switching to manual equalisation for music was more effective. The Intelligent EQ does make a difference on movies, though, and helps reduce some of the harshness inherent in tablet speakers.