Review: Acer Aspire P3 Windows 8 slate
Ultrabook by name, tablet by nature
Camera shy
In use, the tablet just slots into a groove on the keyboard and is propped up at the back by the leatherette cover. It could do with some magnetic anchoring, really; if you nudge the tablet it can easily become unseated. While this might be a problem on your lap if you're shuffling around a bit, on a desk or table it should be OK. The tilt of the screen, while set at 178˚, isn't too bad either. I've never been a fan of non-adjustable screen positions – the Sony Vaio Duo has this issue – but surprisingly this angle works quite nicely and is set up just right for the webcam.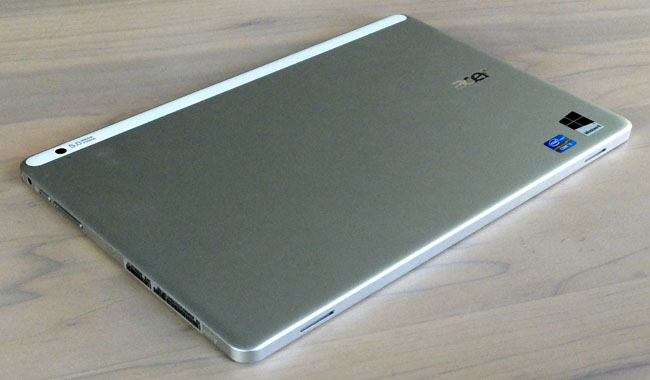 You'd never know there was a 5Mp camera on board when the cover is on
There's a 5Mp camera on the back too, not that you'd notice with the keyboard cover though, as it's completely obscured. It would be generous to suggest this is another pre-production quirk, but even the photos on the Aspire P3 site show no cut-out for the camera on the casing that cradles the tablet. Time will tell if a peephole appears when the Aspire P3 hits the shelves this month.
Acer provides its own camera app, Crystal Eye, but like just about every Windows 8 tablet, it turns out to be a rebadged Cyberlink product. Ordinary Software's StartMenuX was also installed on this pre-production model which offers some relief to those unused to the witching ways of Windows 8.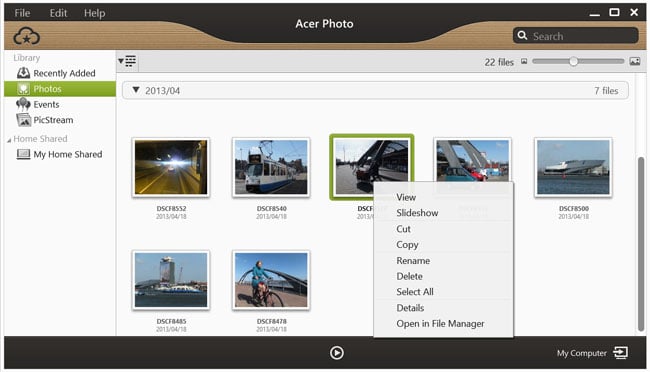 AcerCloud Photo app running on the Aspire P3
Other offerings include security and power management utilities along with AcerCloud. This is actually better than it may seem at first glance as it provides syncing options between devices including those not made by Acer, as there are apps for iOS and Android devices available too.
So I wrote this piece on Office 365 on the Aspire P3 and made the document available to AcerCloud, where I was able to read it on my iPhone (and transfer to Pages to edit it too, but not back again, alas). In addition, I could open it on the Acer Iconia A1 Android tablet I had to hand using Kingsoft Office, and save those changes for all sync'd kit to see.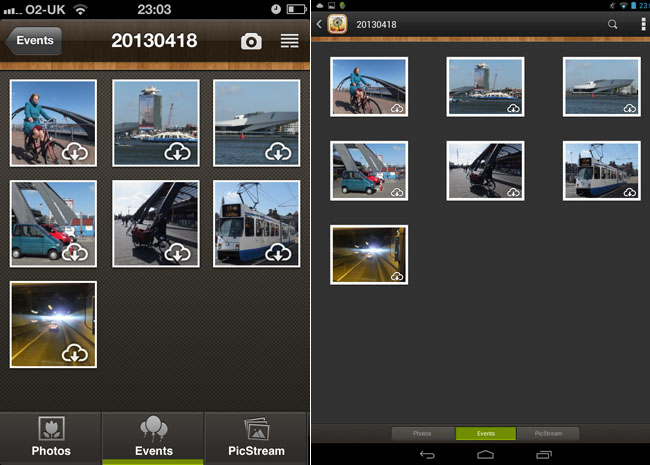 AcerCloud Photo app on iOS (left) and Android (right)
Taking screen grabs on these various devices also ended up syncing up across them all, along with a selection of photos. You need different apps to view specific content, but the service is free and there's no storage limit. The way it works is that your files stay on the AcerCloud servers for 30 days from upload. That way nothing stays squatting in cyberspace, as the content is always being refreshed. I'm not sure how I'd react to missing files after 30 days, but it might not be a bad habit to get into if you suffer from constant document clutter.
Talking of bad habits, as it's a pre-production model, Acer asked me not to benchmark the Aspire P3 ... but I did anyway. The results are nothing to be ashamed of, and will no doubt improve with additional RAM. PCMark 7 clocked up a score of 3909 and the 40Whr battery managed three hours, two minutes on PowerMark. I managed close to six hours with the screen on full blast for most of the time writing on Word and occasional web browsing, with another hour spent in sleep mode.
My biggest grumble was a simple one: when holding the right edge to push in a USB connector on the left, I invariably ended up pressing in the right power button too and turning it off by accident. It was just too easy to do without realising – cursing guaranteed.
The Reg Verdict
Like most Windows 8 tablets, there are compromises and the Acer Aspire P3 is not exactly unusual in having fairly spartan interfacing options. Yet, when you're buying into a Core i5 spec, you could be excused for feeling a little shortchanged with just one USB 3.0 port and no (micro) SD slot. The latter you'll find on the Microsoft Surface Pro; another keyboard cover combination and with a full HD 10.6in screen too, but it'll cost ya.
At time of writing the cost of the Acer Aspire P3 was unclear, with £600 bandied around as a starting price. Amazon has the basic Core i3 2GB RAM, 60GB SSD model up for £549, so it seems likely that the Core i5 version won't be on sale for a giveaway price. ®

Review: Acer Aspire P3 Windows 8 slate
1.5GHz Core i5 tablet and keyboard cover combo touting the Ultrabook moniker with 4GB RAM (2GB tested), 128GB SSD and an 11.6in 1366 x 768 touchscreen.
Price:
Core i3 from around £600, Core i5 TBA RRP