HP Spectre One

The silvery Spectre One looks like a blatant iMac-wannabe, right down to its compact, metallic keyboard and trackpad. However, HP has come up with a neat trick of its own here: they've crammed the CPU and other components into the stand, rather than bolting them onto the back of the 23.6-inch screen. This means that the screen panel is a uniform 12mm thick, and manages to make even the iMac look rather chubby.
It's a nice screen too, bright and colourful, though with a 1920x1080 resolution. The stand also houses a set of Beats Audio speakers which lack bass but are perfectly adequate for listening to some music while you're working or browsing the web.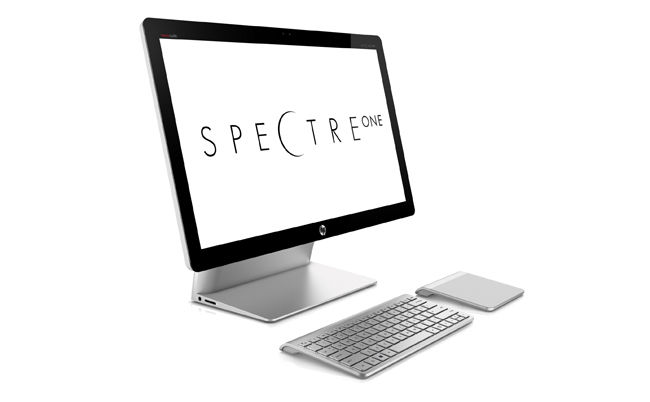 Unfortunately, the Spectre's features and performance are less impressive. I can live without a touch-sensitive screen, but the lack of an optical drive is annoying in a desktop machine. And while the 2.9GHz dual-core Core i5 feels smooth enough when browsing the web or running MS Office, it still seems a bit underpowered for a machine costing £1199 – as does the 4GB or RAM, a 1TB hard drive running at 5400rpm, and low-end Nvidia GeForce 610M graphics chip.
So while the design of the Spectre One will certainly turn some heads, its modest specification is disappointing at this price.
Price
From £1199
More Info
HP
Lenovo IdeaCentre A720

Lenovo rather craftily describes the A720 as "the slimmest 27-inch desktop on the market... at the time of its release", which, of course, was several months before the launch of the new iMac.
It still looks good, though. Like HP, Lenovo has shoved all the computery bits downstairs into the stand, leaving the screen as a simple flat panel measuring just 25mm thick. The screen itself is bright and colourful, and the adjustable stand allows you to drop the screen right down to desktop level so that you can use its touch-controls quite comfortably.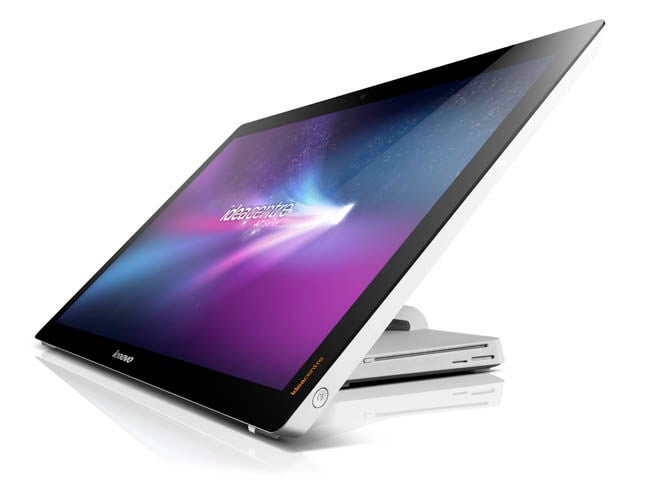 However, the screen only has a 1920x1080 resolution, which is fine for watching HD films with the built-in Blu-ray player, but not quite in the workstation class alongside the iMac or Dell's XPS One 27. And while the 2.3GHz quad-core Core i7 processor provides a fair bit of horsepower, it's disappointing to see that the memory can't be upgraded beyond the standard 8GB – which effectively rules it out for serious photo- or video-editing work. The 1TB, 5400rpm hard drive and Nvidia GeForce GT 630M graphics chip are also rather weedy for a machine costing over £1400.
To be fair, the A720 isn't intended as a professional workstation, and it does work perfectly well as a multimedia PC for home users. However, it's a little too reliant on its good looks, and needs to provide a bit more raw horsepower if it's going to compete at the high-price end of the market.
Price
From £1450
More Info
Lenovo
Similar topics