Sony Vaio L Series

It's even more expensive than the iMac, but Sony's L Series all-in-one is packed with audio-visual goodies.
The 24-inch touch-sensitive display provides full HD resolution along with the same X-Reality noise-reduction image processing technology that Sony uses in its Bravia HD TV range to soup up highly compressed streamed standard definition footage. The result is a sharp, detailed image with vivid colours – although at this price it really ought to be a full 27 inches in size.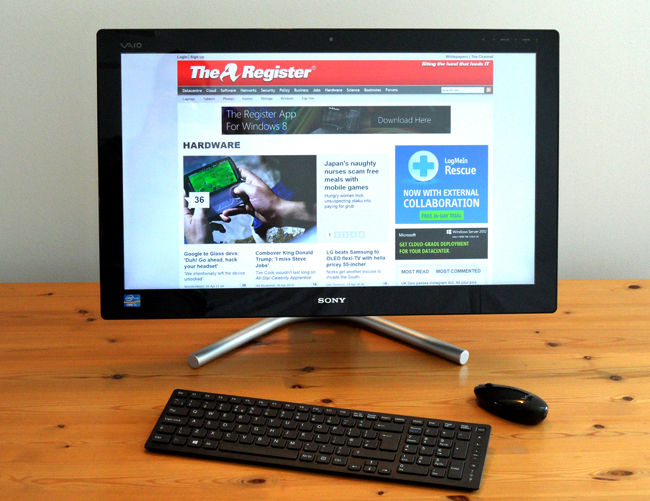 There's a slot-loading Blu-ray player, along with HDMI input and output so that you can connect the L to a larger screen or plug in a games console. I was also pleased to find that its Freeview tuner supports HD broadcasts, and it worked very well as a TV on my desk while I was writing these reviews. The chunky 55mm thick screen panel also houses a surprisingly respectable 2.1 speaker system, which came in handy for playing music while I was working too.
That impressive set of features is also backed up by a fair amount of power. You can get a Core i5 model for £1199, but my test unit cost £1599 with a Core i7 running at 2.4GHz, 8GB of memory, a 2TB hard drive and Nvidia GeForce GT 640M graphics. That's more than powerful enough to handle some serious gaming action, along with video- or photo-editing applications – it's just a shame that the 24-inch screen leaves it looking rather overpriced.
Price
From £1199. £1599 as reviewed
More Info
Sony
Toshiba LX830-12M

There's something quaintly retro about the LX830, with its little plastic legs and the large speaker grilles on the front, and it's certainly a more modest proposition than most of its all-in-one rivals.
The touch-sensitive screen is a small-for-the-class 23-inches in size, although it does provide 1080p resolution with a bright, sharp image for watching video or browsing the web. There's a Freeview tuner – annoyingly SD only – along with an HDMI input so that you can plug in a games console or DVR.
The Onkyo speakers surprised me by actually producing a decent amount of bass, but it's a shame that the LX830 only has a DVD drive rather than Blu-ray. I'm not convinced that touch-sensitivity adds much to a screen this size either – you really need the extra screen space of a 27-inch display before touch-controls start to feel comfortable.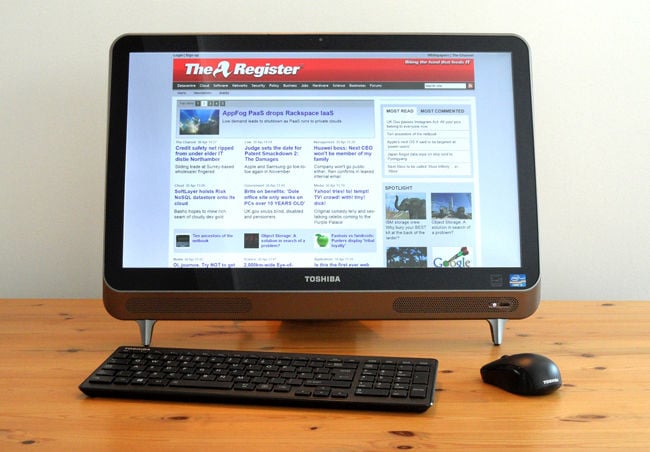 The PC side of things is fairly modest too. My "12M" review unit had a Core i3 processor running at 2.5GHz, 4GB of memory and a 1TB hard drive, and costs £800 bought direct from Toshiba. That's expensive for an i3-based machine, although it's about £100 cheaper if you shop around online. Its 7200rpm hard drive does perk things up a bit. But that's about as far as it goes on the PC side of things – there's no separate gaming graphics card, and the LX830 really works best as a kind of household terminal for the web, music and video, rather than as a workhorse PC.
Similar topics