Enter the Thinkfluencer
"The Juche ideology is a natural evolution of Marxism-Leninism, and you are the only true Juche nation in the world. Under Juche there is no central control, as Kim Ill explained: 'the leader is the impeccable brain of the living body, the masses can be endowed with their life in exchange for their loyalty to him, and the Party is the nerve of that living body.'"
"Kinda like a collective consciousness," said Eric. "You may have heard of the great thinkfluencer Professor Jeff Jarvis, who sadly could not make it due to media commitments back in the United States."
"Of course, I am famiriar with the writings of the Professor," said Kim rather impatiently. "As the Professor says, 'no one can own the Wisdom of the Crowd'".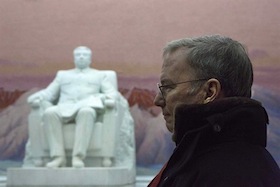 "Exactly so," I replied. "And we, like you, are also revolutionaries. From Shoreditch to Silicon Valley we are pioneering a new form of economic development, replacing the brigandish capitalism that seeks permanent war with the Juche state. Imperialism's rapacious quest for profits has been replaced by a benevolent quest for fun - especially during one's Gap Year."
"This Year of Fun," I continued, "is underwritten by the undying love and generosity of the UK state, in the form of what we call a 'community investment catapult'".
"I know all about your Catapult Centres, and also and in particular, the revolutionary writings of your Ambassador Hammersley, Ben Hammersley," Kim Jong Un interjected. "In his own words, 'We have the ability to build parallel systems to take over ... People who are in charge today see everything remaining in hierarchies, and yet what we have is a world which is very radically moving towards networks. If we want to prosper in that world then we have to have a ruling class, and a ruling elite, who understand that or get out of the way.'"
All the heads nodded as one.
"Now that all power truly belongs to the people, we must fundamentally rethink the dialectic around privacy and taxation in accordance with the Theory of the Immortal Socio-Political Body. It is not possible for the fatherland to 'tax' the people's very own nervous system. And equally, it is impossible for the fatherland to invade anybody's privacy, any than you can say that the kidney has invaded one's own body," said Kim.
Or was it Eric who had just said that? My mind had wandered, and I couldn't really tell. Somebody had, anyway.
The slamming of a Playstation console brought me back to reality with a jolt as the young leader dismissed his staff. The 232 assistants shuffled out of the room.
Now, it was just us. Me, Eric, มาลัย and Kim.
"I have a fear, gentlemen. What I am about to confide must never leave this room."
We nodded.
"As you know we have a modest nuclear weapons facility, designed solely to advance reunification, and for the defence of the Republic. And I am the Supreme Commander of the world's largest army, the most ferocious fighting force in the world. I have 9.4 million active and reserve troops at my command. Yet, for all that, I feel we have met our match."
Eric raised an eyebrow.
Kim laughed bitterly.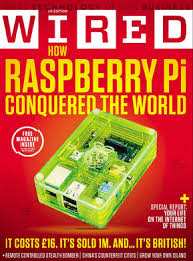 "Surely you know what it is. We have no Raspberry Pi. We can not obtain enough Raspberry Pis to remain in this race - and we will never meet the engineering standards required to reproduce enough quantities of this Broadcom-based board. Now I read even 'Boobs' can set one up."
"Er, Noobs", I replied.
"Boobs. Noobs. Whatever," said Kim. "As your WiReD magazine says, Mr Bong, the Raspberry Pi has already 'conquered the world' - and we are powerless before it," he added.
"The game is over." ®
Steve Bong (formally Lord Bong) is the founder of Bong Ventures, an early stage investor and incubator focussing on innovative new technology start-ups based in Shoreditch, London. When he's not helping rear the next generation of business models, Steve enjoys parties, foreign travel, extreme cuisine, Open Data and draws his inspiration from Ayn Rand and His Holiness the 14th Dalai Lama. He advised (then hired) No.10 policy guru Rahul Sativa on mindfulness and innovation, Mark Zuckerberg on the Perfect IPO, the Republic of Kazakhstan on emergent social media strategies, LOCOG on brand enforcement, and imagineered the Olympic Opening Ceremony with Danny Boyle and was the social media consultant for Lady Thatcher's Funeral. Steve wants to pivot the BBC into the 22nd Century, and favours Small Government but Large Catapults.
You may Follow @BongVentures on Twitter for direct and disintermediated entrepreneurship advice.