Author Iain (M) Banks falls to cancer at 59
Misses the release of his final work
Obit The internationally renowned Scottish author of both literary and science fiction Iain Banks has passed away unexpectedly early at 59 after suffering from an aggressive form of cancer.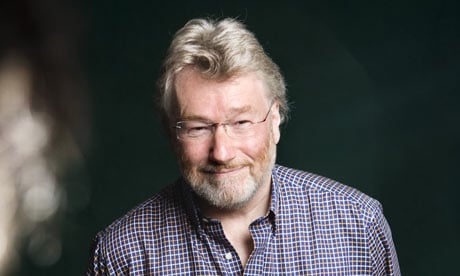 Science fiction loses a giant (credit: Murdo MacLeod)
"Too soon. Iain died in the early hours this morning. His death was calm and without pain," said his wife Adele on the Banksophilia website.
Banks issued a public statement two months ago that he had been diagnosed with late-stage gall bladder cancer that was originally thought to be a case of jaundice. He was given a prognosis of between four months and a year to live, and at his request the publication date of his last book, The Quarry, was brought forward to June 20 so he could be there for the launch.
The book, his 27th novel in a full-time writing career that spanned 31 years, is written under his "Iain Banks" moniker he used for the literary fiction that made him l'enfant terrible of the 1980s UK fiction scene. His 1984 debut novel, The Wasp Factory, (a tale of very dark humour and torture) was both praised for its literary complexity and dismissed as "a work of unparalleled depravity," by reviewers.
But to more El Reg readers he is possibly better known as "Iain M Banks," the author of some of the most inventive and broad-reaching science fiction novels of his generation (the M was for the middle name "Menzies" that was left off his birth certificate.) His first SF tale, Consider Phlebas in 1987, introduced the Culture, a post-scarcity spacefaring society run with and/or by advanced software Minds, which is set around 10,000 years down the line from a species like humanity.
The nine-book Culture series has gained international respect and enormous sales, but Banks, a keen SF reader since childhood, also departed from the Culture universe to explore other issues and expand beyond the perceived ghetto of the genre. He published a book a year for much of his career, alternating between literary and SF endeavors, and increasingly blurred the lines between the two.
His 2009 work Transition used characters flitting between various versions of Earth using the principles behind quantum mechanics to explore questions of politics and morality in the current world, and was sufficiently confusing to be released under his literary name in the UK, but with his M moniker in the US.
"There's an enormous freedom that you get in science fiction, you can just go anywhere and do anything. It's that simple," he told the BBC shortly before his death. "The things that I love and things that I tend to read most are science fiction and mainstream literature, and those are what I love to write as well. And it's been a privilege to be able to get away with it for an entire career, be able to do both."
Banks is often named as one of the top British authors of all time, and enjoyed considerable success in both of the genres in which he worked. His 1996 intergenerational epic The Crow Road (famous for the opening line "It was the day my grandmother exploded") was televised by the BBC to great success, and in 2000 his novel Complicity was turned into a modestly-successful film of the same name.
Sadly – or possibly thankfully given the continual dumbing-down of Hollywood – his science fiction has never made it to the silver screen. El Reg readers voted his third Culture novel Use of Weapons the best film never made, awarding more than double the number of votes of any other nominee.
When Banks received his terminal cancer diagnosis, he asked Adele, his partner of seven years, to "be his widow," and the couple married in March of this year. He was most of the way through writing The Quarry when the bad news came, and incorporated his experience of the cancer into the plot, as well as including an extensive rant about the state of modern society.
Banks was an honorary associate of the UK's National Secular Society and a committed atheist – a position he held until his death.
"I just took it as bad luck, basically. It did strike me almost immediately, my atheist sort of thing kicked in and I thought ha, if I was a God-botherer, I'd be thinking, why me God? What have I done to deserve this? And I thought at least I'm free of that, at least I can simply treat it as bad luck and get on with it." ®