This article is more than 1 year old
Apple at WWDC: Sleek new iOS, death of the big cats, pint-sized Mac Pro
CEO Cook: 'The biggest change to iOS since the introduction of the iPhone'
Updated Apple came out swinging at its detractors during its Worldwide Developers Conference keynote presentation in San Francisco, announcing a slew of new products including iOS 7, the next version of OS X, new MacBook Air notebooks, a "sneak peek" at the next-generation Mac Pro, and iTunes Radio - nee iRadio.
"Can't innovate anymore, my ass," said Apple marketing headman Phil Schiller when introducing the new Mac Pro, which will be manufactured in the US and be available later this year.
The Reg will dig deeper into some of Monday's announcements in follow-up stories, but for now we'll simply provide you with an overview of the major ones.
iOS 7: Described by CEO Tim Cook as "the biggest change to iOS since the introduction of the iPhone," iOS is not only a complete rework of the iOS user interface, but also includes a raft of improvements to such elements as multitasking, the Safari mobile browser, and Siri.
iOS 7 retains the grid-based app-icon layout of previous versions, but adds a layered user interface in which many control layers use transparency to provide context of what is beneath the controls. In addition, the layering allows for a faux parallax effect when the device is tilted - the desktop image appears to shift beneath the icons, causing a 3D-like impression.
And, as had been expected, the UI is based on a flat, non-skeuomorphic design that does away with most if not all of the real world-imitating interface design elements.
"We just completely ran out of green felt," quipped engineering headman Craig Federighi when describing the new Game Center app. Showing the new iBooks app, which also drops its skeuomorphic bookshelf look, he added, "And wood as well - this has got to be good for the environment."
Multitasking in iOS 7 now provides a view of each background app, which you flick through much as was done in Palm's late webOS. Flicking - swiping? - is also used to view your Safari history items and tabs for saved pages - which are no longer limited to eight, as is the case in iOS 6.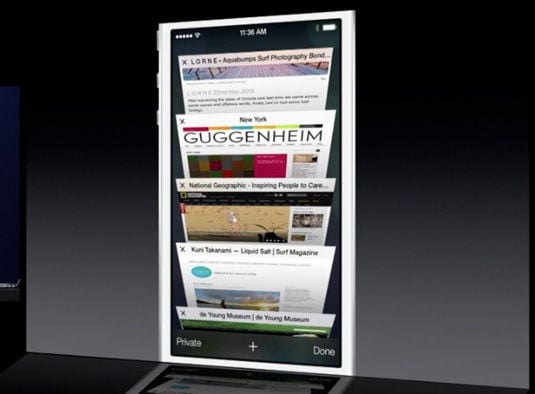 Safari's Tabs feature gets a major overhaul in iOS 7
Siri gets an upgrade, with the addition of improved female and male voices, and will be available at iOS 7's launch this fall in English, French, and German. Siri also adds access to Wikipedia content, and - tellingly - web search results not from arch-rival Google, but from Microsoft Bing.
Developers receive a beta of iOS 7 for the iPhone this week at WWDC, and will receive a beta for the iPad version "in the coming weeks." iOS 7 will run on the iPhone 4 and later, iPad 2 and later, the iPad mini, and the fifth-generation iPod touch.
OS X 10.9: Noting that Mountain Lion was the ninth release of OS X, Federighi said that with the release of the tenth version, Apple would change its big-cat naming convention for its Mac operating system.
"We do not want to be the first software in history to be delayed due to a dwindling supply of cats," he said. After joking that Apple would take its Lion series in a "different direction" and name the new operating system OS X Sea Lion, he revealed that Apple is now changing its naming convention to one based on California landmarks.
"We want a set of names that will carry us through at least the next 10 years," Federighi said. To accomplish that, the next version of OS X will begin that series named after "a place with some of the biggest waves and most extreme surfing in all of North America: OS X Mavericks."
California was a recurrent branding theme throughout Monday's presentations, with the phrase "Designed by Apple in California" reappearing frequently - expect to see that phrase in the next wave of Apple ads.
It should be noted that the term "OS X 10.9" was never uttered during the presentation, perhaps answering the question of what to call the next version of the Mac operating system after 10.9; it appears that those numbers may very well be hidden away from now on.
Mavericks, Federighi said, has a number of "deep technology" improvements focused on extending battery life and improving responsiveness, including App Nap, which directs power only to those apps that are in need of CPU access - a busy browser animation will cease to draw CPU resources, for example, when hidden behind another window.
Added also are tabbed Finder windows; file-tagging to enhance organization, navigation, and searching; and greatly enhanced multiple-display support. The Safari browser also receives a laundry list of improvements, and an iCloud keychain has been added to simplify password management.
MacBook Air: When introducing the new MacBook Air line, Schiller focused on "the most important feature we always want on a portable device: all-day battery life."
That battery life is achieved in part due to the new MacBook Airs being powered by Intel's 4th Generation core processors, aka "Haswell", which Schiller said can be run at a slower clock speed "to save energy and still deliver 40 per cent faster graphics performance."
The new Airs will, Schiller said, be able to wake up in one second and remain on standby for up to 30 days. The current 11-inch MacBook Air, Schiller said, has a battery life of five hours and the 13-inch, seven hours. The new Airs, available beginning today, will bump up battery life to nine hours and 12 hours, respectively.
The Airs will be equipped with 802.11ac Wi-Fi, and new AirPort Extreme base stations are now available to service them. Pricing will remain the same as for the current crop of MacBook Airs, even though SSD capacity will double for each model.
Mac Pro: Perhaps the most interesting announcement - for pro users, at least - was Schiller's "sneak peek" at the upcoming Mac Pro, which will be manufactured in the US and be released "later this year."
The most surprising thing about the upcoming Mac Pro is perhaps its size. It's small. Very small - one-eighth the volume of the current Mac Pro, according to Schiller.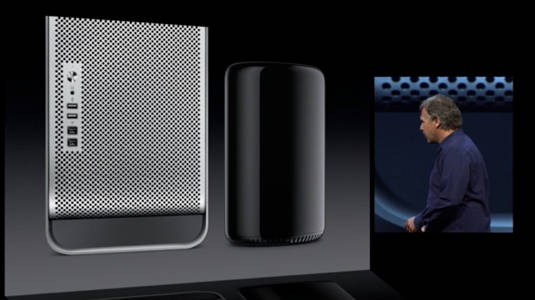 Apple's upcoming Mac Pro, between the existing Mac Pro and Apple marketing headman Phil Schiller
The upcoming Mac Pro didn't make an appearance itself at the keynote, but a video showed it to be a cylindrical affair, with a plethora of ports on its back - ports that are ringed with light when the system senses that you have turned the unit around to access them.
The Mac Pro is based on what Schiller described as a "unified thermal core" that houses a "new generation Intel Xeon chip" with configurations of up to 12 cores, 256-bit wide floating point, gen-3 PCI Express, four-channel 1866MHz DDR3 memory with a total of 60GB/sec bandwidth, and PCI Express SSDs with 1.25GB/sec reads and 1.0GB/sec writes.
The Mac Pro will come standard with two AMD FirePro GPUs configurable up to a total of 4096 stream processors and an aggregate bandwidth of 528GB/sec. This graphics oomph, Schiller said, will support up to three 4K displays.
"And for those of you who use OpenCL - and you all know you should," he told the assembled developers, "this delivers seven teraflops of compute power to your applications."
"All expansion is external," Schiller said - a break from the internally expandable current Mac Pros, and one big reason for the new model's compact size. That external expansion is accomplished through six Thunderbolt 2 ports that can each handle six devices, as well as six FireWire 2.0 ports* driven by three controllers, four USB 3.0 ports, Gigabit Ethernet, and HDMI-out.
No pricing hints were given - but don't expect this baby to come cheap.
iTunes Radio: Described by Apple's internet software and service chief Eddy Cue as "an amazing way to discover new music," iTunes Radio will also, Cupertino surmises, be a way to induce you to purchase more music through the iTunes Store.
iTunes Radio isn't a separate app, but rather a feature of iOS 7's revamped Music app. The main screen presents you with a set of Featured Stations put together by Apple, but also allows you to create your own. There are also "hundreds" of genre-based stations - Alternative, Christian, Classical, Country, and so on (and on) - that you can choose.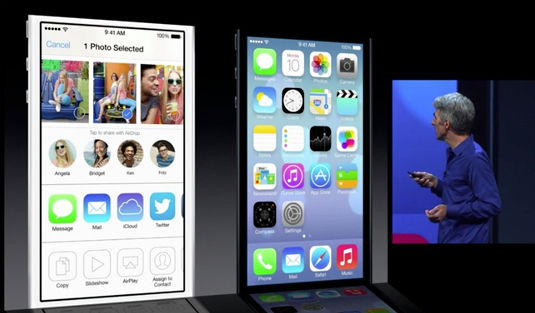 iOS 7's new shared photo stream feature gives a good idea of the UI's new look and feel
You can create your own stations simply by picking an artist, song, or genre from either your music collection or something accessed through iTunes Radio, and the app will build a station around it.
As you might assume, you can also edit your stations and modify them on the fly, and skip through songs without having to wait through those you don't like - and if you really don't like a song, you can instruct iTunes Radio to never play it again.
You're also given the opportunity to see songs in various Featured Stations - ones that are trending on Twitter, for example - choose one or more, and have the app build a station around them for your listening pleasure.
Songs can be added to a wish list for future purchase, or you can get a list of all the songs you've played on all your devices through a History feature, where you can preview and purchase them directly.
iTunes Radio will be ad-supported and free when it appears along with iOS 7 this fall, and will also be available in the iTunes app on Macs and PCs, and "even in your living room built into Apple TV," said Cue. And if you really can't stand the ads, you can subscribe to iTunes Match and get an ad-free version. The service will begin in the US, with other countries added "over time," Cue said.
By the time Cue had finished with his demo of iTunes radio, the WWDC keynote was approaching the two-hour mark. Wrapping up, Cook led the the now-traditional round of applause for Apple's engineering teams, and delivered a bit of a veiled finger-wagging at the critics who have been grousing that Apple hasn't released enough ground-breaking products in recent months.
"I'd like to close this morning with a reminder," he said, then reiterated his oft-stated mantra that Apple is about great products, and showed a new ad that included the line, "We spend a lot of time on a few great things."
Whether investors are satisfied by that approach is still open to debate, but after a brief post-keynote spike to $449.08 per share, Apple's stock sank to as low as $436.80 before the markets closed for the day. (R)
* Update
During Phil Schiller's introduction of the upcoming Mac Pro on Monday morning, he described one set of that system's I/O ports as following, quote: "... six FireWire 2 being driven by three FireWire 2 controllers, and you guys who use this stuff know what I'm talking about."
He misspoke. The Mac Pro has no FireWire ports, but rather six Thunderbolt 2 ports. The Reg regrets Mr. Schiller's error.